Tough Life, Bigger Dreams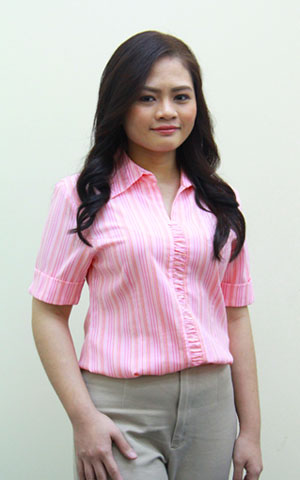 "Below the poverty line" was how Janina described the earlier years of her life. Born in a family of survivors, she turned those circumstances into her advantage and built herself a better life.
Before she stepped into college, she already had a forte in doing business. Armed with competitiveness and entrepreneurship, she and her family ventured on selling different food such as sweet corn and homemade ice cream sticks. Janina's background in trade urged her to take a course in business administration, so she can move on to a bigger business.
She found herself enrolling at STI College - Novaliches where she got in to the school's scholarship program. Despite the good education her school provided her, she knew better to rely on her diligence more than anything.
Janina was the President of the Entrepreneurs Society, a school organization dedicated to STIers with aspirations in the business industry. Valuing leadership and mutual support among the members, she shares that "before you become a good leader, you have to be a good follower." It was with this mantra that led her to do better in her duties as a leader which in turn developed her assertive character. Her active participation in extra-curricular activities and the hardwork she poured in her studies were rewarded with the Student of the Year Award 2011 for North Luzon, recognizing her as one of the best STIers in the country.
After finally graduating in 2011, she started her career in the business world as a Sales Consultant at Rex Printing Company, Inc. before she worked for STI Head Office as a Content Developer. Not long after, she continued on with her journey and started working at SM Supermalls as a Leasing Supervisor at a young age of 23, an event that opened a whole new chapter in her life, one of the things she remains grateful for.
"We won't know what God has in store for us until we try. We came from a very poor family, but it didn't stop us from finishing school," says Janina."I'm dreaming of becoming a manager someday, pero hindi ko iniisip na magiging supervisor ako agad in a matter of two years. It was a blessing from God to get where I am right now, at talagang ginamit niya ang STI para i-develop ako, at para i-develop yung potentials ko."
Janina is presently enjoying the real meaning of success; a better life. Looking back to where she came from, Janina is confident to say that she has reached further than she expected because she always dreams big. She endured, persevered, and held on to her strong faith that pushed her to go on in fulfilling the big plans she has for herself and her family. Now, that she is in a better place from where she started, Janina strives to push further and move higher. Indeed, Janina is living proof that nothing is impossible when it comes to reaching one's dreams, no matter how long it takes to get there, if you just dream big.