Meet the King of the Palace Kitchen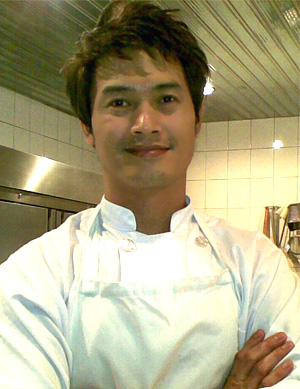 There was a time when dreams are yet to be made, ambitions realized, and a young boy who will make these things come true. He was that kind of boy who would fish with his lolo before the break of dawn, and then sold their catch with his lola in a wet market in Carigara, Leyte for the rest of the day.
Rodhil Balendo Sabay and his younger brother grew up under the loving care of their grandparents. And because their family had very limited resources back then, Rodhil had to look for a job immediately after his high school graduation to be able to cover their daily expenses. He lived a simple life in the province, until one day, he decided to go the distance. He knocked at every opportunity and finally, the doors of Kingdom of Saudi Arabia opened for him.
Some things are worth the wait
Life after high school didn't go easy for Rodhil because he had to stop school. Determined to continue studying, he travelled to Manila and tried his luck in finding a job. He experienced working as a house help, a waiter, and a mall salesclerk for five years, hoping that he would be able to save enough money for college. Rodhil returned to Leyte in 2005 to work as an assistant cook for the Leyte Industrial Development Estate (LIDE) Management Corporation, still holding on to his goals and aspirations.
After sending his sibling to school, the right time came for Rodhil to finally enter college in 2008. His strong interest in cooking made him decide to pursue the 2-year Hospitality and Restaurant Services (HRS) program of STI College - Ormoc.
Things started to look up for Rodhil in college. Despite being the oldest among his classmates, he embraced the role as their Kuya and did his best to be a good leader to them. He was a consistent dean's lister and was able to champion various regional competitions in cooking and table setting. He even made his mentors proud when he earned his medal for best in culinary, and aced his OJT with his solid commitment to hone his skills in the field. He graduated in 2011 with an academic distinction.
The Road to Riyadh
Rodhil decided to return to Manila after college for a second shot at establishing his career in the city. But because of the intense competition among job applicants and the low-hire job market at that time, he had a hard time finding a good job. Setting his sights on higher ground, he submitted applications for jobs abroad through an overseas employment website. After a series of rigorous interviews, he found a company that offered him an opportunity to fly to Saudi Arabia where he could practice his culinary skills. On February 2012, armed with his passion for cooking and unrelenting drive to reach for his dream, Rodhil flew to one of the fastest growing cities in the world - Riyadh.
Life in the Palace
Today, Chef Rodhil works as an Assistant Chef at the HBA Palace in Riyadh which is owned by one of the most prominent families in Saudi Arabia. As the Assistant Chef, he prepares the ingredients for the meals to be cooked, assists the Head Chef in preparing the meals, and place the day-to-day menu for the palace staff and guests of different nationalities. Chef Rodhil's speciality dishes include cakes, cold desserts, and roasted meat.
Looking forward with renewed optimism, Chef Rodhil shares, "I plan on furthering my experience here in Riyadh so that I can work in a luxury hotel in Europe in the future. I'd also like to build a small business in the Philippines, and someday, return to my alma mater to share my knowledge to future STIers."
Furthermore, he urges the youth to hold on to their strength and determination to finish school. "I've been through a lot with my age, but I never gave up my goal to finish school," Rodhil shares. "To the young people, to the students, never stop chasing your dreams no matter what happens. There will always be a way to finish school so you can finally live your life doing what you love to do."