Strong Will, Endless Ways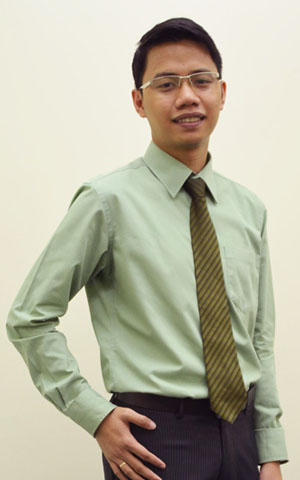 Hernan's life in in the computer industry started as early as high school when he enjoyed basic programming projects. Always joining (and winning) IT-related competitions in school encouraged him to take a course in BS Computer Science in college. His search for a college that his family could afford was one of the challenges he faced, especially coming from a public high school. Determined to finish school, Hernan sought more possible ways to get him through college without having to give his parents a difficult time dealing with their tight finances. It was when he found out that STI College—Global City, like any other campuses of STI, provides scholarships to deserving youth like him who is in need of financial assistance. He took the scholarship exam and was granted 75% partial scholarship on his tuition fee. To make ends meet for his other expenses, he worked as a Student Assistant while studying.
Although Hernan focused heavily on his studies to maintain his good grades for his scholarship, he was still able to join contests in college, mainly programming and intellectual competitions in the annual "Tagisan ng Talino" (TNT) local, regional, and national levels. It gave him a good venue to learn about camaraderie, teamwork, and above all, the confidence of knowing that he can do anything as long as he dreams it and works hard for it. He brought these learning with him during his OJT where he had the chance to apply the lessons he learned inside the classroom into actual work, as well as the value of professionalism. He eventually left his post as a Student Assistant on his senior year and became less active in his other activities, so he could dedicate more of his time on his thesis. Reaping from his four years of hard work, he finally finished college with a big bonus: he graduated Magna Cum Laude.
He had his first job at Maersk, a shipping company, before moving on to working at International School Manila as a Database Programmer, and as a freelance developer at the Mind Museum at the same time. With the desire to share his knowledge and passion for computer programming to students taking up IT-related courses, he worked at STI College-Global City as a part-time instructor where he also imparted his own taste of the real world, and is currently his alma mater's President of the STI Alumni Association. Over and above dedication, he also inspires determination among his students, urging them to face their problems and never cease to find solutions because there will always be a way as long as they have the will.
"It's not about your problems, it's about how you face your problems," Hernan shares. "If you're currently a graduating high school student and you're worried about your college life, you don't have to be anxious because there will be many opportunities out there for you. It will just be up to you on how you are going to explore it, and how you are doing to deal with it."