Pride of the Family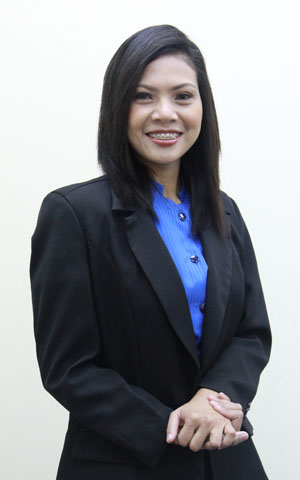 Determined. Competitive. Loving daughter, sister, and leader. This is how other people would describe Raquel Gamboa. And having a financially-strapped upbringing, Raquel was certainly motivated to dream big and work hard to provide a comfortable lifestyle to her family. And once she was able to fulfill it, she extends her hand to the community to help more people.
She studied diligently and was able to secure a full scholarship grant as a Student Assistant in then STI College – EDSA-Crossing (now STI College – Shaw). For three years, she worked in the Admissions and Registrar's offices while carefully maintaining a 1.5 grade average every semester.
Juggling both studies and work is taxing, but Raquel was able to balance the two really well. "During my free time, I have to work at the Admissions office. But it helped that I also had unlimited access to the library and laboratory. So I didn't have to buy books, I just borrowed from the library. And when we did our thesis, I had easy access to various thesis references."
Raquel was also the quintessential student achiever. Aside from being a consistent dean's lister, she was also active in extra-curricular activities being part of the school's silent chorale and President of the Math Club.
All of Raquel's hard work eventually paid off as she graduated Cum Laude with a degree in Bachelor of Science in Computer Science (BSCS). But more importantly, she was also able to secure a job right after college.
Raquel has since then worked in multinational IT companies such as Lawson Software and Emerson Network Power where she was given opportunities to handle big projects and even travel to the US for training. Today, Raquel works for Ayala Land as an IT Associate Manager, where she oversees existing software applications to support the company's business process and operations. Inch by inch, she reached her goals for her family and was able to send her siblings to college. She also purchased a van that her retired father can rent out to augment their family income.
Raquel also gives back to the community starting with her barangay, and was eventually elected as the Barangay Councilor of Guadalupe Viejo, Makati in 2013. She is now the Chairwoman for Education, Culture, and Events of the Barangay Council, supporting educational projects and activities, conducting free computer literacy training, and promoting activities to preserve the Filipino culture.
Raquel credits her success to the education and training she received in STI. "The curriculum of STI is advanced compared to other schools. We use up-to-date programs in STI that we now also use in our company. My social skills and confidence level also greatly improved during my stint as Student Assistant. Kahit anong klaseng tao kaya ko harapin at kausapin."
Recognized for her achievements in her chosen career path, her undeterred spirit to turn her dreams into reality, and her active service to the community, Raquel became one of the proud recipients of the STI Distinguished Alumni Award 2016. The award serves as a testament of her accomplishments in reaching her goals and her unstoppable dedication to do more for her family and the society.