Rosalie Reyes & Robert Alim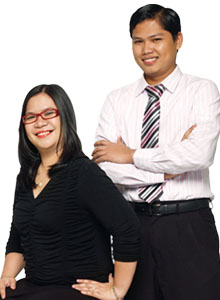 They were classmates in college. Then, they became the best of friends. Now, they are husband and wife.
From Lawyer to IT Professional
Rosalie was the second youngest child from a family of eight. Her father was an auto mechanic and her mother, a housewife. Rosalie dreamed of becoming a great lawyer. However, due to financial constraints, she casted her hopes on another course wherein she could easily help support her family – Information Technology.
Still, the road was not an easy one for Rosalie. After high school, she stopped studying to help out her family. She still continued to dream though to go back to school one day and finish college. Finally, her parents were able to save enough money and Rosalie took up 2-year Associate in Computer Technology (ACT) in STI College – Parañaque.
In school, Rosalie was one of the top students in her class. She also took active participation in the Student Council, sports, and other extra-curricular activities.
After Rosalie graduated in ACT, she had another goal in mind &mdash to pursue a four-year degree in Computer Science. To help out with their financial problems, she worked as a Student Assistant in the computer laboratory of STI College – Parañaque. Then Robert came along.
The Wannabe Basketball Player
Robert also came from a family of eight. His father died in a truck accident when he was still young so his mother filled in the shoes of both mom and dad. She worked as a house helper to support their family.
At such an early age, Robert became no stranger to hard work. He sold ice buko and collected broken glasses then sold them to junk shops to earn extra money and help relieve some burdens from his mother.
As a kid, Robert wanted to be a professional basketball player and play in the Philippine Basketball Association (PBA). Sadly, he didn't grow as tall as he wanted to be and came short of the minimum height requirement for basketball players. Despite the setback, Robert didn't lose hope and turned his attention to other things instead such as school.
Robert, who also took up BS Computer Science, wasn't really an outstanding student in class but he continuously persevered in his studies. In his third year in STI College – Parañaque, he was lucky enough to get a full scholarship from the school. He also participated in various programming competition that further honed his skills.
BFF to BF/GF
During those trying days, nothing could have made their hardships any sweeter than a blossoming relationship between best buddies. Throughout their college days, Robert and Rosalie supported one another whenever they encounter road blocks. They cheered and comforted each other.
It was no wonder then that Robert and Rosalie started seeing each other in a different light. Robert fondly recalled the first time the two of them met, "When we were in the classroom, she always stared at me because I kept on reciting and she found that irritating. To her it seemed that I was being a big show-off."
But, Robert soon changed Rosalie's mind and they became a couple. And despite the changes in their lives after they've graduated from STI, the two of them still managed to keep their relationship strong. Robert professed that when they had a big fight and broke up for more than a month, it was then that he realized that Rosalie was the one for him — the girl that he wants to spend the rest of his life with. Finally in March 2009, Robert and Rosalie got married and started their life together.
"I Do,'Till Death Do Us Part"
Today, Robert works as a Web Developer in Vishay Philippines, Inc. He analyzes the system specifications and requirements, make the relational database in SQL 2005 based on specification, builds different web applications such as Point-of-Sales, Travel Information Form, Customer Master Form, Career Portals, and more. Rosalie, on the other hand, is now an IT Manager in Employment Opportunities, Inc. She is in charge of maintaining the workstation per department and monitor the LAN and WAN connection of the company, supervises the IT staff in their daily work and rate their progress, among others.
Due to their hectic work schedules, they barely have time to do things together during the weekdays. Hence, weekends are definitely a time for both of them. They watch movies on Saturdays and go to church on Sundays. And since they both love to sing, one can usually find them in front of a videoke, singing together.
Rosalie shared that the secret ingredient to their relationship is love, trust, and concern for each other. "Always believe that desire is the key to motivation but it is determination and commitment to an unrelenting pursuit of your goal — a commitment to excellence — that will enable you to attain the success you seek. Always believe in yourself and always put God first."