STI upgrades 'Driving Education Where IT Matters' program
November 23, 2007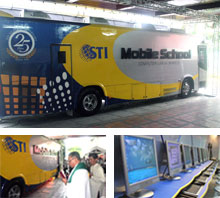 STI, the largest network of schools in the Philippines, raises the bar in providing equal opportunities in ICT-enhanced learning to Filipino students across the country. Last November 2007, DepEd Secretary Jesli Lapus together with Adopt-a-School Foundation and STI executives led by Monico V. Jacob and Eusebio H. Tanco formally unveiled the STI Mobile School 2 at the DepEd Complex in Pasig City.
The STI Mobile School 2 is the second installment of STI's "Driving Education Where IT Matters" campaign. The new Mobile School is equipped with a state-of-the-art computer laboratory with internet access, 27 units of multimedia computers, LCD monitors, sound system, and other top-of-the-line computer equipment.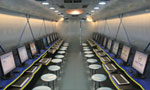 This project is fueled by the passion and perseverance of STI in finding better means to educate more students with pertinent ICT-enhanced training that will be valuable in pursuing higher education and employment.
The campaign also serves as a 'helping hand' to aid public schools in developing more ICT literate teachers who can further share the knowledge to students. Participants of the computer training inside the bus have the option to partake in a free and a more thorough session in the nearest STI schools in the area.
Mr. Jacob says STI is "very proud of the success of the first STI Mobile School."
Beginning only in March 2007, the first STI Mobile School was already able to visit more than 71 sites in Luzon and trained more than 6,000 students. With the second STI Mobile School, STI will now be able to start its educational caravan in the Visayas and Mindanao region. STI also has expressed their commitment to further add more Mobile Schools to expand its reach in educating the Filipino youth.