STI Renews Partnership With Cypher Learning
March 3, 2023
Committed to improving online educational innovations, STI Education Services Group (ESG) renewed their ties with international education technology (EdTech) mogul Cypher Learning on February 28, 2023, at STI College Ortigas-Cainta.
The partnership will see STI continue utilizing Cypher Learning's NEO Learning Management System (LMS) as part of its learning delivery system.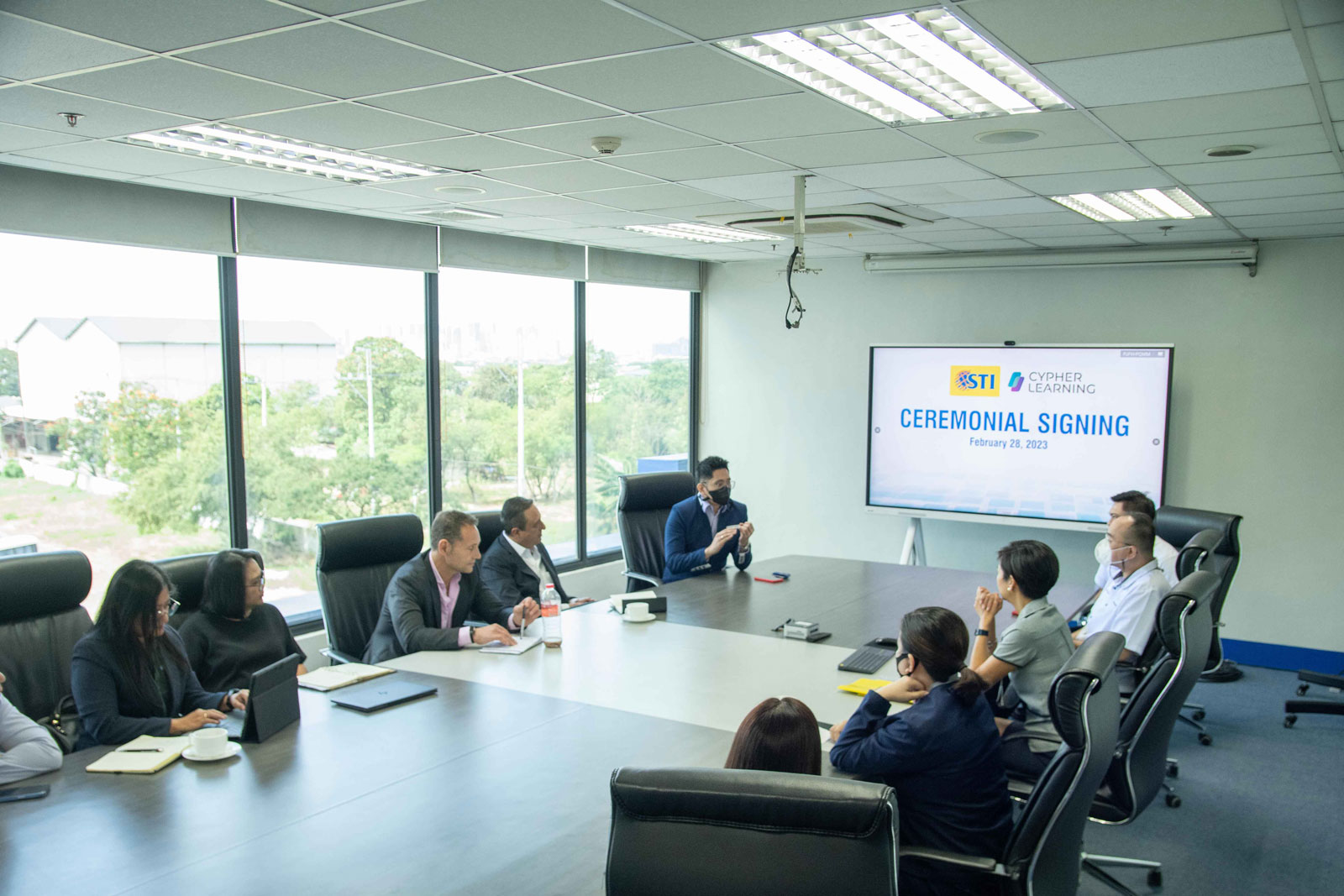 STI ESG and Cypher Learning executives discussing during the contract extension held at STI College Ortigas-Cainta.
"Our partnership has strengthened through the years that we have known each other," said STI Vice President for Academics Aisa Hipolito. "The contract extension is rooted in their sheer commitment to us in delivering quality education that we dearly promised to our students," she added.
Present also during the ceremonial signing was STI ESG Assistant Vice President for Academics Ferdie Dantes, along with Cypher Learning Chief Revenue Officer Matt Kane and Senior VP of Sales and EdTech Yuri Rangel Quezada.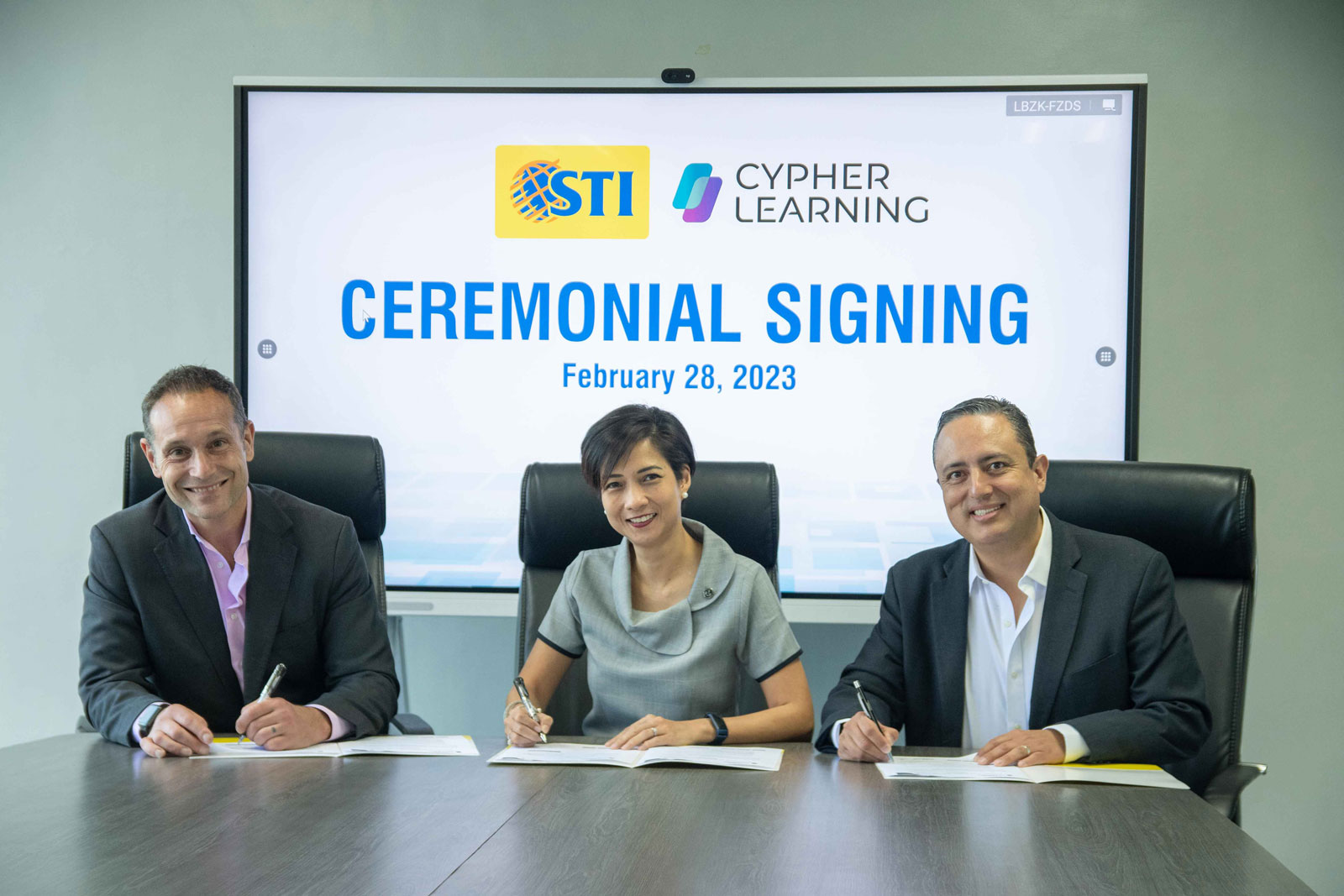 Cypher Learning Chief Revenue Officer Matt Kane, STI Vice President for Academics Aisa Hipolito, and Cypher Learning Senior VP of Sales and EdTech Yuri Rangel Quezada.
Aside from the signing, the two parties met briefly to exchange recommendations, suggestions, and feedback on what transpired since the last signing in 2019. One of the developments suggested was the integration of the Skills Development platform into the system.
"We are integrating features that will help us improve the existing skills of the students, not just specific on the courses that they are enrolled in, but also the skills that they need to enter their dream paths or careers," said STI ICT & Engineering Courseware Development Head Beronika Peña, who was also present during the meeting.
The Skills Development platform, which will be integrated using Artificial Intelligence (AI) technology aims to provide guidelines for students in deciding which competency to prioritize. Such an improvement will allow the students to deliberate their own strengths and inefficiencies independently.
"Instead of administrators and teachers adding them to courses and groups, they are given freedom to join the ones recommended based on their identified area of improvement," said Peña. "They (Cypher Learning) are already working on it and have released initial steps in integrating that already," she assured.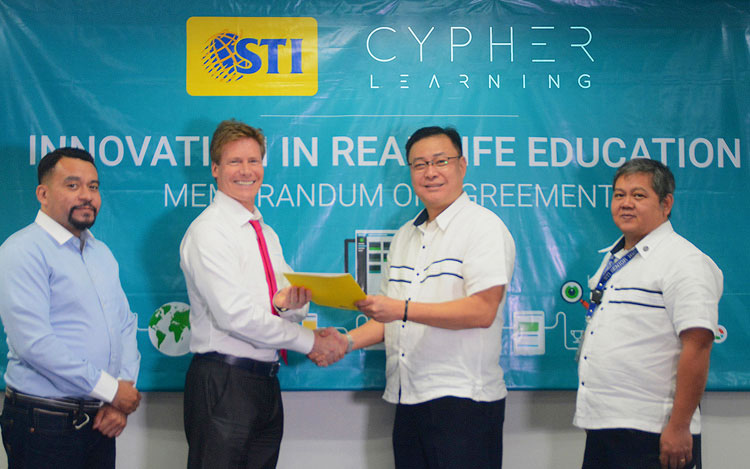 The first Memorandum of Agreement signed back in 2016 between STI ESG and Cypher Learning.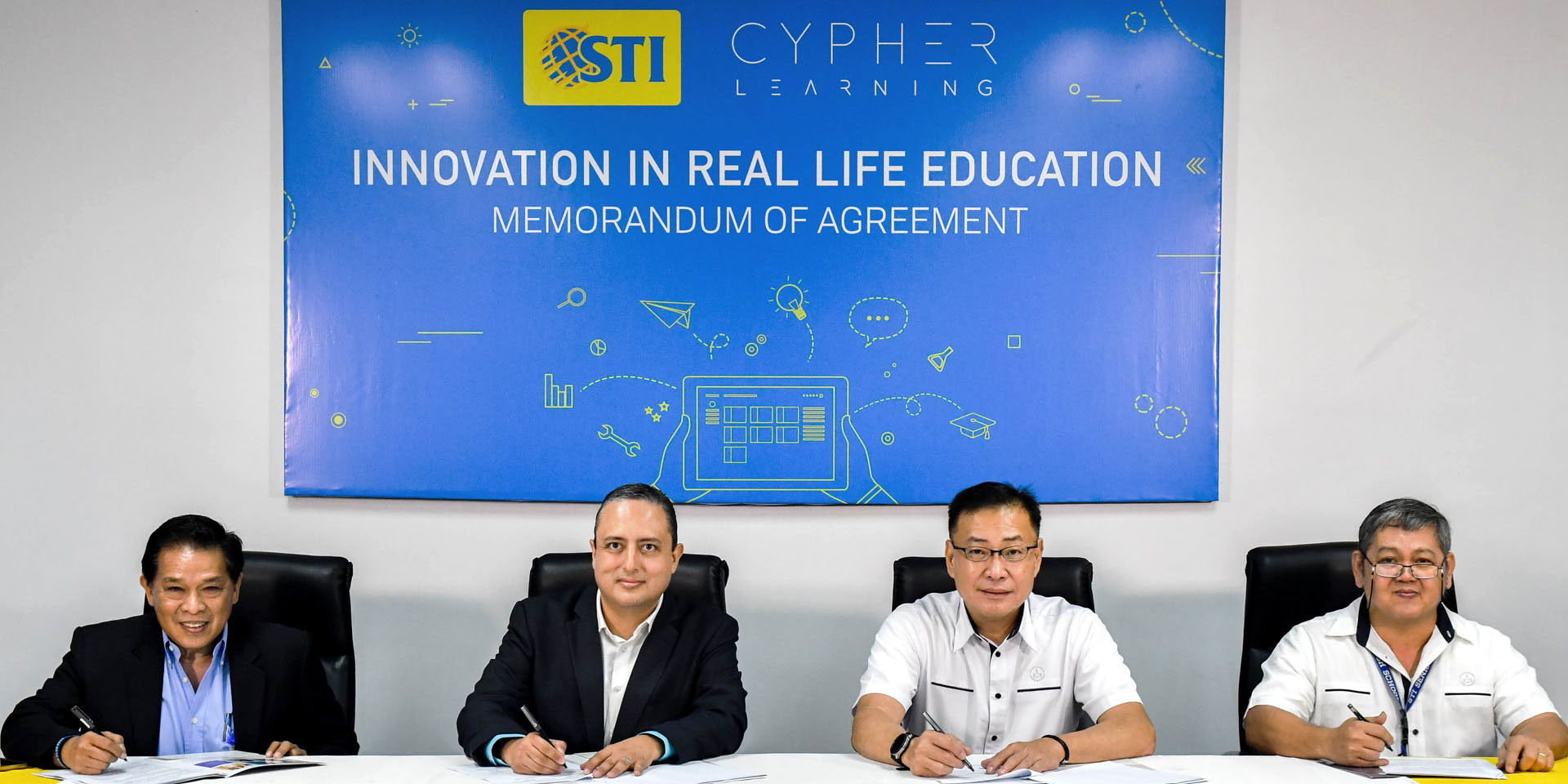 The second signing in 2019.
Furthermore, they are also looking to add a page where the alumni are granted access to their profiles even when they have already left the institution's blue and yellow walls.
"It's all about functionality," Peña said. "Even though the students are already graduates, they can still access their profile and use it to share with potential employers and they can also enroll in courses to improve their skills; similar to how Coursera and Udemy do it," she added.
STI and Cypher Learning's collaboration started in 2014. The tie-up enabled the institution to utilize the latter's award-winning cloud-based tool NEO Learning Management System (LMS) and has been using it ever since; even cushioning the inconveniences brought forth by the COVID-19 pandemic when the school transitioned to full online learning.
"For almost a decade now, having the eLMS integrated in our learning delivery system has been nothing short of convenient," Hipolito said. "We've observed how it developed our students' learning abilities while also enhancing the connection between them and their teachers even within the comfort of their homes."
"I look forward to the fruition of our extended collaboration with Cypher Learning and how it will revolutionize our world-class education in the next five years," Hipolito ended.