STI College Dominates in Cake Fiesta Manila 2022
December 7, 2022
Six STI College Pasay-EDSA students made history after bagging two championships in the Cake Fiesta Manila 2022 at the SMX Convention Center in Pasay City.
Under the guidance of their coach and school instructor Chef Roshell Suico, Hospitality Management (HM) students Joenna Calixto, Crisel Dela Cruz, Aryanne Kaye Arnido, Danika Sarate, Antonio Dimaano, and Christine Angeline Dacillo broke through the championship ranks in their respective team categories in the 3-day event from November 24 to 26, 2022.
"I still feel overwhelmed," Suico said in a phone interview a week after the competition. "I am so proud of my students; I am happy for them because they did their best and were able to execute the game plan," she added.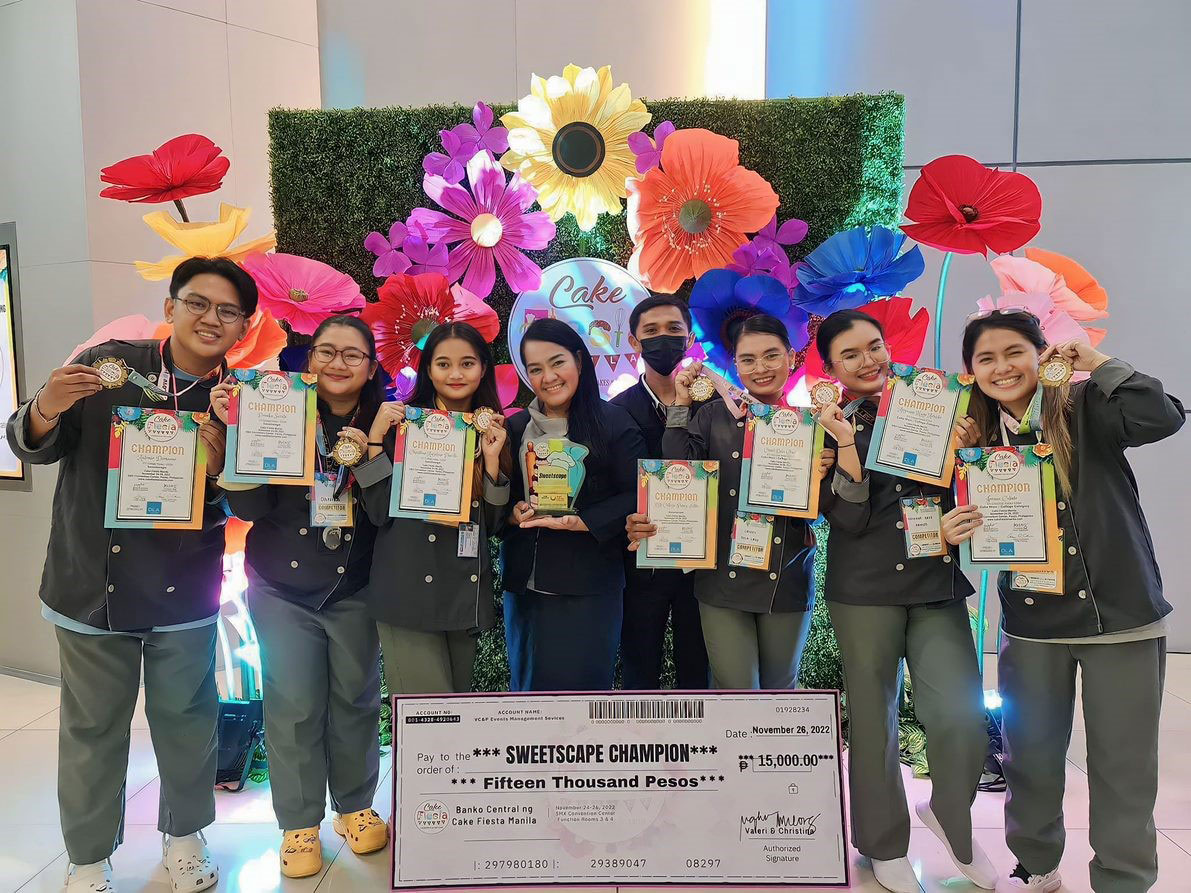 Team STI at the Cake Fiesta Manila 2022 competition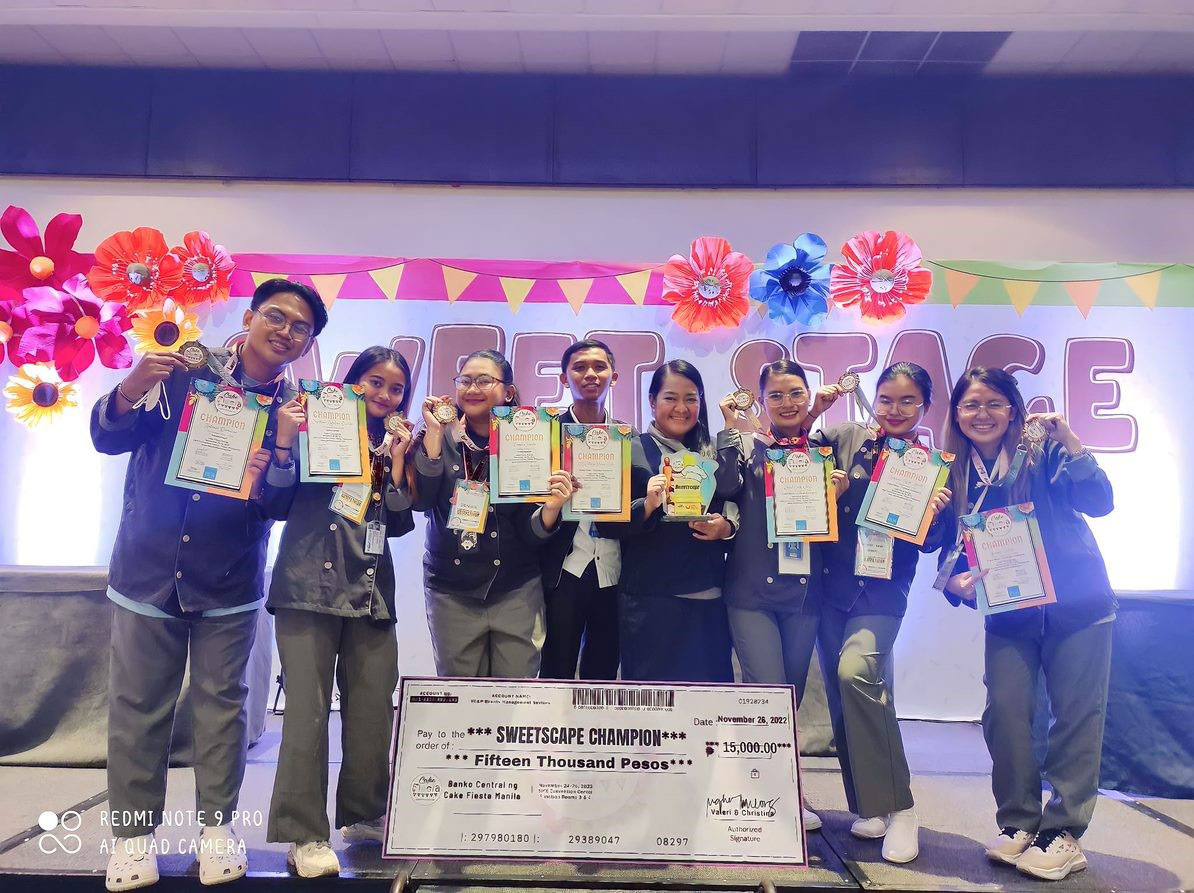 Team STI at the Cake Fiesta Manila 2022 competition
The trio of Calixto, Dela Cruz, and Arnido dominated in the Cake Wars School category wherein they competed in an on-the-spot cake decoration. Their masterpiece was a two-tier cake based on three local festivals, namely the Higantes Festival from Angono, MassKara Festival from Bacolod, and the Pahiyas Festival from Quezon.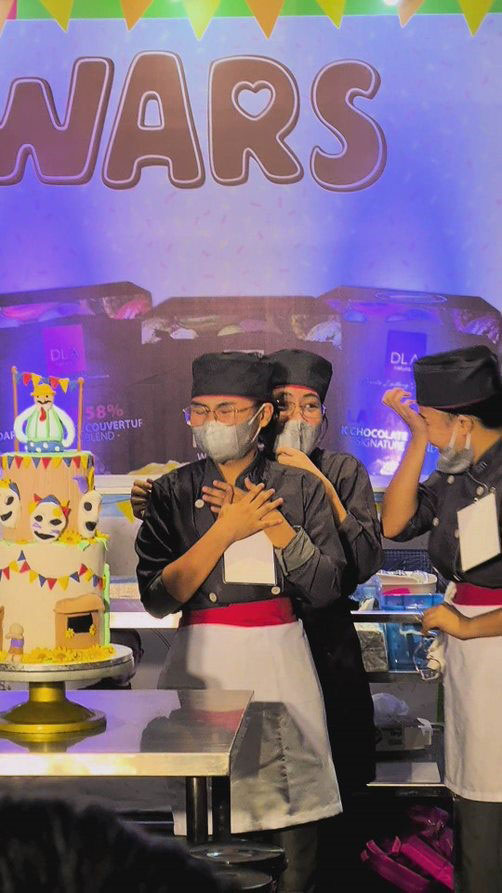 STI's winning cake in the Cake Wars School category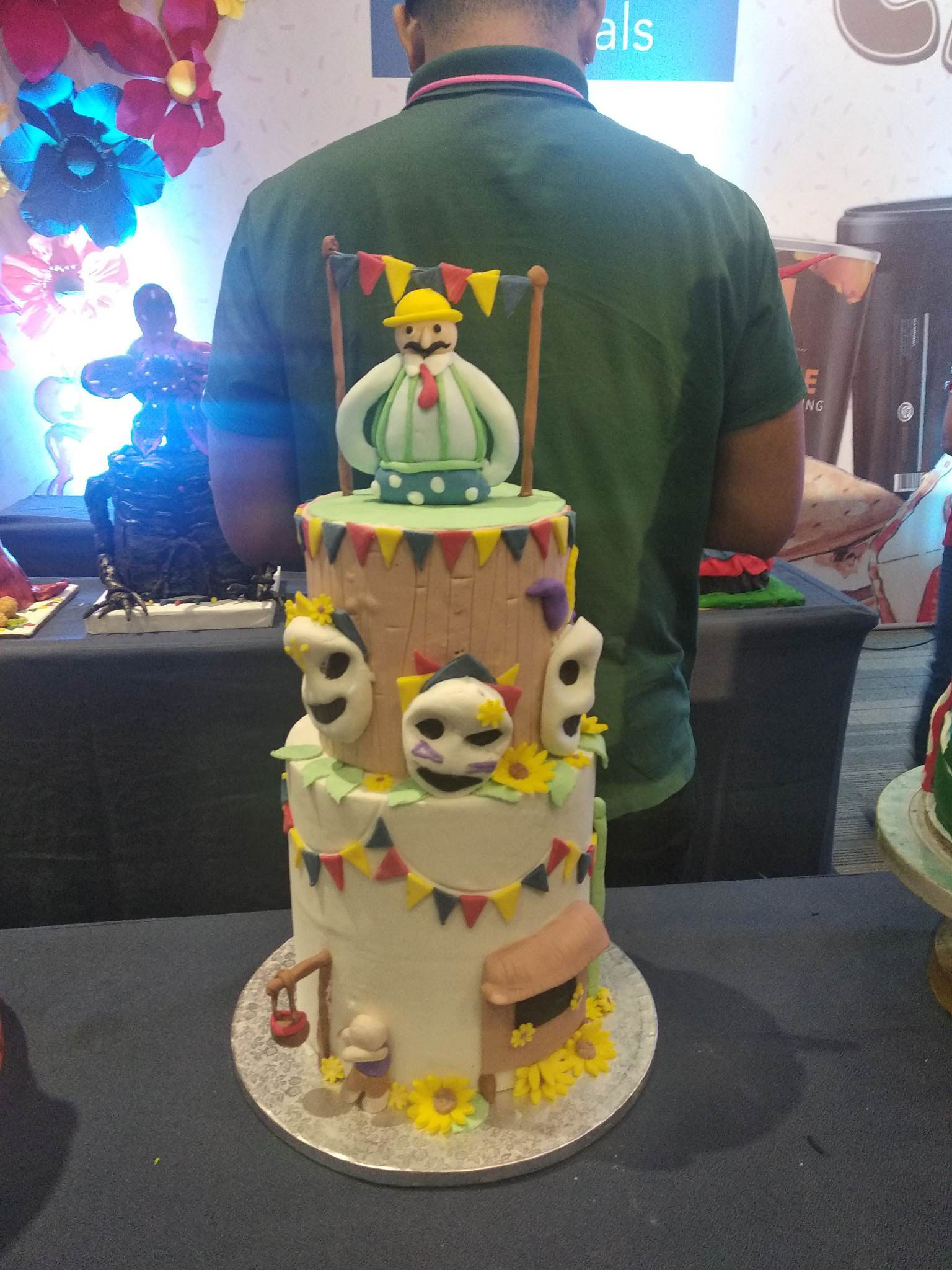 STI's winning cake in the Cake Wars School category
Meanwhile, the team of Sarate, Dimaano, and Dacillo swept the intercollegiate Sweetscape category after presenting a MassKara-themed display cake. For this category, the students prepared a cake based on anything sweet; from confectionaries, desserts, pastries, breads, candies, chocolates, or baked goods.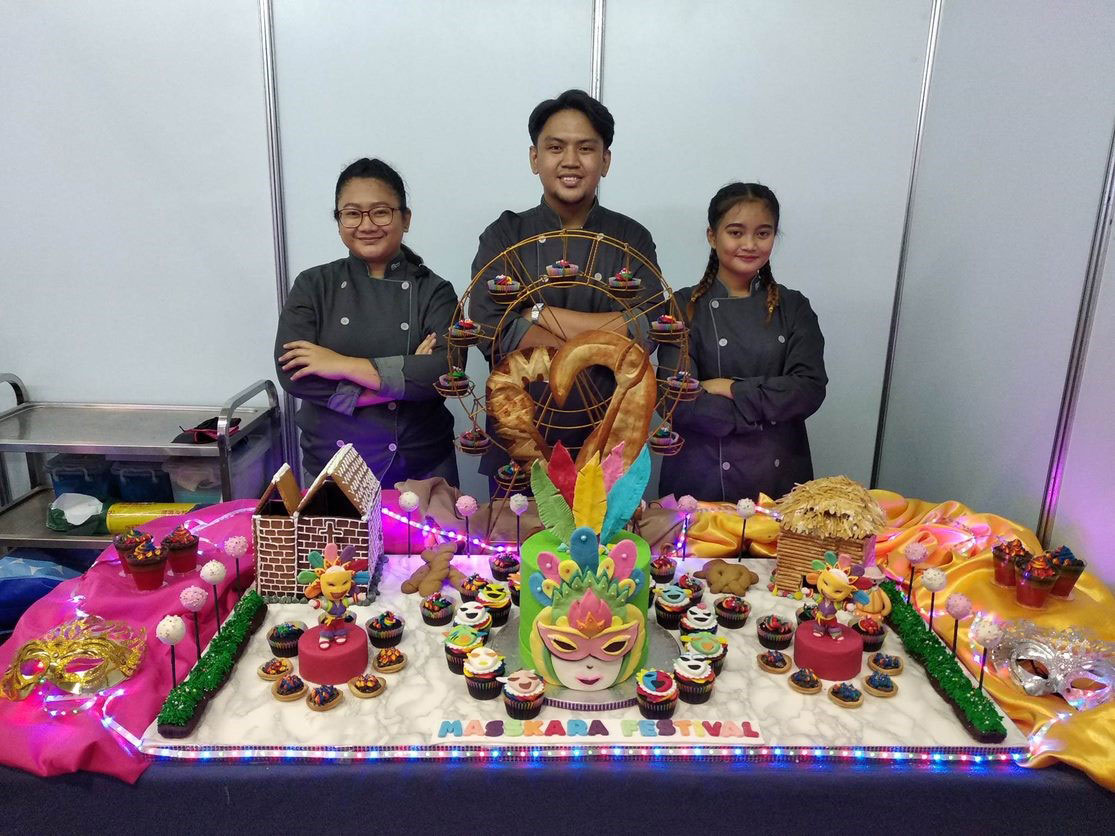 STI's winning cake in the Intercollegiate Sweetscape category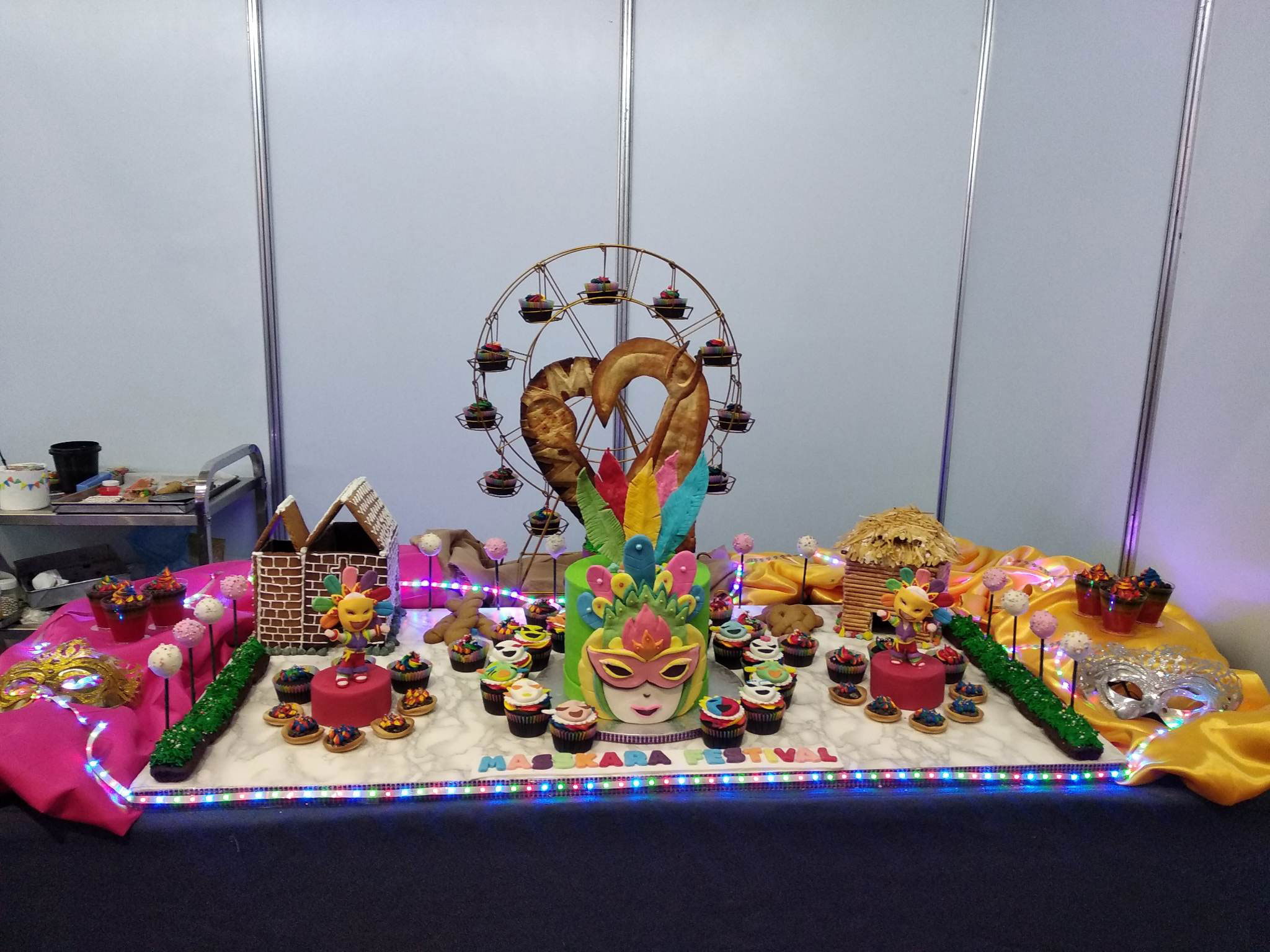 STI's winning cake in the Intercollegiate Sweetscape category
The two significant wins, though, would not have gone STI's way had it not been for the persuasion of Cake Fiesta Manila's organizer Chef Valerie Valeriano.
In fact, Suico, who is also a Hospitality Management instructor in STI College Pasay-EDSA, highlighted that she and her wards were hesitant to join because of the students' busy school schedules. They were, after all, a student first before anything else.
"We already received an invitation a month before the competition started but we weren't keen on joining," said the Pastry and Bakery Management teacher. "Aside from the midterm exams interfering, some of them are also in the middle of their thesis; but we were encouraged by Chef Valerie to join," added Suico who also serves as an HM Research instructor to Calixto and Dela Cruz.
Aside from the consistent persuasion of Chef Valeriano, the deciding factor, however, was rooted in their 2019 Oro Plato Masa National Interschool Culinary Competition campaign wherein they only secured a 2nd Runner-up finish in the Dessert category.
"That served as a fire for us," said Suico who also served as a coach to the 2019 team which was composed of only Calixto and Sarate. "After that tournament, we were scheduled to compete in various competitions, but the pandemic happened. That delayed opportunity to compete again gave us the hunger to redeem ourselves."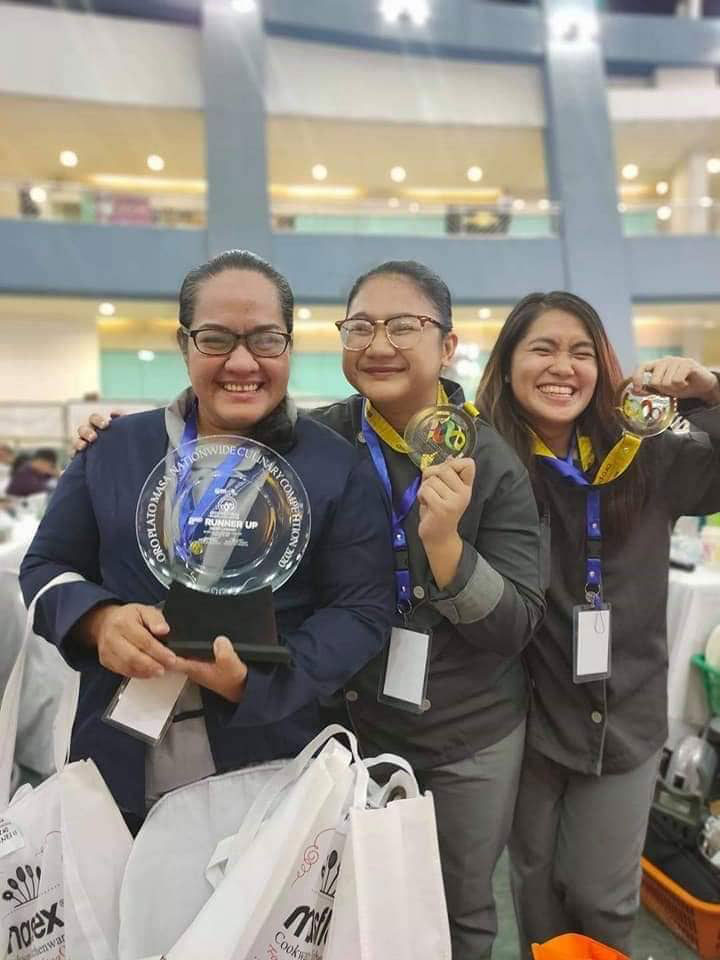 Chef Shell with Joenna and Dannika during the 2019 Oro Plato Masa competition
After a grueling 3-day competition, redemption is sweet indeed as the two teams toppled Philippine Women's University and Bulacan Agricultural State College who finished second and third respectively in both categories.
"We instilled in ourselves that we were not there to participate, we were there to win," said Suico, who also gave credit to the other STI students present in the event to support their classmates.
"Their loud cheers were a huge factor in our win," she said. "We had the upper hand in terms of audience impact because of them and the organizers and judges lauded their hearts in supporting their schoolmates."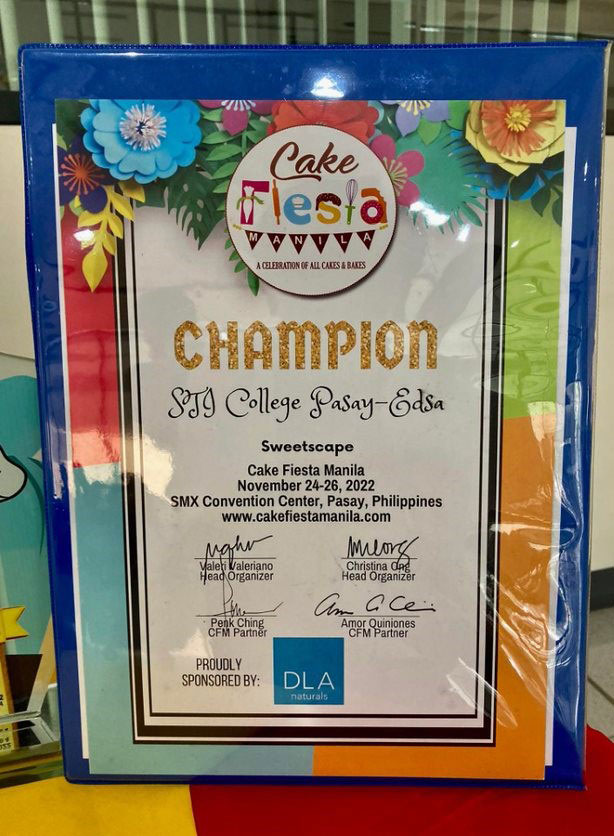 The winner's trophy awarded to the Sweetscape team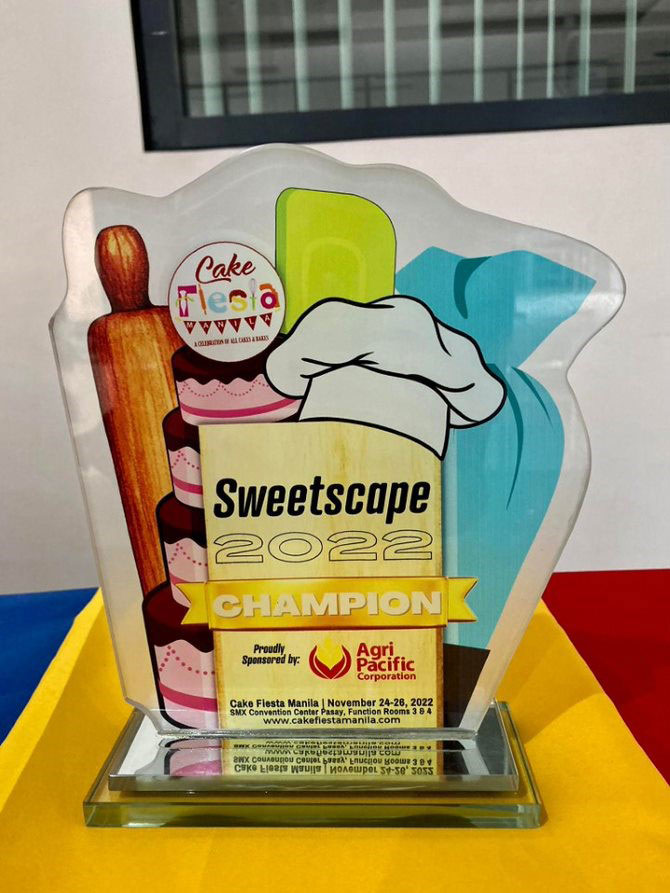 The winner's trophy awarded to the Sweetscape team
Both teams were able to pocket Php 15,000 in cash prizes and a Php 30,000 worth of gift packs from major event sponsors such as DLA Naturals and Agri-Pacific Corporation on top of a medal and certificate.
Furthermore, the Sweetscape team was also awarded a Showcase Space for next year's edition of the competition where they will be given a space for an installation feature highlighting the school as one of the expo's attractions.
Opportunities like these are a testimony to STI College's staunch commitment to nurturing budding future leaders. Aside from theoretical education, the institution also prioritizes real-life training like this to further prepare them and harness their skills once the call of the real world comes. It's very fitting for the students to gather valuable experience exceptionally now that they are on the cusp of their careers.