STI Partners with Carnival for Maritime Progress
November 14, 2022
In their staunch efforts of providing top-notch real-life education in their maritime programs, STI Education Services Group (STI ESG) signed a partnership with international cruise company Carnival Cruise Line (CCL).
The agreement, which aims to add an avenue for aspiring Filipino seafarers to pursue maritime studies, allows Carnival to operate a portion of STI College Pasay-EDSA campus as their recruitment center in cooperation with the former's recruitment agency United Philippine Lines (UPL).
"They asked us if they can lease an area within the campus so they can establish a recruitment center," STI ESG Vice Chairman and Chief Executive Officer (CEO) Monico V. Jacob said in the lease-signing event held at the Manila Marriott Hotel in Pasay City on September 30, 2022. "Well, we offered at least 610 square meters of the property."
From left to right: STI ESG Vice Chairman and CEO Monico V. Jacob, STI ESG Chairman Emeritus Eusebio H. Tanco, CCL Global Chief Human Resources Officer Bettina Deynes, and CCL Crew & Travel Operations Vice President Richard Brearly.
The 610-square-meter area, according to Jacob, will include a mezzanine and other amenities which will also be used as training centers such as crew welfare & manning offices, and pre-departure orientation seminar (PDOS) rooms.
"Through that, students will have the early opportunity to familiarize themselves with equipment onboard the vessel, and that will render less training time once they become professionals," said Jacob.
As cruise lines likewise offer vast opportunities for the culinary and hospitality field, STI ESG will also provide facilities oriented to Carnival's standard such as kitchens and state-of-the-art lobby & lounge areas.
Proposed training rooms that will be used by maritime students.
Proposed training rooms that will be used by maritime students.
Proposed training rooms that will be used by maritime students.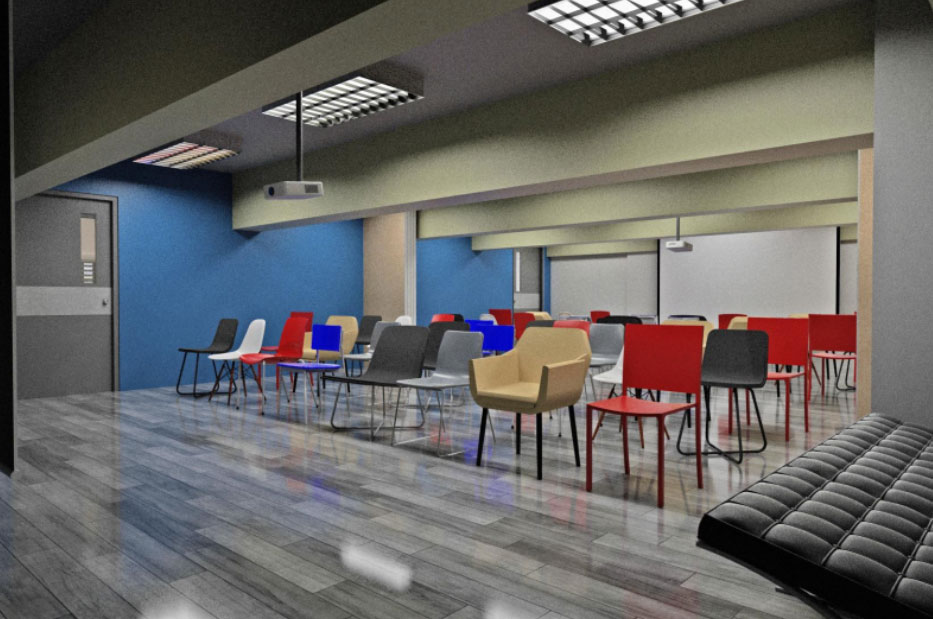 Proposed training rooms that will be used by maritime students.
"Of course, our culinary instruction is aligned with what Carnival Cruise will be doing," added Jacob after stressing the importance of providing electric kitchens instead of the usual gas stoves; an obvious choice in accordance with the health and safety standard aboard cruise vessels. "As a matter of fact, we have requested their standard in order for us to provide materials compatible to their vessels."
Jacob speaking before the press present in the lease signing.
"More than bringing a lot of expertise and knowledge, the Filipino community carries our values and identity of having fun, so Carnival wants to go beyond providing traditional roles. We want to make it across all functions — captains, chief engineers, hotel directors, chefs. Every position where we could really find the best qualified team members," Deynes said.
Overall, STI's collaboration with one of the world's leading cruise lines is a testament of the institution's advocacy in providing real-life education. Furthermore, it highlights the importance of promoting such a relevant industry, especially in an archipelagic country that is of the Philippines.
"We're very happy that they (Carnival) have chosen to work with STI for this purpose," said Jacob. "This adds another opportunity for Filipinos to work with one of the cruise industries' biggest companies," he added.