STI Student Bags Silver in 31st Southeast Asian Games
May 24, 2022
Games and education do mix, at least for STI College Ortigas-Cainta student David Emmanuel "yjyyyyyyyyyy" Tapang who is one of the five League of Legends (LoL) PC players that brought home the silver medal for the Philippines in the recently concluded 31st Southeast Asian Games in Hanoi, Vietnam.
Tapang, whose West Point Esports squad represented the country under the moniker "Sibol", went up head-to-head and lost against a powerhouse Vietnam who was bannered by world-class players of the GAM Esports team in the final round of the LoL PC event on May 22, 2022.
Although unmatched by the Vietnamese team who demolished Sibol three games to nothing, the bot-laner stalwart was able to find the silver lining amid the heartbreaking loss.
"Even with the 0-3 score, I was actually motivated to play better in the future," Tapang told STI in a phone interview on Monday. "It may look and sound disheartening, but we saw it as an opportunity for us to grow individually, especially with the fact that we played against a passionate and world-class team on the big stage."
En route to the gold medal match, Sibol topped Singapore, 1-0, after encountering a tiebreaker in the Group Stages. They then routed Malaysia, 3-1, to advance to the finals where they succumbed against the event hosts.
The nationals were not able to convert more than 10 kills in all three games of the series, a far performance to Vietnam's dominant average of 23 kills per game, which never reached above 20 minutes as well.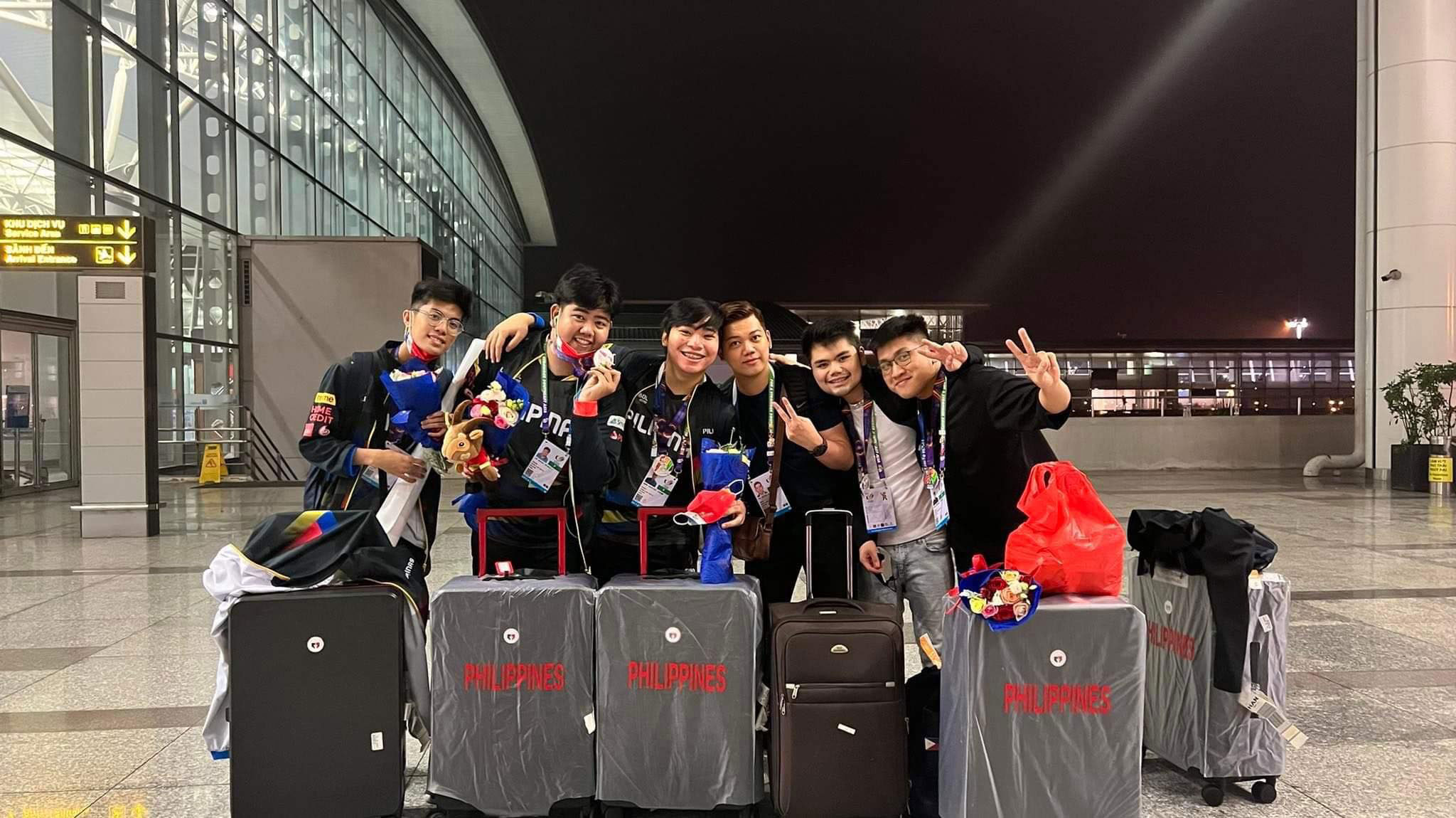 Sibol League of Legends PC Team from L to R: Hezro Elijah "ParzivaI" Canlas, Jan Raphael "RVL8" Retance, Andre Dominique "Calumnia" Soriano, Van Matthew "Vansu" Alfonso, Jan Edward "Creshowo" Hortizuela, and David Emmanuel "yjyyyyyyyyyy" Tapang
Despite the shortcoming, Tapang, who is currently enrolled in Grade 11 as an Accountancy, Business, and Management (ABM) student, was happy to point out the overwhelming support he received from the institution and went so far as to mention his teacher in Komunikasyon at Pananaliksik sa Wika at Kulturang Pilipino (KWKP), Ms. Jo Anne Galo, who constantly shared posts relating to the team's 3-day campaign in the biennial meet.
"They [teachers] were very supportive," said the 21-year-old. "Whenever I get asked about that, the first thing that comes to my mind is my KWKP teacher. Whenever I open my Facebook, I always see her posts supporting our team. It's overwhelming."
In regards to balancing his education and preparation, Tapang did not encounter any problems at all. In fact, he was able to get a go-signal from his mentors to focus on the team's full preparation for the tournament.
From May 19 to 22, he was able to set his eyes on the prize, adding to the Philippines' 226 medal haul. He was also guaranteed to pocket at least PhP37,500 cash bonus from the government under Republic Act 10699.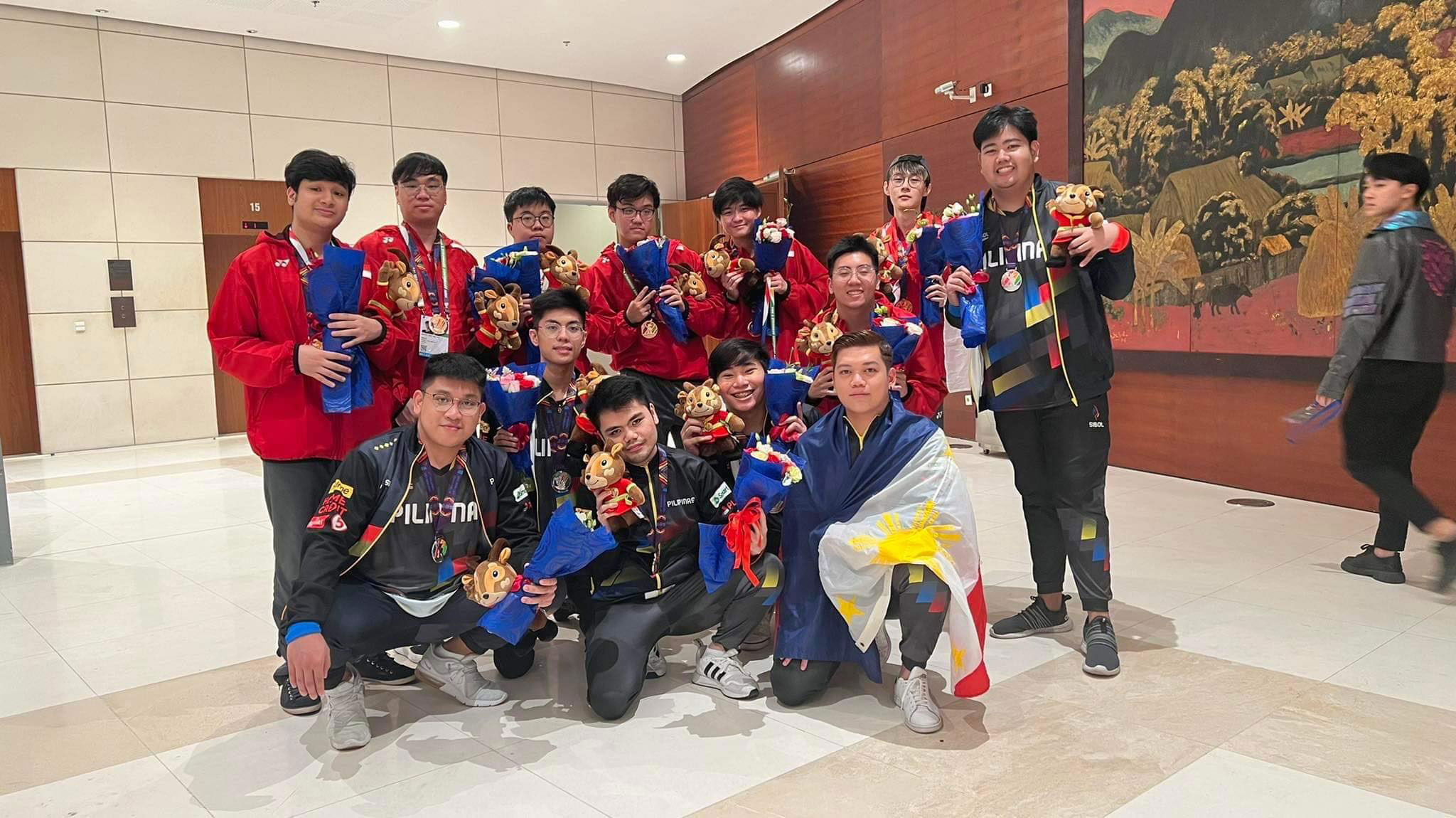 Team Philippines posing for a photo with bronze medal winners Singapore
However, as glorifying the campaign may be, the former number one ranked player in the Philippine server honored his part of the deal and went back to being a student just hours after standing on the podium.
After the team landed in the country on May 23, the soft-spoken gamer immediately went home and opened his computer not to play LoL, but to attend his 11:30 am online class. After all, he has always reminded himself that he is a student first before a gamer.
"I just picked up from where I left off," he said. "I am now doing my tasks which my considerate teachers have given me ample time to accomplish. At the end of the day, completing school tasks remains my priority. No special treatments."
Moreover, Tapang also mentioned the convenience and quality of STI's ONE Learning Model, highlighting that the eLearning Management System (eLMS) and Microsoft (MS) Teams allow him to balance his education and the hectic professional gamer schedule. In fact, he actually enjoys maintaining a line of 9 remarks on all his courses.
"The applications STI use for their students were of big help during my preparation for the games," the 21-year-old said. "By just opening my MS Teams account, I am already able to check my class schedule, assignments, deadlines, and messages from my teachers. It's truly convenient."
Now that the regional meet has concluded and with the silver medal confined in his cabinet of achievements, Tapang is now focused on finishing Grade 11 which is already in the last quarter.
True to its staunch pursuit of incorporating innovative education, such an achievement by Tapang only shows that STI not only promotes success academically but also promotes success in life generally.