STI Partners with ABS-CBN, PTV for Halalan 2022
May 18, 2022
Fulfilling its steadfast duty in developing competent, compassionate, and responsible citizens, STI College joined forces with broadcast media companies ABS-CBN and People's Television Network (PTV) in the 2022 National and Local Elections Day.
The partnership, which came into signing as early as January 2022, was anchored by the institution's objective in empowering young voters to take part in a clean, honest, and smooth elections en route to appointing the nation's new leaders.
"In line with our school's unwavering vision, we take pride in being consistently part of every election process for the past 24 years," said STI Vice President for Academics Aisa Hipolito. "We always make sure that our students are equipped with the right tools to make such an important decision and to be prepared to enact their civic duties and responsibilities."
Aside from the two media giants, STI also linked-up with election watchdog National Citizens' Movement for Free Elections (NAMFREL), deploying computer units for the non-government organization to use in data collection of results.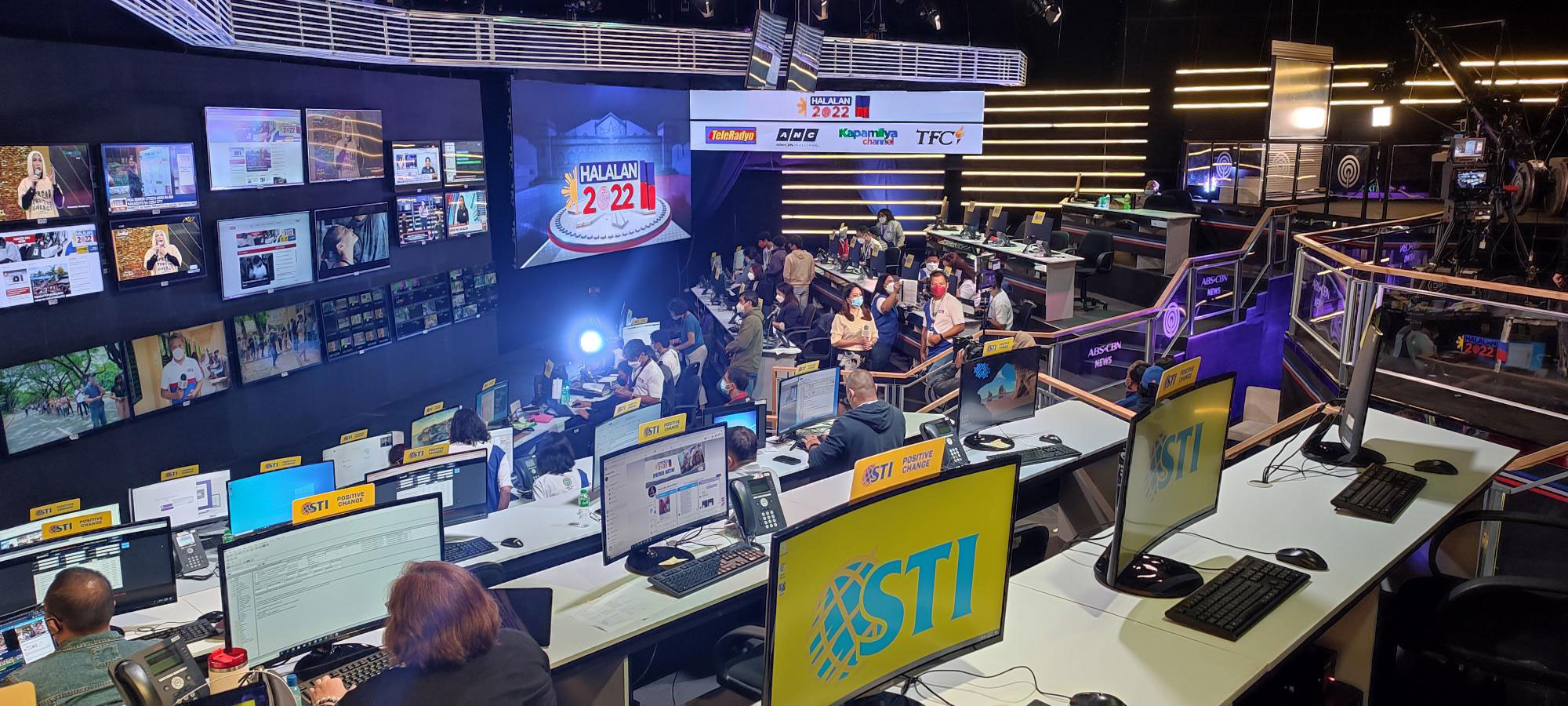 STI computer units deployed over ABS-CBN's Halalan 2022 newsroom
9 years of enduring partnership with ABS-CBN 
Since the 1998 national elections, STI and ABS-CBN have been collaborating for various advocacy programs aimed to promote the students' civic involvement. For this year's edition of one of the country's most important events, STI was one of the 50 organizations tapped by the media conglomerate to deliver a stronger coverage of the Halalan 2022.
ABS-CBN's citizen journalism arm Bayan Mo iPatrol Mo (BMPM) held several Voters' Education webinars for STI students nationwide to stress the importance of their civic duties in this year's election.
"Our partners represent diverse sectors in Philippine society that play important roles in times of national and local elections," ABS-CBN Integrated News head Ging Reyes said during the commencement meeting held in January.
"I have no doubt that we as partners can work together not only to deliver election-related news and fight disinformation but to encourage discussions on relevant issues and empower Filipinos to make their choices on election day," she exclaimed.
BMPM tapped their fellow election partner Legal Network for Truthful Elections (LENTE), the Philippines' first and only non-partisan group of lawyers, law students, paralegals and volunteers advocating transparent elections; and their election campaign ambassadors from Star Magic to host a series of webinars and workshops on voters' education.
From March 4 to May 5, STI students from various campuses nationwide underwent comprehensive and interactive online seminars and workshops.
LENTE Project Director Brizza Rosales, Star Magic Election Ambassador Aya Fernandez, BMPM Head Rowena Paraan, and ABS-CBN News Reporter Jervis Manahan briefed students in the two-part discussion about basic voters' education.
Paraan then spearheaded the workshop about fact-checking, while she was joined by fellow BMPM Campaign and Training Officer Dabet Panelo and Antonette Eduardo, Networking and Advisory Officer of LENTE, for the two-part workshop about election reporting.
Days before the Election Day, Paraan then tackled the role of students in citizen journalism to close out the webinar series.
For the duration of the symposium, students were able to gain a more legalistic perspective on this year's elections especially in a pandemic setting. On the Election Day itself, students from STI College Global City were able to practice points bared by the professionals in the seminar, and gathered factual, election-related stories for BMPM to report.
STI College Cubao serving as one of PTV's Reklamo Hubs
Facilitating a smooth election with PTV
To strengthen peace and order amid the typical election inconveniences, STI also teamed up with government-owned television company PTV, providing extensive voter coverage service for Hatol ng Bayan 2022.
From May 9 to 10, STI students, faculty, and staff became content aggregators for the network. Select STI campuses opened their doors for the installation of reporting hubs, dubbed as "Reklamo Hubs", and kept an eye on the stories and experiences of the voters on-ground.
Volunteers stationed in STI campuses in Cubao, Dagupan, Tarlac, San Jose, Legazpi, Naga, West Negros University, Iligan, and Cagayan De Oro catered to citizens raising concerns such as ballot discrepancies, registration errors, or even vote-buying.
They also gathered reports about the election activities which were shared on the network's social media platforms through the hashtag #PTVBantayBoto.
Overall, such partnerships are just one of the holistic efforts STI exerts in embodying the institution's vision in establishing and producing competent and responsible members of the world.