Change Your Habits, Change Your Life with STI NYC
January 3, 2020
Committed to molding individuals into responsible members of the society through activities inside and outside the classroom, STI continuously aims to encourage senior high school and college students to be the best version of themselves through its 24th National Youth Convention (NYC).
As the largest educational caravan, the STI NYC goes around the country with professional speakers as well as experts from various fields to reach and inspire thousands of STIers. With this year's theme "Positive Habit, I Have It" the event focuses on the relevance of reaching one's full potential through habit formation.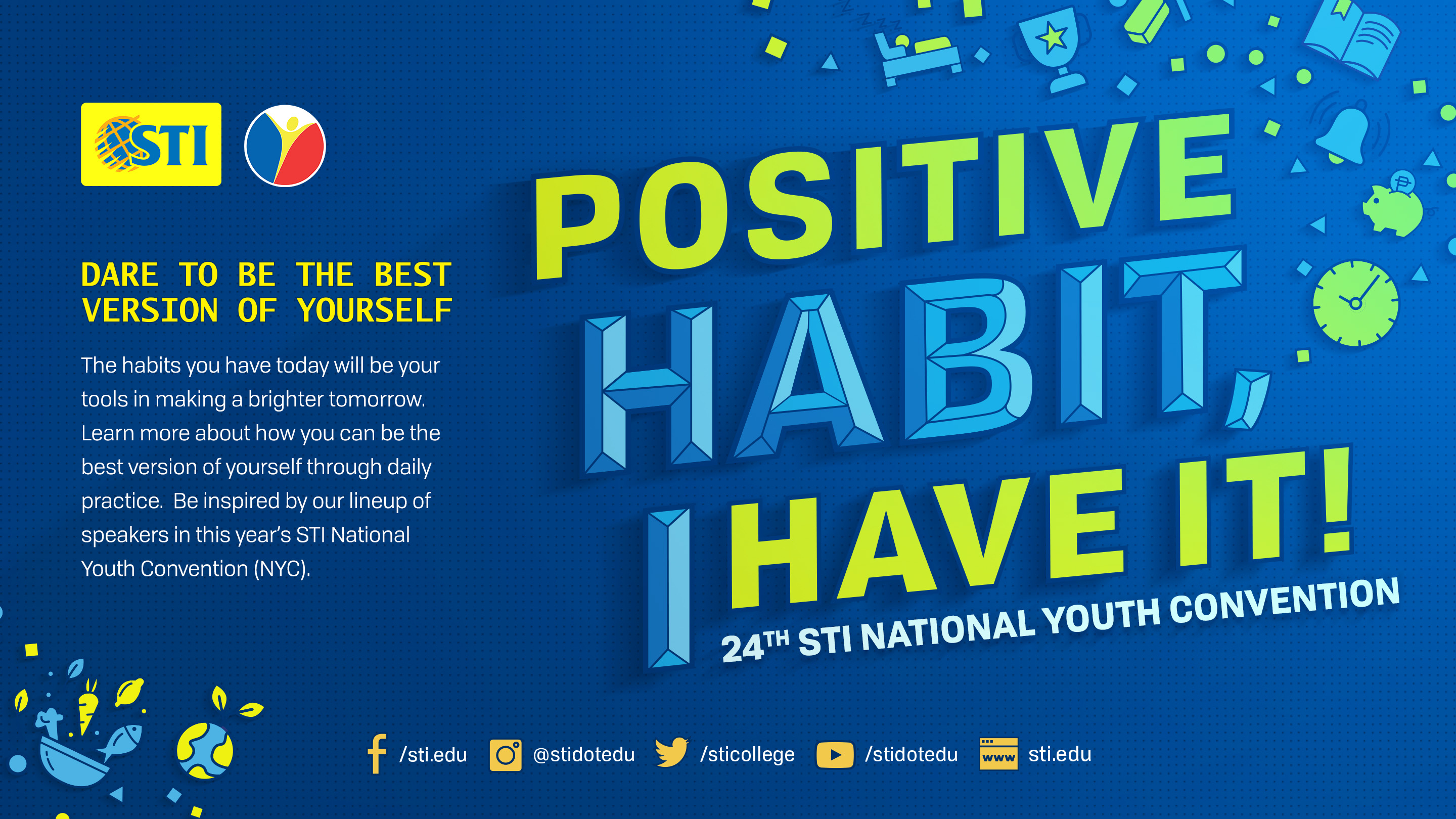 To provide in-depth information about the theme's message, Randy Esguerra, one of the country's fascinating speakers, will make the event more meaningful through his talk entitled "Your Mess is Your Message." His discussion is focused on recognizing one's strengths and weaknesses as well as encouraging every individual to continuously seek personal and professional growth.
This will be followed by the discussion of Michelle Defensor, an outstanding and well-known motivational speaker. With her talk entitled "Hack the Habit," students are expected to gain insights about the power of positive habits.
The 24th STI NYC will start on January 8, 2020 at CAP Cebu. Do not miss the fun by being part of this event that will be held in the following venues:
| | |
| --- | --- |
| VENUE | DATE |
| CAP Cebu | Cebu | January 8, 2020 |
| SM Cinema | Iloilo | January 22, 2020 |
| SMX Bacolod | Bacolod | January 24, 2020 |
| Laus Group Event Centre | San Fernando, Pampanga | January 28, 2020 |
| Baguio Country Club | Baguio | January 30, 2020 |
| CAP Development and Convention Center | Davao | February 4, 2020 |
| KCC Mall of Gensan | General Santos | February 6, 2020 |
| SM City CDO | Cagayan de Oro | February 11, 2020 |
| Naga Regent Hotel | Naga | February 27, 2020 |
| Cuneta Astrodome | Metro Manila and South Luzon | March 11-12, 2020 |
The National Youth Convention is conducted every year to ensure that students will gain life lessons that are necessary to become well-rounded and competent individuals.