Teamwork Key to STI NAMEI's Ace in Naval Board 2019
October 29, 2019
22 students from NAMEI Polytechnic passed the 2019 Naval Architecture and Marine Engineering Licensure Examination, and three from these students placed in the Top 10 of the exam.
Carlo Marasigan, Adnan Paul Lucero, and Marianne Castor did not only ace the board exam but also conquered it hand in hand with their entire class.
This is the story of how they managed to make their ship stay afloat amidst all the storms and struggles they have all been through.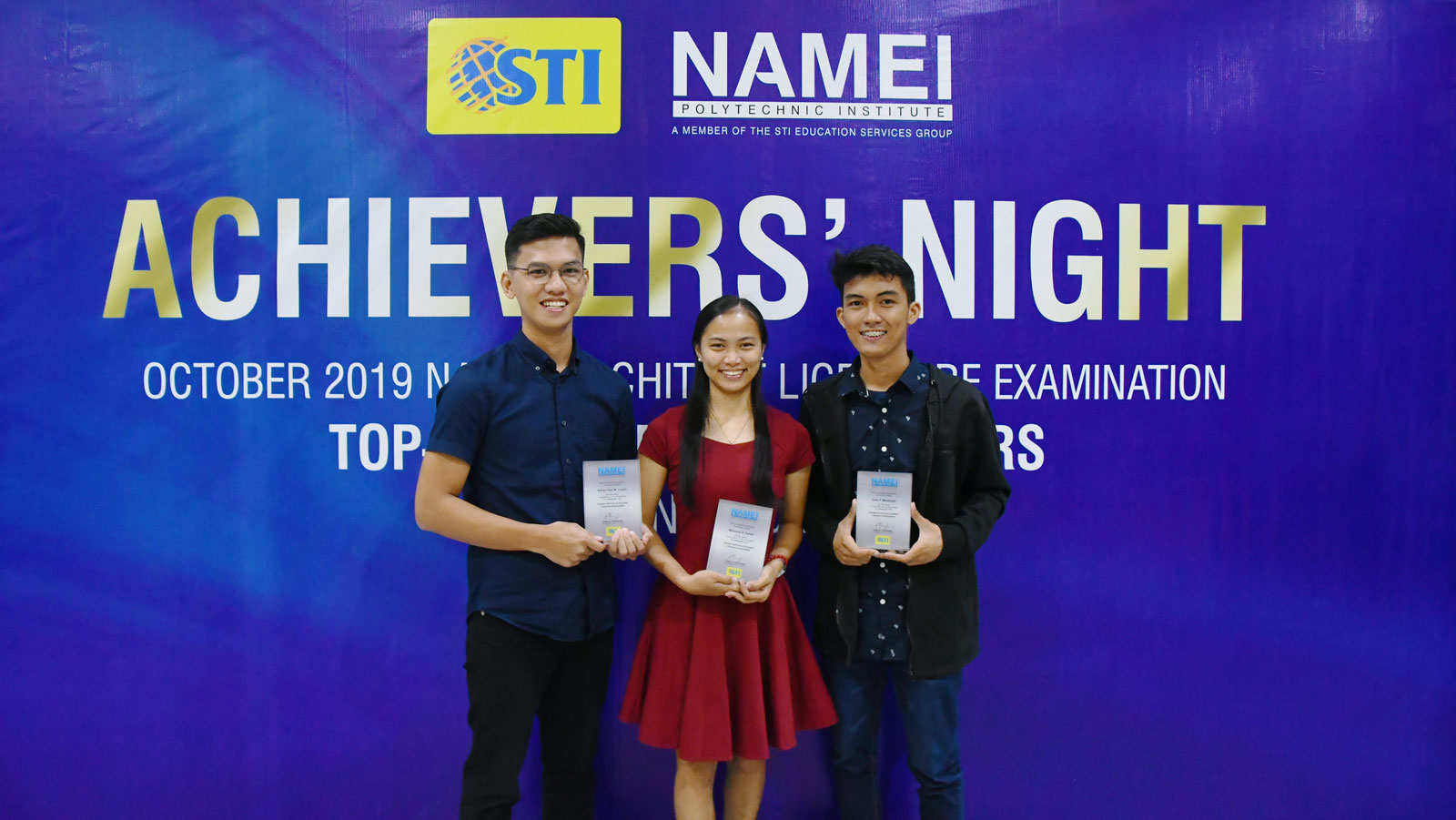 Topnotchers during the Testimonial Dinner (Adnan Paul Lucero & Marianne Castor, 6th place; Carlo Marasigan, 1st Place)
Humble beginnings & embracing the struggle
The three top-notchers were originally from the province of Batangas; Marasigan and Castor had to move out of their comfort zones and away from their home to take a chance in studying in Manila. Living away from their family was hard as they were basically forced to be independent within just a very short period. Castor even shared that she had to endure not seeing her family for days because she had to focus on her studies. While Marasigan had to undergo painful days of being sick without any family member around to take care of him.
Lucero, on the other hand, also had his own share of hardships. Before taking Bachelor of Science in Naval Architecture and Marine Engineering, he was supposed to be a priest. According to him, shifting careers was really a huge learning curve in rediscovering himself and his goals in life again. He also worked a fulltime job while studying so he could support his studies, often he would often miss his classes but his classmates were always there to help him keep up.
The three lived with their other eight classmates in one dorm. To seal the friendship, the 11 came up with a group name which is the '3590 Bataan St. Family', the dorm where they lived since day one of their college days.
According to Lucero, college wasn't easy for their class. Sharing limited resources with each other, there were times when they would borrow review materials from their friends just to be able to study for the board exam.
Despite these challenges, what made their bond stronger was that they never left each other's side. Even when they were feeling homesick, they would talk it out together and go on food trips.
Calm after the storm
Marasigan with a rating of 89.40 led the 89 board passers out of 156 board examinees, while Lucero and Castor both placed sixth with a rating of 87.20.
Lucero, during his speech at the Achievers' Night, said that the board exam was not just a test of intelligence and that they passed not because they were lucky but due to their determination.
The three also thanked all their teachers and classmates who have contributed to their success and made their stay in college bearable.
"Malaki yung pasasalamat ko sa kanila, kasi kung hindi dahil sa kanila ay hindi ko naman mararating kung ano yung naabot ko ngayon, at kung ano man ang maabot ko in the future journey ko," shared Marasigan.
When asked about what their message is to the youth, Lucero left a quotation, "If you want to run fast, run alone, but if you want to run far, run together."
The students highly promote the collective culture most especially when it comes to studying. Nowadays, there are a lot of things that might distract a student away from studying and having someone to push the whole group to study is really important.
Castor also said that she's happy that her story was able to inspire and motivate her fellow students.
They also stressed out that their minds were not set to compete against their classmates but to help every single one from their class pass the licensure examination.
Indeed, these students are admirable with how they have managed to survive not only college but also the board exam. They are a testimony that nothing is greater than a team working hand in hand to achieve one dream.
STI NAMEI Board Passers of the 2019 Naval Architect & Marine Engineer Licensure Exam

ABE, CARLA MAE MARIÑO

ROSIT, JOHN ADRIAN APOSTOL

GALANG, GERARD MARVIN PASCUA

COLASINO, JAH JEHIEL SOLIVEN

CASTOR, MARIANNE RAYOS

DIAZ, JOSHUA CHRIS DELA CRUZ

MARASIGAN, CARLO PEREZ

DAITOL, EUGENE KENNETH DELA CRUZ

LUCERO, ADNAN PAUL MALALUAN

CASAPAO, EPHRAIN JAMES CASTILLO

RAMIREZ, ALEXIS NAPA

TROFEO, JOSHUA ALEC TALLER

BUBAN, CHARISSA BORCELIS

HUERTA, KAMIL ZYNA HIPOLITO

DUQUEZA, MARIA MICKAELLA VELASCO

ROMANO, MAICA MAE TABUGOS

MALIMATA, ALTHEA BIANCA ILAGAN

ABEJAR, JOSEFA CARMELLI ANALES

ALARAS, JANN ALDEN ROLDAN

CANCINO, AHRENKIEL CASTILLO

AGUILA, PAULO ROBERT CRUZAT

EBORA, JONAS ANTHONY BUGHAO
Serving a greater purpose
Marasigan and Castor plan on working with the shipyard who provided them the scholarships, while Lucero aims to be a surveyor but if it does not work out he will work in a local shipyard instead to gain work experience.
The three want to serve a greater purpose of helping boost the local ship industry in the Philippines through the knowledge they have acquired during college.
Marasigan also plans on pursuing further education in the future so he will be able to help aspiring youth the same way he helped his classmates.
Furthering greatness and opportunities
With over 70 years of expertise in maritime education, NAMEI Polytechnic Institute continues to create opportunities for young and aspiring seafaring talents in the country. Throughout the years, the institution has continuously produced graduates who thrive in the naval architect and marine engineer board examinations.
The prime center for maritime studies was acquired by the STI Education Services Group, Inc. (STI ESG) to further STI ESG's commitment to providing relevant education that shapes the Filipino youth's success in the professional world.
Together, STI's commitment and vision in giving industry-driven skills, and NAMEI's decade-long dedication and expertise in Maritime Education, STI NAMEI is set to produce more professionals that will maximize the local maritime industry.