Tech Innovation Continues in Real Life Education
June 3, 2019
STI commits to educational innovations by extending ties with the e-Learning giant Cypher Learning through a contract renewal on May 7, 2019 at STI Academic Center Ortigas-Cainta.
The partnership started in 2015 for the aptly named eLearning Management System (eLMS) where STI made use of Cypher Learning's award-winning cloud-based tool NEO Learning Management System (LMS).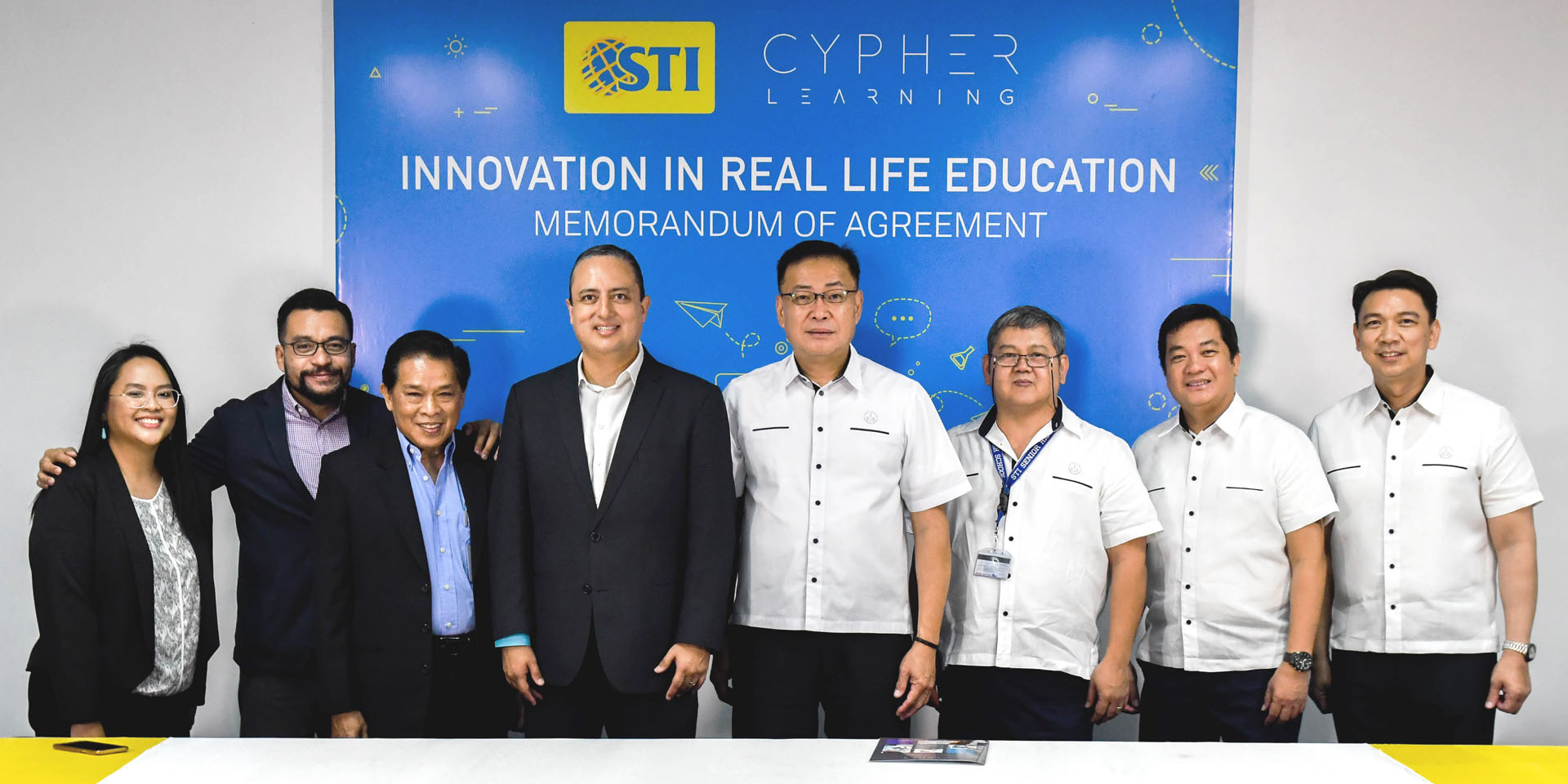 Standing from left: Cypher Learning Director of Customer Success Arlynne Awayan, Cypher Learning Philippine Partner Resellers Jose Ma. Silva and Jose Villarama Jr., Cypher Learning Global Director of Sales Armando Yuri Rangel at the Memorandum of Agreement Signing with STI Education Services Group, Inc. (STI ESG) President and COO Peter K. Fernandez, STI ESG AVP of Learning Management Doctor Harry Alfonso Joson, STI ESG VP for School Operations Resty Bundoc, and STI ESG VP for Communications Elbert De Guzman.
Sustaining a robust learning management system
The eLMS is an interactive educational app, engaging social platform, and personal organizer all in one. Exclusive for STI students across 76 campuses nationwide, the app is accessible on all devices, allowing students to review and study ahead, track their learning progress, collaborate with their classmates, and connect with their teachers anytime, anywhere.
STI faculty members can also use the eLMS in tracking their students' performances, creating interactive quizzes and learning activities, and sharing additional readings through the system.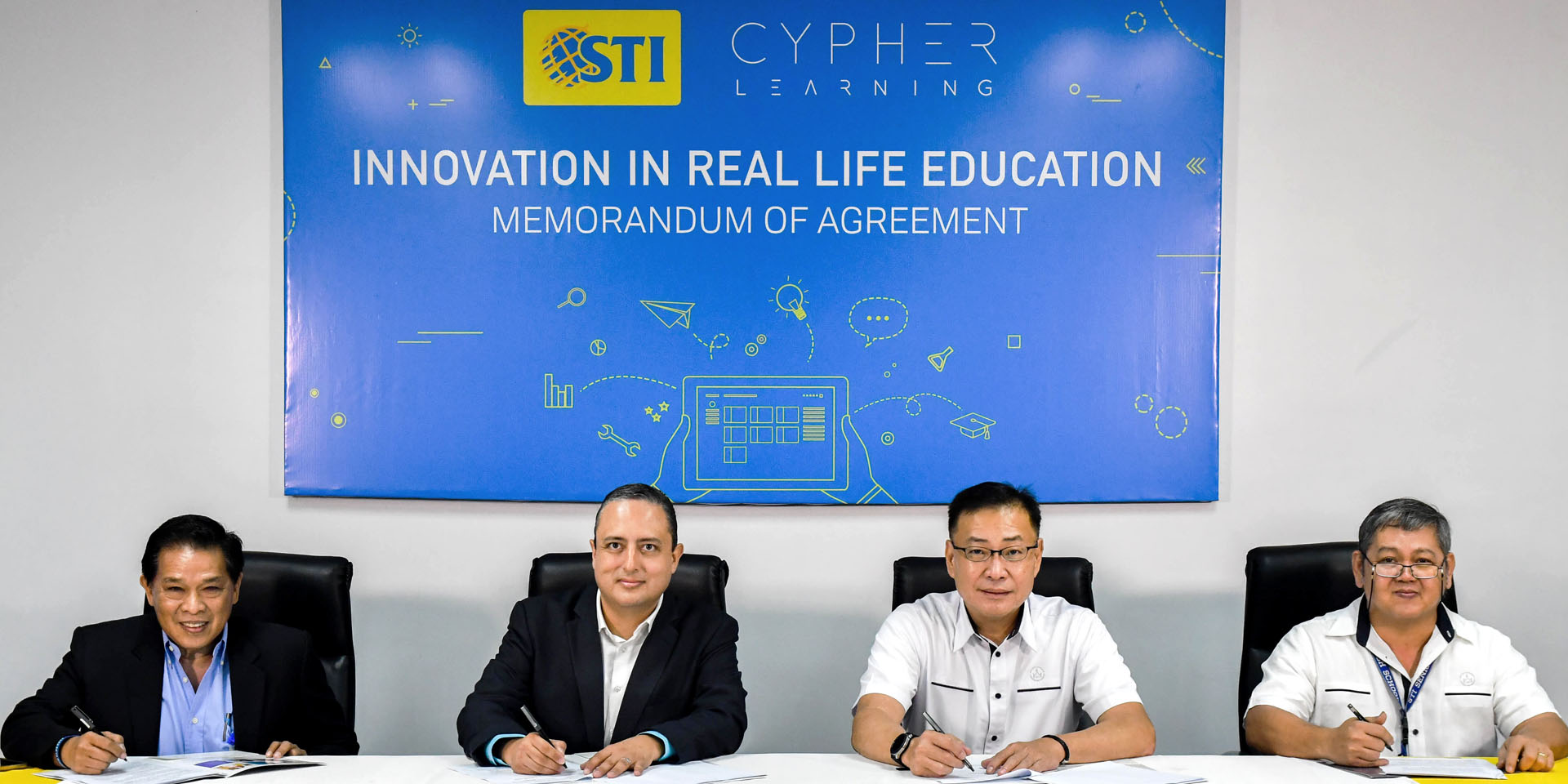 Cypher Learning Philippine Partner Reseller, Jose Villarama Jr., Cypher Learning Global Director of Sales Armando Yuri Rangel, STI ESG President and COO Peter K. Fernandez, and STI ESG AVP of Learning Management Harry Alfonso Joson signing the Memorandum of Agreement
Bringing blended learning into Filipino classrooms
Through the eLMS, the teachers can facilitate classes where students can experience studying with a blended learning approach.
The increasing presence of digital media in the students' lives paved the way for a mix of traditional or face-to-face classroom methods and online learning or e-learning described as blended learning.
The tool proves to be convenient as it allows students to continue their studies uninterrupted in the comforts of their home or wherever they may be, no matter the weather or situation.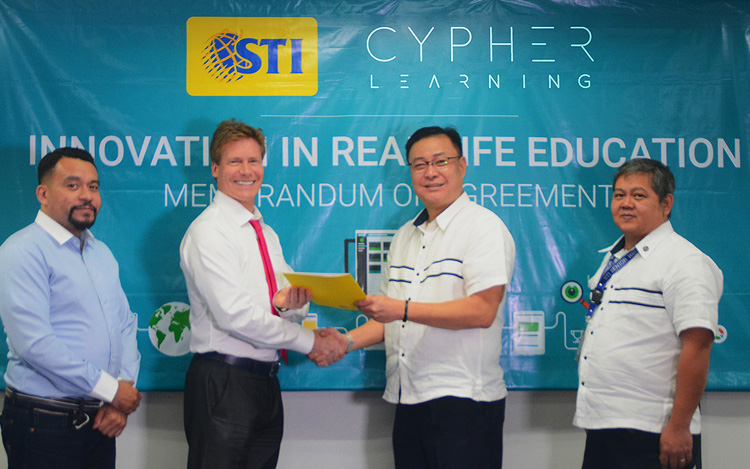 At the first Memorandum of Agreement signing in 2016 between STI ESG and Cypher Learning with key officials from both parties, including the CEO and Founder of Cypher Learning Graham Glass.
Educational innovation that's recognized worldwide
Since the company's beginnings in 2009 at San Francisco, Cypher Learning has grown by catering to the learning needs of educational institutes, enterprises, and corporations big and small.
Their flagship program NEO LMS (formerly EDU 2.0) is a well-decorated tool that has won various awards through the years including becoming of the Top 50 LMS in 2016 and Tech Edvocate Awards for Best LMS in 2016 and 2018, among others.
As an educational institution committed to provide innovative and relevant education, STI continues to uphold the importance of face-to-face interaction, and the crucial roles of teachers in coaching and nurturing students to become competitive and responsible members of society.