Turning Dreams into Reality through Scholarships
May 21, 2019
"Education is the most powerful weapon which you can use to change the world," shares Nelson Mandela, former President of South Africa.
Indeed, quality education plays an important role not only in ensuring a brighter future but also in shaping a better nation. However, it cannot be denied that many Filipinos choose not to attend school due to various reasons. Based on the 2017 Annual Poverty Indicators Survey (APIS), almost nine percent of the estimated 39.2 million Filipinos from ages six to 24 years old are out-of-school children and youth (OSCY). Among the 3.6 million OSCY, 83.1% are 16 to 24 years old, 11.2% are 12 to 15 years old, and 5.7% are 6 to 11 years old.
Survey results show that the high cost of education is one of the most common reasons of OSCY for not attending school.
With this pressing issue, STI gladly offers financial assistance to deserving senior high school and college students from all walks of life to pursue courses in Senior High School, Information and Communications Technology, Hospitality Management, Tourism Management, Engineering, Business and Management, and Arts and Sciences.
Financial assistance for incoming senior high school students
For laudable junior high school (JHS) completers, different scholarship programs are offered such as the Academic Achievers Scholarship, President's Grant-in-Aid Scholarship, and SHS Open Scholarship.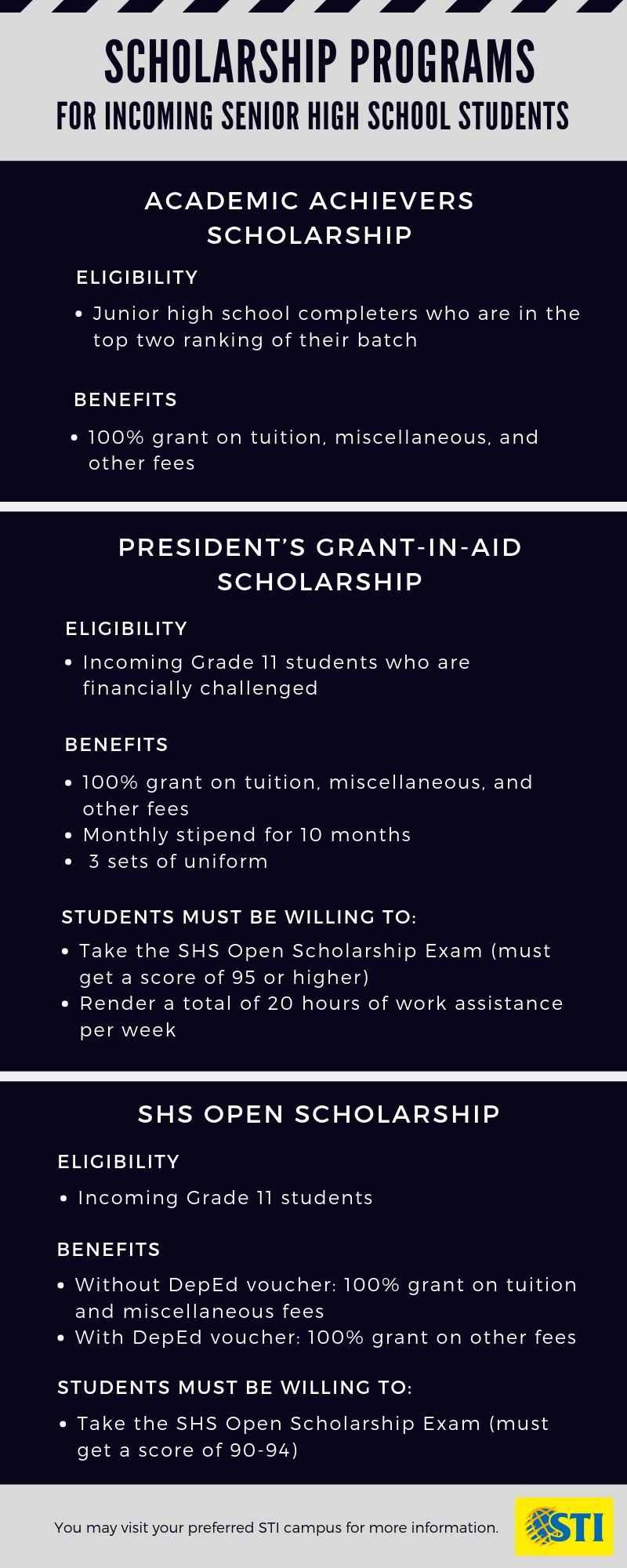 Incoming senior high school students are welcome to apply for the said scholarships. Depending on the results of the qualifying examinations, applicants may be granted with partial or full scholarship. Meanwhile, students who are in the top two ranking of their batch are automatically granted with scholarships.
Scholarship programs for incoming tertiary learners
For deserving senior high school (SHS) graduates, scholarships are also provided to help them attain real life education. SHS Alumni Scholarship Grant, Academic Excellence Scholarship, and Tertiary Open Scholarship are offered to them.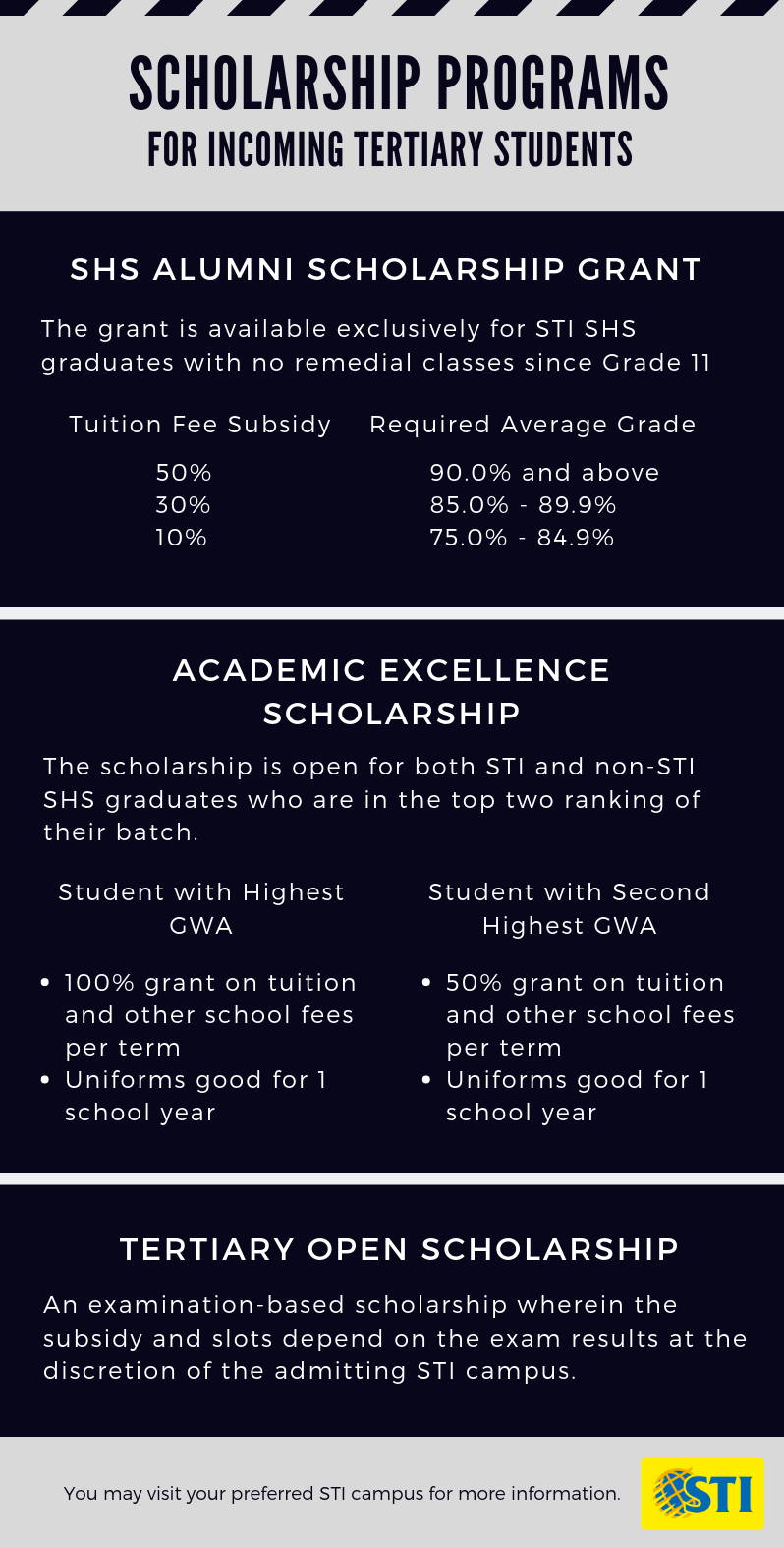 Similar to senior high school, applicants who meet the required results of the qualifying examinations may be provided with partial or full scholarship. At the same time, students who are in the top two ranking of their batch are eligible for the scholarships.
Scholarship for siblings who wish to enroll in the same STI campus
If there is more than one child concurrently enrolled in STI, each qualified sibling is entitled to 15% scholarship grant.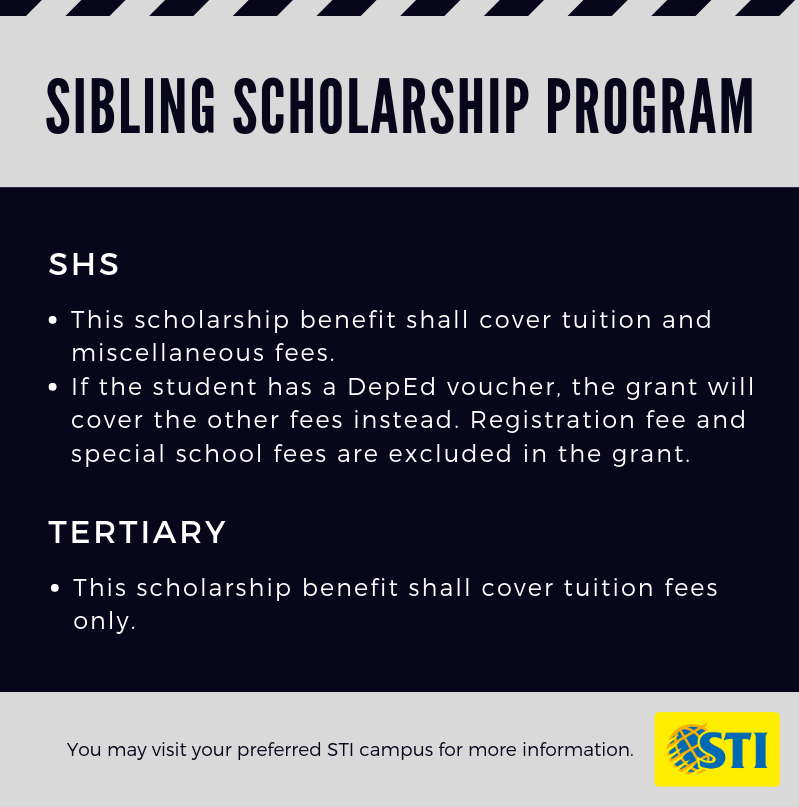 Aside from the STI Scholarship Program, STI campuses nationwide also welcome Tertiary Education Subsidy (TES) grantees. In fact, according to Commission on Higher Education (CHED) and Unified Student Financial Assistance System for Tertiary Education (UniFAST), select STI campuses are among the Top 10 Private Higher Education Institution (PHEI) with the largest number of TES grantees.
To help individuals gain better opportunities, scholarship programs are offered to let them have functional literacy needed in various industries. As part of its promise, STI strongly commits to inspiring and nurturing students to become lifelong learners through innovative education.
Are you one of those individuals who want to attain a specific scholarship program? Aside from the aforementioned financial assistance, there are other scholarships available to different STI campuses. You may now visit your preferred campus to inquire.