STI Mobile School, Southeast Asia's Best PR Programme
May 10, 2019
STI Education Services Group, Inc. (STI ESG) and STI Foundation were recognized in the ASEAN PR Excellence Awards for its mobile school program Computer Lab on Wheels: Driving Education Where IT Matters.
The ASEAN PR Excellence Awards, held on April 29 this year at Hilton Kuching Hotel, Malaysia, recognizes the most outstanding, inspired, and the very best in the ASEAN region's PR and Communication industry, whose works delivered exceptional impact and results. It is hosted by the ASEAN Public Relations Network (APRN) in collaboration with Institute PR Malaysia, supported by Sarawak State, and Global Alliance for Public Relations and Communication Management — the confederation of the world's major PR and communication management associations and institutions around the world.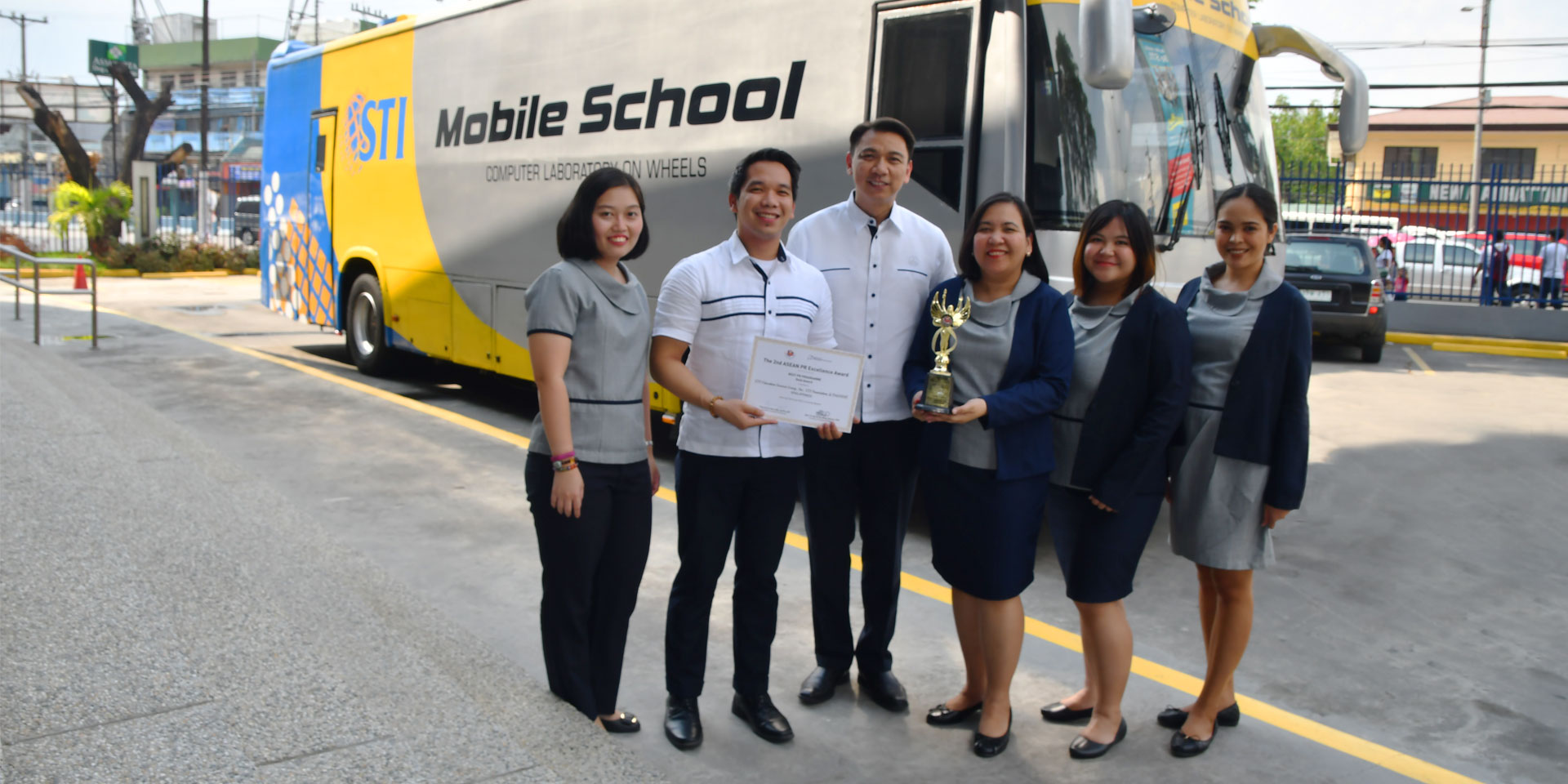 STI Education Services Group's Vice President of Communication Elbert de Guzman and STI Foundation's Executive Director Connie Sablay in the middle with the members of the STI ESG Communication team
Launched in 2007, the STI Mobile School won Best PR Programme in Southeast Asia after being nominated by the Public Relations Society of the Philippines (PRSP). The program also went through a series of deliberation from a panel of jury across ASEAN countries.
STI ESG Vice Chairman and CEO Monico V. Jacob said that STI's core strength of delivering ICT education in the country led to the program's creation, which aimed to address the pressing need to provide computer access, computer learning, and connectivity in rural communities. The program also aligns with STI's commitment to mold the country's next generation of leaders, its continuing partnership with the Department of Education (DepEd), and support for the K-12 program.
There are six STI Mobile Schools equipped with state-of-the-art computer laboratory with internet access, 24 multimedia computers each, LCD monitors, sound system, and other top-of-the-line computer equipment. These facilities were likewise put into place to support STI's modules which feature a strengthened K-12 responsive curriculum to fast-track the student and faculty's ICT literacy development. Using a combination of lecture and laboratory works, the curriculum covers computer concepts, GNU image manipulation programs, basic windows web design, multimedia, and other pertinent ICT tools among others.
Since its inception, the six STI Mobile Schools have already reached over 1,200 sites and has trained more than 170,000 elementary and high school students, teachers, and other individuals nationwide.
Previously, the STI Mobile School also won the coveted Grand Anvil and two Gold Anvils in the 54th Anvil Awards of PRSP in front of the biggest and brightest communication and business practitioners in the country held at the Marriot Hotel Manila in Pasay City.