Volleyball 101 with Alyssa Valdez
June 17, 2016
STI Education Services Group, Inc. (STI) joined three-time University Athletic Association of the Philippines (UAAP) Most Valuable Player (MVP) in volleyball Alyssa Valdez in teaching useful techniques to play the sport to those who are interested to learn. On May 5, 2016, Alyssa launched the Alyssa Valdez Skills Camp at the STI Academic Center in Calamba. The Skills Camp is open to all fans of the sport from ages 6-18 and included an open session for anyone who simply wanted to learn how to play.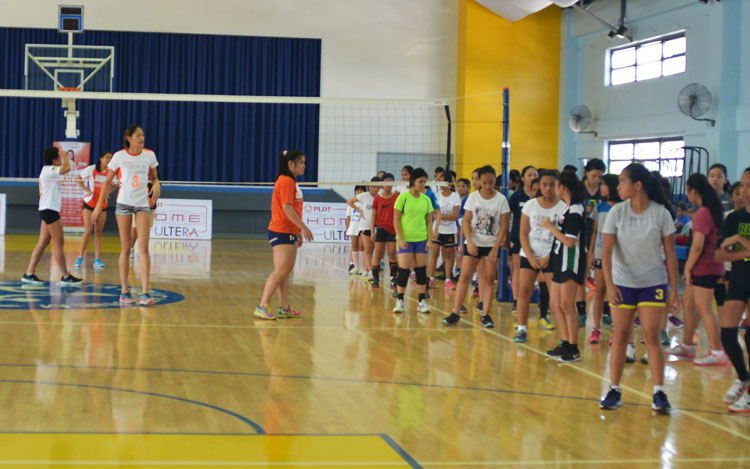 The first leg of the camp ran for three days, until May 7, 2016, at the STI Academic Center in Calamba. It continued at the STI Academic Center in Cubao on May 10 to 14 and wrapped up on May 19 to 21 at the STI Academic Center in Ortigas-Cainta. With more than 300 volleyball learners for each leg, Alyssa and her team of well-known athletes such as National Collegiate Association (NCAA) MVP from San Sebastian College Gretchel Soltones, former UAAP player from the University of the Philippines Joyce Palad, UAAP player from the University of Santo Tomas EJ Laure, NCAA player from College of San Benilde JV de Guzman, and Alyssa's teammates from Ateneo De Manila University Amy Ahomiro, Jhoana Maraguinot, Bea de Leon, and Ella de Jesus trained the participants with the basics and techniques.
Drawing from her own experiences, Alyssa shares some of her inspirational words to the learners. "I bet there will be some who will exceed my own capabilities in playing volleyball, and in everything else, especially if they are passionate, hardworking, disciplined, and determined." To further illustrate what it takes to become a student athlete, she says "To be a good athlete also means being a good student. If you're listening in class, and if you're good in class, then you can apply this attitude in training to become a good athlete."
Sharing Alyssa's vision to inspire dreamers in the sport, STI extends its hand in developing the potentials of the new generation of volleyball talents and fulfill more aspirations to excel in the country's sports industry.