TV Lectures with the Manicads
2016-04-8
To give its AB Communication students a real life lesson about the media industry, STI has invited renowned journalist and television reporter Jiggy Manicad and his wife, executive producer and director, Marnie Manicad to hold an educational seminar about journalism and TV production entitled TV Lectures on March 10, 2016 at the STI Academic Center Ortigas-Cainta. Over 300 students from eight STI campuses participated in the seminar to learn about the careers they will experience once they are immersed in the industry.
Marnie's background in producing lifestyle and leisure shows provided the students with insights about the production process a television show goes through before it is aired. She also oriented students on the elaborate preparation to be efficient in production and effective in their execution.
Jiggy followed with his talk about journalism that entails going out in the field to capture compelling stories as they actually happen. He showed excerpts of his works to teach students that involving themselves in their reports will make their materials more engaging and substantial. However, he also reminded them to make their safety a priority as "No story is worth dying for."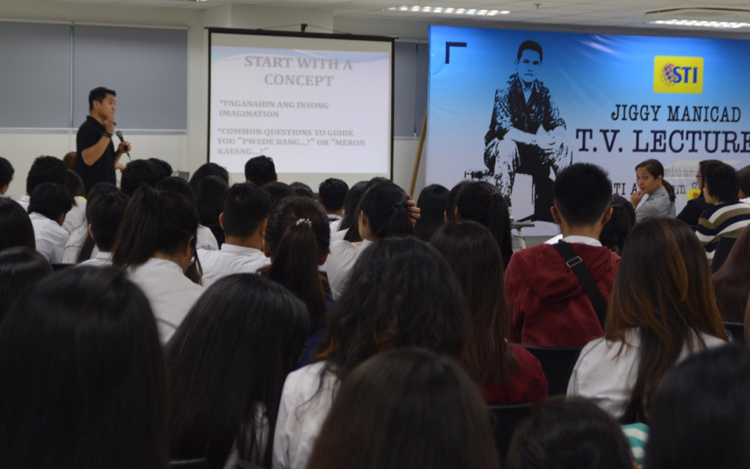 Jiggy Manicad discusses conceptualization among students.
The couple agreed that working in TV production is no easy task, and that it takes passion to enjoy and succeed with a career in the industry. "You should have a direction on what you would want to pursue in this field," shares Marnie. "There will be times when you will be discouraged because it is challenging at first and you have to go through failures. But when you overcome those failures and stand up from the fall, you will become stronger as a person and a practitioner."
Furthermore, she states that everyone experiences the grueling work of a Production Assistant as part of the training. "Before you appreciate how it is to be on top, you have to learn how it is to be at the bottom because that's where you will learn the struggle. So when you have climbed up the ranks to becoming a Segment Producer, you can guide those who are under you. It is imperative that you will fail, but what is most important is that you will pick up from the fall."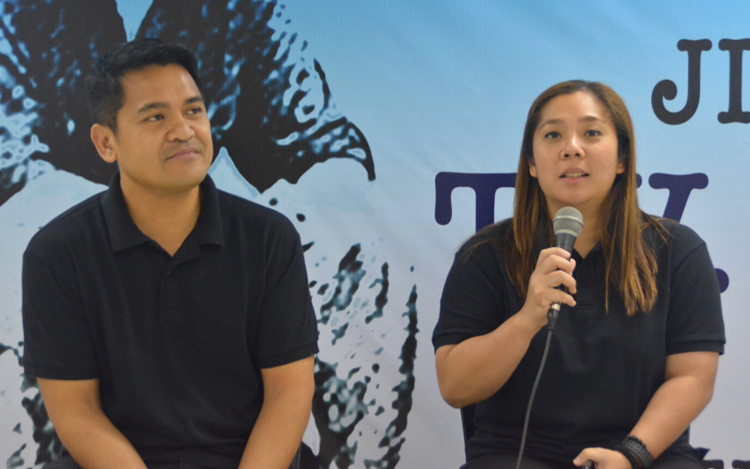 Jiggy & Marnie Manicad answer questions during the seminar's open forum.
Jiggy's success in the field of journalism, on the other hand, was cultivated by the credibility in his stories. "When we expose or discuss certain situations in our stories, we reap reactions from the authorities. They take action, and in effect, there will be better changes in the lives of the people involved. The viewers' awareness level grows, and they form opinions and feedback. Media helps build and strengthen communities." Jiggy also explains that this is why working in the media is important. "To be part of a (TV) network is a responsibility. Whatever you bring out there will bring messages behind it. When you're part of the media, you have to acknowledge that in a way, you have a shared power. So don't exploit it and don't hold any self-entitlement."
AB Communication is the latest addition to STI's list of courses it offers to college students. And as part of their training, STI primes its students to become competent professionals and socially responsible individuals. This is why STI continues to open its doors for more approaches to educate its students about the growing media industry and prepare them better for the field after they graduate.