STI and DBP Endow Scholarship Grants
April 8, 2015
The Development Bank of the Philippines (DBP) and STI Education Services Group, Inc. (STI), through its corporate social responsibility arm, STI Foundation, will be working together in helping the financially disadvantaged youth to finish their college education through the DBP Endowment for Education Program (DEEP), where DBP will be providing the fund that STI will be using to grant college scholarships to students.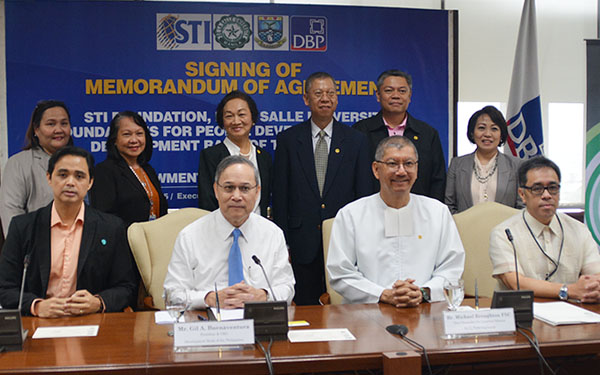 STI is one of the 33 accredited schools in this scholarship program. Under DEEP, students who have met the requirements to become scholars will be able to complete their college years with STI, which will be financed by DBP. Coverage of the scholarship grant includes tuition fee, stipends for uniforms, books, other training fees, and miscellaneous school fees.
The partnership between DBP and STI was made official through a signing ceremony which was held on March 23, 2015 at the DBP Office in Makati City.
"We are greatly honored to be entrusted with this kind of assistance from the DBP. It will help us in our drive to educate more people and give them better prospects in their future. What follows after this partnership is an assurance that this fund will be placed into giving our scholars the proper training not only so they will become proficient in their fields, but also to learn how to become conscientious with the needs of others and pay it forward," shares STI President Monico V. Jacob.
DEEP alumni who have found gainful employment are encouraged to contribute to the DEEP Scholars Association, Inc.'s (DEEPSAI) fund and sustain the advocacy of the program for the next batch of scholars.
"Education is the key to poverty alleviation. This is the reason why DEEP was established so we, in our small way, can help. We would like to pursue the millennium development goal of 'education for all' as means of poverty alleviation," shares Aurora Maghirang, DBP's Acting Head for the Financing Inclusive Development Department (FIND). Not only focusing on the technical aspects of educating DEEP students, she adds that they will ensure that the students will be trained to become responsible members of society. "Each of the chosen courses depends on the technical requirements, but we require our program to have values formation courses. Our team will ensure that values will be instilled among our students: love of God, love of the country, and a sense of responsibility. We even apply this idea on 'DBP,' which also stands for Diyos, Bayan, and Pamilya. This is especially true when the students begin to seek employment because it is important that they have the right discipline."
STI's collaboration with DBP is one of STI's efforts to reach out and help more Filipinos in need of support to finish their education, and fulfill their dreams and goals for a brighter future.