STI Partners with DepEd for Alternative Learning System
April 7, 2015
STI Foundation for Leadership in Information Technology and Education, Inc. (STI Foundation) and the Department of Education (DepEd) are working together in providing more learning centers for the Alternative Learning System (ALS) under the Abot-Alam program. The partnership was made official through a signing event held on March 24, 2015 at the DepEd Central Office in Pasig City.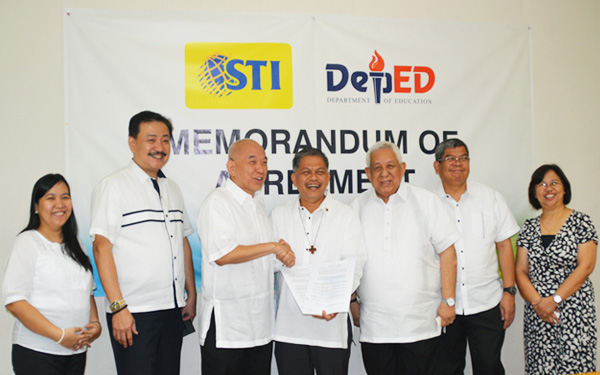 (From left to right) Executive Director for STI Foundation Connie Sablay, STI EVP/COO Peter Fernandez, STI Chairman Eusebio Tanco, DepEd Secretary Br. Armin Luistro, STI President Monico Jacob, DepEd Undersecretary for Partnership & External Linkages Mario Deriquito, and Executive Assistant V for the Office of the Secretary, DepEd Merlie Asprer.
ALS is a free non-formal education offered by DepEd to help learners who wish to complete their basic education. Thus, it addresses the problem on the growing number of students who drop out of school every year.
The partnership between STI and DepEd specifically aims to provide out-of-school youth aged 15 to 30 with an opportunity to complete their high school education in a non-formal learning environment. Learners under this program are also allowed to choose their own "learning strands" or modules as the ALS sessions have more open regulations on the learning pace of its students. STI responded to this call for participation by making available use of its classrooms, computer laboratories, and providing volunteer teachers who will facilitate the sessions. The first ALS batch in STI started on March 7, 2015 with STI employees teaching over 50 students.
"Education is an important starting point for an individual to become capable and conscientious. According to UNESCO's latest report, the Philippines has a 1.46 million out-of-school population. This sad reality has driven us to become active in helping out with DepEd's ALS program because we want to contribute to lowering that number and educating as many Filipinos as we can. This will also be our contribution to the DepEd's vision of zero OSYs by 2016, and it will be an achievement, not only on our part, but also for all the out-of-school Filipinos who will finally finish their secondary education and have a better prospect in life," shares STI Foundation President Monico V. Jacob.
In his speech during the event, DepEd Secretary Br. Armin Luistro shares, "the real mandate of the department is to be in search of those who cannot, one way or another, enter the system, and it has to be a flexible system... STI is great on the forefront of many of these (educational) reforms, and our memorandum of agreement is a testament to our vision and the innovation STI has shown in many of its campuses."
ALS learners will take learning strands in communication skills, problem solving and analytical thinking, productivity, development of self and a sense of community, and expanding one's world vision. Those who have completed the ALS sessions (held every Saturday for 10 months) will take the Accreditation and Equivalency Test (A&E) which, if passed, will entitle them to an ALS Diploma that serves as an equivalent for a high school diploma.
Undersecretary for Partnership & External Linkages of the Department of Education Mario Deriquito elaborated in a statement. "Once the learners received their high school diploma, they can go to college, or take a certification course with TESDA. The ALS is like a bridge for the OSYs-turned-learners to go to the next stage which is either the world of work or higher education... For those who did not pass the A&E, we will ask them to go through more sessions and learn more from the program."
STI opens itself to every opportunity in reaching out to those who need easier means to achieve education. Its support in the Abot-Alam program has contributed greatly in the objective of ALS to make sure that it can educate as many Filipino learners as possible.