STI, ABS-CBN Strengthen Partnership for Halalan 2013
July 8, 2013
STI and ABS-CBN partner once again for this year's national elections dubbed as Halalan 2013: Tayo Na!. Thousands of students, faculty members, and staff from STI Colleges and Education Centers in all parts of the country have heeded the call to become Bayan Patrollers as they participated in ABS-CBN's coverage of the May 11, 2013 elections.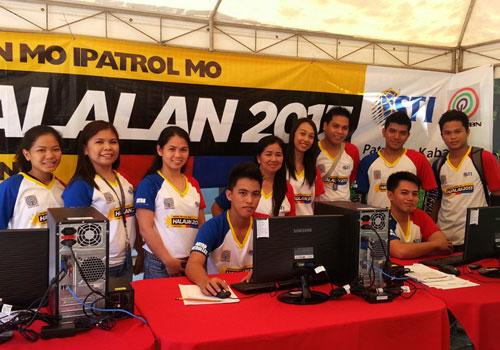 For this year's Halalan, STI volunteers have been deployed to key precincts and regional ABS-CBN offices around the country to serve as content aggregators under Bayan Mo, iPatrol Mo (BMPM), the advocacy arm of ABS-CBN. All five STI Mobile Schools, which are equipped with state-of-the-art computer laboratories comprised of more than 20 multimedia computers with internet access, LCD monitors, sound system, and other top-of-the-line equipment housed inside a bus, have been also deployed in Luzon and Mindanao to help in aggregating stories from Bayan Patrollers nationwide.
As content aggregators, STI volunteers are tasked to receive and verify reports from Bayan Patrollers through face-to-face interviews and various media platforms such as email, SMS, and social media like Facebook, Twitter, and others.
Beginning November 2012, STIers nationwide underwent workshops on citizen journalism in their campuses and during the 18thSTI National Youth Convention, led by ABS-CBN journalists like Jing Castañeda, Atom Araullo, Niña Corpuz, Jeff Canoy,Tony Velasquez, Chiara Zembrano, BMPM head Inday Verona, and other local news celebrities in the regions.
Select students from STI College - Global City and STI College - Quezon Avenue also joined the BMPM Caravan held on May 6, 2013 which served as the kick-off event for BMPM's Halalan coverage.
The powerhouse partnership of STI and broadcasting giant ABS-CBN has spanned through Halalan 1998, 2001, 2004, 2007, and 2010.
View more pictures