STI Wins Anvil Award of Excellence

Driving Education Where IT Matters, STI Foundation Inc's Mobile School campaign, won the Public Relations Society of the Philippines' (PRSP) Award of Excellence at the 45th Anvil Awards held on February 26 at the Isla Ballroom of EDSA Shangri-La Hotel.
Close to 300 entries all vying for a much coveted spot were received by the PRSP last year. Each went through a two-stage screening and evaluation process. Leading the initial screening were accredited PR professionals which looked primarily at technical compliance on the requirements. A multi-sectoral board of jurors then assessed the entries based on a set of criteria that emphasized out-of-the-box thinking, strategic implementation and measurable results.
Receiving the award was STI's President and CEO Monico V. Jacob. The STI Mobile School project is lauded by PRSP for breaking the barrier of distance in teaching computer literacy for free to public schools nationwide. This endeavor is fueled by the passion and perseverance of STI in finding better means to educate more students with pertinent ICT-enhanced training that will be valuable in pursuing higher education and employment.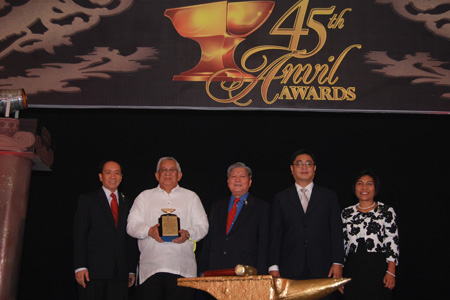 L-R: Mr. Bert P Pasquin, APR -PR Counselor (Juror); Mr. Monico V. Jacob - STI President & CEO, Mr. Eduardo S. Alcaraz, APR - Chairman of the 45th Anvil Awards Committee, Mr. Butch S. Raquel, APR-PRSP President and Ms. Anna Lenore H. Pilobello, Director Public Affairs Department, Philippine Area, The Church of Jesus Christ of Latter-Day Saints (Juror)
The campaign also serves as a 'helping hand' to aid public schools in developing more ICT literate teachers who can further share their knowledge to students. Participants of the computer training inside the bus have the option to partake in a free and a more thorough session in the nearest STI schools in the area.
Furthermore, the STI Mobile School serves as an alternate training facility for public elementary and high schools that do not currently offer computer laboratories. Equipped with state-of-the-art multimedia computers and a wireless Internet connection, the STI Mobile School also boasts of LCD monitors and top-of-the-line sound system that makes learning more convenient and exciting.
Starting with just one mobile bus which roamed around more than 71 sites in Luzon, and has trained more than 6,000 students in 2007 alone, STI now operates a total of 4 mobile school buses that expand its reach in educating more and more Filipinos across Visayas and Mindanao.
The Anvil Awards is an annual competition that serves to honor the most outstanding public relations programs of the past year. Entries are divided into 2 categories: Institutional & Corporate PR Program, and Tools of Public Relations. From the excellent PR programs and tools, the jurors chose the Grand Anvil and the Bronze Awardees, respectively.
This year saw the largest number of entries in the competition since its inception, with 292 entries vying for top spots. Out of these, only 114 received the prized Anvil Awards of Merit and Excellence.