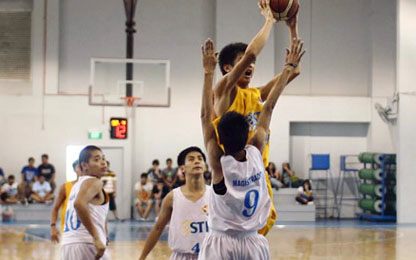 STI College ? Quezon Avenue Sweeps Eliminations
Teamwork coupled with tremendous defense made STI College - Quezon Avenue clinch the elimination round of the 10th STI Basketball Showdown. Wrapping up the fourth quarter with most prolific throws, the team posted a twelve point-lead which nipped STI College - Balagtas in the last four minutes of the game at 91-86.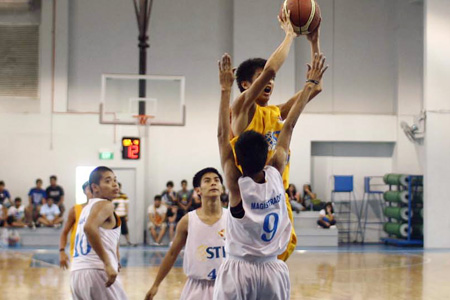 Team Quezon Avenue started the game on fire as they secured a 10-4 lead, gaining their early pressure defense against Balagtas' cagers that led to a ball turn over. This feat is akin to STI College – Balagtas' starting game against Team Santa Rosa. Subsequent to the time out called by Team Balagtas, the regrouping resulted to a 16-2 run that gave the Bulacan-based dribblers a 20-12 lead.
The Quezon Avenue dribblers gave an exciting comeback in a foul- counted play by Juan Paolo Zaballa with 23-22. The few costly mistakes on the defense of Team Quezon Avenue granted Cedrick Ablaza of STI College – Balagtas an easy one point lead at 24-23 during the end of the first quarter.

Matching the defense in the first quarter, STI College - Quezon Avenue started strong as they grabbed a 29-24 lead after Charlon Untalan scored a jumper. Preventing the unstoppable opponent, the STI College - Balagtas dribblers suddenly stepped on the gas as they went to overdrive giving a 26-10 run leaving the Quezon Avenue dribblers red-handed. Led by Ablaza, Adrian Querubin, and Alvin dela Cruz, the Balagtas dribblers ran rings around the Quezon Avenue cagers and by the end of the second quarter, they have established a commanding 50 - 39 lead.


Rogie Trunio started the third quarter with two three-pointers to give Team Quezon Avenue some breathing room and sneak closer at 53-57. Team Balagtas retaliated with a 9 - 0 run as Aaron Cruz scored four points, over powering the Quezon Avenue guards. STI College - Balagtas kept this rampage going sealing the 3rd quarter with 80-68.
William Vasallo ignited the fire of Team Quezon Avenue who were down 68-80 with a few minutes left. Vasallo and Mack Macabasco doubled their performance, each throwing three-pointers and to sparkplug the tandem, Raymark Sarmiento finally joined the fray.
The offensive onslaught of Quezon Avenue dribblers dominated Team Balagtas with 29 seconds to go. Sarmiento scored to finally give back the lead to the Quezon Avenue cagers, with a score of 87-86. Team Balagtas sued for time and bungled an opportunity to score as Sarmiento stole the ball again for a flawless lay-up. Quezon Avenue's prize for this heart stopping match is a direct trip to the finals.