Get on the Right Track for Your Career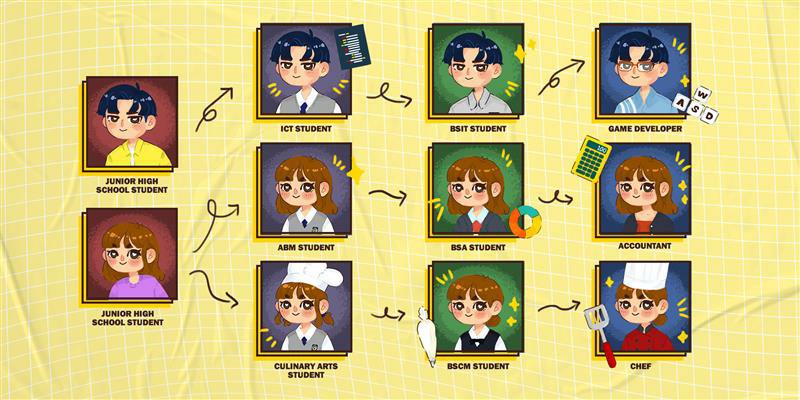 If you are an incoming senior high school (SHS) or college student who already has an idea about your future career, choosing the right track or course is essential to achieve it. With this, it is also important to make sure that your SHS track is aligned with your college course so that you will be equipped with knowledge and skills needed in the field of your choice.
To guide you in your educational journey, listed below are the college courses and career opportunities grouped according to the SHS tracks.
Academic Track
Technical-Vocational-Livelihood Track
Arts & Design Track
ALIGNED COLLEGE PROGRAMS & COMPETENCIES
Bachelor of Multimedia Arts
Communication
Bachelor of Music in Music Education
AB Theater Arts
BSE in Speech and Theater Arts
AB in Film and Audio Visual
AB Fine Arts
AB Art Studies
AB Performing Arts
2-yr. Multimedia Arts
Performing Arts Dance NCII
Performing Arts Ballroom Dancing NCII
Performing Arts Song NCII
Photography NCII
Visual Graphics Design NCII
Fashion Design NCIII
Illustration NCII
Bachelor in Graphic Design
and Multimedia
CAREER OPPORTUNITIES
Music Director, Cultural Dancer, Singer, Visual Effects Artist, Composer, Sound Engineering Technician, Ballet Instructor, Videographer, Theater Director, Illustrator, Art Director, Performer, Actor/Actress, Dancer, Choreographer, Fine Artist, Photographer, Painter, Video Editor, Sculptor, Graphic Designer, Motion Graphics Designer
Sports Track
ALIGNED COLLEGE PROGRAMS & COMPETENCIES
Bachelor of Physical Education
Bachelor of Sports Science
BS in Sports, Kinesiology or Physical Therapy
Bachelor of Physical Education Major in Sports Wellness and Management
BS Education Major in Physical Education Program
CAREER OPPORTUNITIES
Physical Education Teacher, Sports Coach, Athletic/Fitness Trainer, Umpire/Referee, Sports Facility Administrator, Recreation Worker, Sporting Event Planner/Coordinator, Sports Psychologist
If you are still undecided about which program to pursue, STI has a unique tool called Student's Career Opportunity and Personality Evaluator (SCOPE) that provides students with a comprehensive report about their best career options. You may try the full version for yourself at scope.sti.edu. The institution also offers the Virtual STI Career Camp, an interactive workshop for Grade 10 and Grade 12 students to further explore their options in senior high school or college online. You can speak or chat with your preferred STI campus to help plan your career. It is all FREE! Let STI help you make the right choice for your future.
Start pursuing your dreams! You may register online as well as enroll now for the First Semester of Academic Year 2021-2022.
Sources: