STI Bravos 5 Esteemed Alumni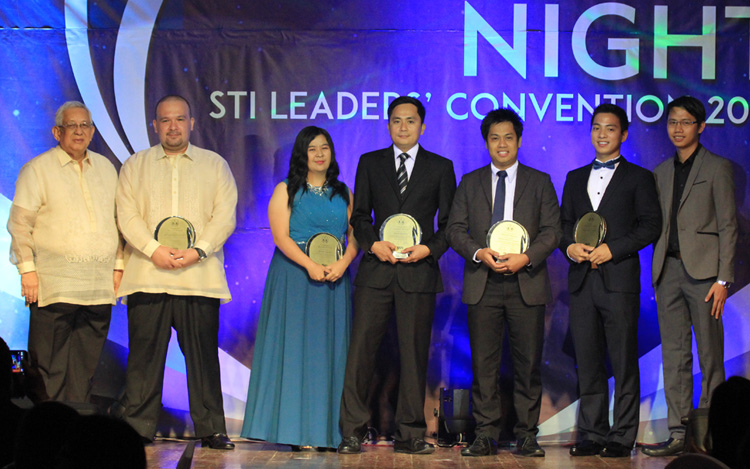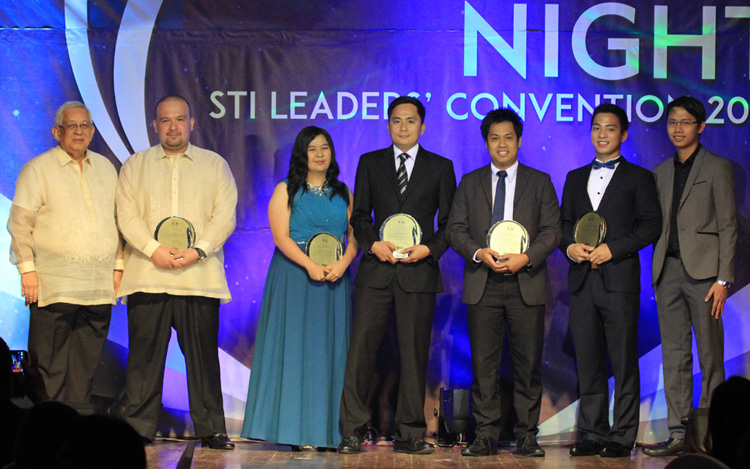 (From left to right) STI's CEO & President Monico V. Jacob, Jose Agostinho Salvador, Janice Lagundi, Felix Emradura, Michael Cunanan, Edward Czar Aquino, and STIAA President Hernan Alar
The highest accolade that a school can be most proud of is the achievement of its graduates. This year, the STI Alumni Association (STIAA) recognized five of its alumni with astounding achievements, and bestowed upon them the prestigious STI Distinguished Alumni Award 2015. The ceremony was held during the Achievers' Night at the Boracay Regency on April 30, 2015.
STI Alumni from all over the world were nominated by their respective campuses. The awardees were selected based on their professional achievements, contribution to academic institution, impact and leadership they have shown in their field, and involvement in socio-civic activities.
Deliberated on by the STI Alumni Association Board and the management of STI, the honorees of the STI Distinguished Alumni Award 2015 are set to represent the accomplishments of thousands of their fellow STI graduates who are able to excel in their chosen fields, contribute to the betterment of the community, and make a difference.
"Going through the roster of alumni nominated for this year's award was very overwhelming and came as a revelation to us. We strive every day to make sure that our graduates will be able to spark that change that the community needs after they leave our campus, but it is very heartening to actually see where they are now. We believe that the success that our graduates achieve is a partnership between the student and the school. We equip them with the knowledge, skills, and attitude that they need, but it is up to them to develop all these and translate it into something significant," says STI Alumni Association Executive Director Aisa Q. Hipolito
STI Alumni Association President Hernan Alar shares, "as an STI alumna myself, I can attest that we, the members of the STI alumni community, were driven by our aspiration for something better in our lives. And this unyielding drive is what makes the accomplishments of our awardees even more commendable. They have achieved amazing things not only in specific communities but also in different parts of the world. Their accomplishments significantly benefit both society and our school, advancing the common good and inspiring others to address challenges with insight and creativity. This recognition will also show the ongoing and incoming students of STI the importance of service and excellence as components of what a well-rounded STI student should be. To celebrate the accomplishments of our alumni is tantamount to celebrating our feat in inspiring the present generation."
The following are the first batch of STI Distinguished Alumni awardees who stand as testaments to STI's commitment to academic excellence:
Edward Aquino

BS Nursing
Batch 2008
STI College–Global City

CEO/Founder of St. Therese Learning Institute (licensed nursing assistant training school) and Assistant Director of Nursing of a 5-star Nursing Facility Silver Ridge Healthcare Center in Las Vegas, Nevada in USA.

Jose Agostinho "Jojo" Salvador

Cobol Programming and Business Systems

Batch 1991
STI College–Recto

President and CEO of Fountainhead Technologies, Inc., a systems integrator which conducts business across all industries globally, and is one of the company's founders.

Michael John Cunanan

BS Information Technology
Batch 2008
STI College–Angeles

Information and Communications Technology Coordinator of Living Stone International School in Angeles City, Champion of the 13th Philippine Robotics Olympiad, and was part of the Official Philippine Team to the World Robot Olympiad 2014 in Russia.

Janice Lagundi

BS Computer Science
Batch 2006
STI College–Sta. Cruz

IT Software Development Manager, Bravo Awardee, and Service Awardee of Oberthur Technologies where she manages the company's Intranet system, and spearheads technical trainings for different multinational companies worldwide.

Felix Emradura

Computer Programming
Batch 2007
STI College–Calamba

IT Network Administrator for Henkel's Asia Pacific and North America Group where he supervises a team of technical support experts and handles the company's IT Operation.

With more than 12,000 graduates each year, STI continues to celebrate their alumni as they represent the institution's fulfillment of its thrust towards achieving academic excellence measured through their globally-recognized performance in their careers.