STI Partners with the European Innovation, Technology, and Science Center Foundation in Senior High School Training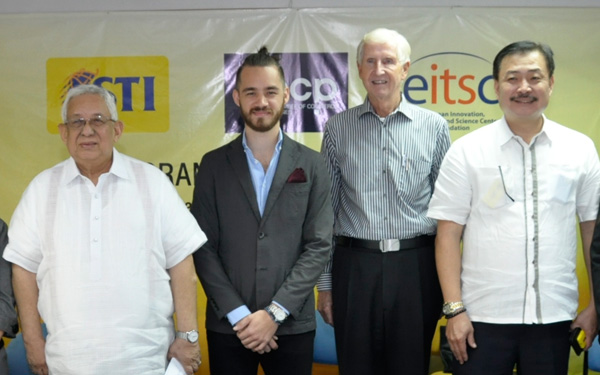 STI Education Services Group, Inc. (STI) has entered into a partnership for the Senior High School (SHS) work immersion program with the European Innovation, Technology, and Science Center Foundation (EITSC), an initiative of the European Chamber of Commerce of the Philippines (ECCP). EITSC has linked STI and a number of ECCP member companies to provide dual training for STI's SHS students, even prior to its full implementation in SY 2016-17. The partnership was inked during a signing event on March 25, 2015 at the ECCP office in Makati City.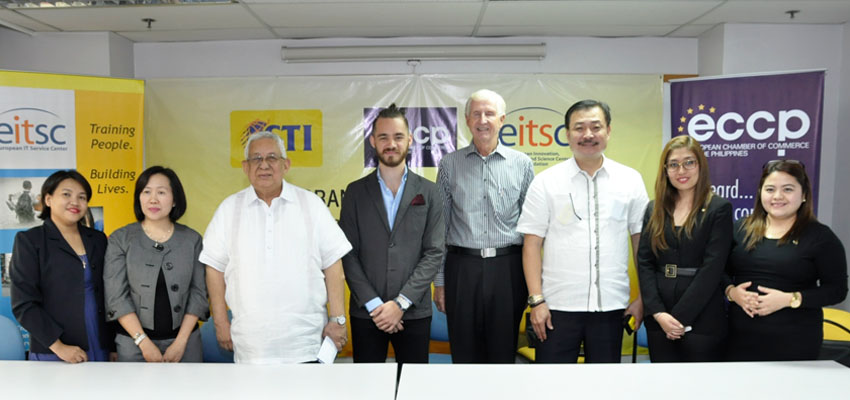 (From left) Puratos' Human Resource Manager Maria Balanguit-Adan, Hospitality Innovators, Inc.'s Human Resource Manager Grace Del Rosario, STI's President and CEO Monico V. Jacob, Rudolf Lietz' Operations Manager Alexander Lietz, EITSC's President and ECCP's Vice President for External Affairs Henry J. Schumacher, STI's EVP and COO Peter K. Fernandez, Azumi Boutique Hotel's HR Officer/Executive Assistant Maricris Mendoza, and Picasso Boutique Service Residences' HR Officer/Executive Assistant Monica Salamatin at the MOA signing.
EITSC's work immersion program seeks to raise the employment rate in the Philippines. It aims to provide training opportunities to students and develop their skills as early as SHS in the fields of business, production, and services. Additionally, STI's academic curriculum will be aligned with the industry requirements to cultivate the student's core competencies.
"STI has a network of 79 campuses with one university where more than 80,000 students study nationwide. We have recognized that one of the glaring disconnects in Philippine education is the collaboration between the industry and academe," says Dr. Lloyd Bautista, STI Vice President for Academics. "Thus, with the full implementation of Senior High School (SHS) in 2016, we have piloted this work immersion program with EITSC and ECCP because both our institutions are committed in achieving the ultimate goal of SHS - to prepare our students to be work-ready, college-ready and, most of all, global-ready."
By 2016, SHS students of STI in the culinary and restaurant services, hotel and events management, information technology, and tourism management programs will undergo training under the host ECCP member companies.
"I am very encouraged by the cooperation between ECCP members, STI and EITSC, creating concrete steps to bring senior high school students closer to employment, making effective use of the K-12 program," says EITSC President and ECCP Vice President Henry Schumacher.
As part of its thrust towards excellence in education, STI continues to find more ways for its students to become engaged in their chosen fields and go through better preparation for the real world.