A Five-star Performance
STI's young connoisseurs took home three medals and two diplomas from the prestigious National Food Showdown for setting the warmest and most appetizing dining mood, and for creating the most scrumptious dishes that were not only pleasing to the taste buds, but are equally satisfying to the eyes.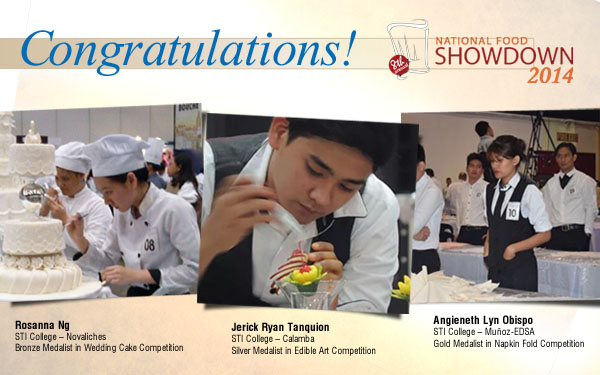 On September 23-24, 2014 at the World Trade Center, Metro Manila, six BS Hotel and Restaurant Management (BSHRM) students and two Hotel and Restaurant Services (HRS) students performed and delivered their skills well as they laid out their winning works.
4th year BSHRM Angieneth Lyn Obispo of STI College – Muñoz-EDSA grabbed the Gold Medal for her undefeated napkin design in the Napkin Fold category, setting a great impression to the judges of the event. BSHRM junior Jerick Ryan Tanquion of STI College – Calamba, on the other hand, has a knack for art which won him the Silver Medal for the Edible Art category. 3rd year BSHRM student Rosanna Ng of STI College – Novaliches now carries the Bronze Medal for the Wedding Cake category.
Meanwhile, five students from STI College – Meycauayan earned diplomas to recognize their dining talents. BSHRM sophomore Ronniel Concepcion and HRS sophomore John Mark Ramirez went gourmet with an exquisite dish at the Klasika Kulinarya category, while 3rd year BSHRM students Gerald Jane Sanes and Krisha Marie Dalmacio teamed with HRS sophomore Adrian Aquino to prepare a memorable dining mood with the Table Setting category.