STI Partners with Leading Global BPO Provider SITEL
One of the world's largest and most diversified providers of customer care and outsourcing services, SITEL, sealed a partnership with STI Education Services Group, Inc. (STI) during a signing event on October 10, 2014 at the STI Academic Center Ortigas-Cainta.

A wide array of opportunities awaits STIers from this outsourcing giant as they receive training from the industry savants themselves. Through the coaching of SITEL, STI students will receive the preparation they need to reach the skills and qualifications needed to give their outsourcing careers a head start.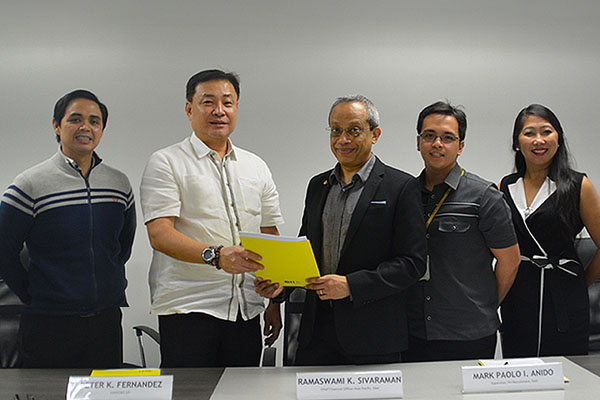 Present at the signing were STI's Executive Vice President and Chief Operating Officer Peter K. Fernandez; STI's Vice President for Academics Dr. Lloyd C. Bautista; STI's Assistant Vice President for Academic Services Aisa Q. Hipolito; SITEL's Chief Financial Officer – Asia Pacific Ravi Sivaraman; SITEL Philippines' Vice President for Global Recruitment Haidee Enriquez; and SITEL Philippines' Supervisor for Human Resources Mark Paolo Anido.
"Together, STI and SITEL will find ways by which we can help bridge the gap between the quality of STI's graduates and the minimum competencies that we require our employees to have," says Haidee Enriquez. With regards to the training, she further explains, "We will provide the courseware, we will provide the trainers and then they will go through our trainings. And if they are really interested even after that training program, then we can have them assessed already and they can land that job even before they graduate."

Expounded in the agreement is the practical education the STI students will receive from STI and SITEL's collaboration. Aside from the training sessions, vital contents from SITEL will be integrated into STI's courseware and curriculum, which STIers can put to good practice at the same company as they are also entitled with a choice to undergo their internship at SITEL. To give their learning a further boost, faculty members will also receive proper training from SITEL which will also help them substantiate the lectures they give to their students. SITEL will also be participating in STI's job fairs and will be active in posting job opportunities for graduating STI students. With the training they will receive, STIers are also privileged to have a better edge in their application should they decide to join SITEL.
"The partnership provides intensive preparations with mock interviews using SITEL's Language Assessment tool in which our students' communication skills will be gauged, Employment Seminar to gear them towards better prospects for job application, and Language training for our English faculty members for our Communication Arts subjects. Our graduating students from all programs will benefit from these learning activities, which is also why we are working with SITEL to give our students a head start, with our Manila campuses and then expanding to the rest of our schools nationwide," says Dr. Lloyd C. Bautista. Highlighting the promising future of the alliance, he further shares, "SITEL and STI are both global institutions that recognize the importance of industry-academic linkages. We are enthusiastic that this partnership can open doors to our faculty and students, and assure our stakeholders of our continuing efforts to align our courseware and curriculum to the workplace."

The global standards of SITEL coincides with STI's mission to reach the international quality of training for its students. With SITEL's position in the global industry, STI's students are presented with greater opportunities after graduation, true to STI's commitment to fulfil its pursuit of providing reallife education to its students.