STI Academic Center Lucena Ready for SY 2015-16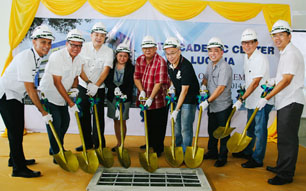 The newest STI Academic Center holds its topping off ceremony in Lucena City, Quezon Province in time for school year 2015-2016. The four-storey campus, with state-of-the-art facilities, is ready to accommodate more than 4,000 students for the senior high school and college students residing within the province.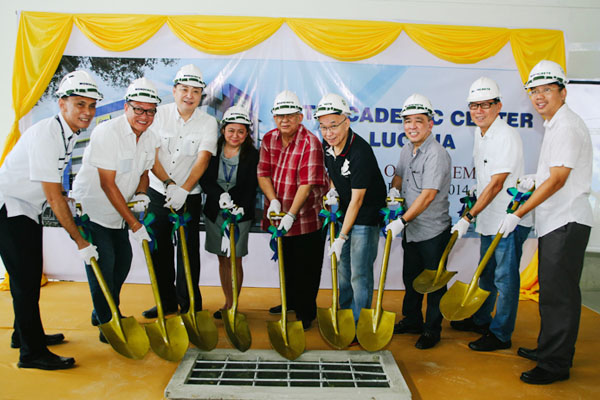 (Left to right) Mr. Reginald Robles, Engr. Arthur Carlos, Mr. Peter K. Fernandez, Ms. Venus Barreto, Mr. Monico V. Jacob, Mr. Eusebio H. Tanco, Arch. Jose Ling, Engr. Manuel Mendoza, Engr. Martin K. Tanco
To commemorate this milestone, the Chairman of the STI Executive Committee of STI Education Services Group, Inc. (ESG) and Chairman of the Board of STI Education Services Holdings, Inc. (ESH) Mr. Eusebio H. Tanco; together with STI ESG President and Chief Executive Officer Mr. Monico V. Jacob; Executive Vice President and Chief Operating Officer Mr. Peter K. Fernandez; and the school's executives and officials; joined members of the school's general contractor, Monocrete Construction Philippines, Inc. (MCPI), in the ceremony held in the campus on October 21, 2014.
The property broke ground on January 10, 2014 and construction began during the 3rd week of February. With a floor area of 4,347 square meters, the four-storey STI Academic Center Lucena aims to provide a conducive learning environment for its students. The new campus houses fully air-conditioned classrooms equipped with LCD projectors and LED lightning systems, a library filled with updated research materials and an internet connection, and a mezzanine. Students can also practice their skills and hone their proficiency in their respective fields inside the simulation rooms available for all programs in Information & Communications Technology, Business & Management, Tourism & Hospitality Management, Arts and Sciences, Engineering, and Senior High School.
STI Academic Center Lucena is also proud to be one of the pioneer institutions in the province to be given a permit by the Department of Education (DepEd) to offer the Senior High School program as early as school year 2014-2015. STI's Senior High School program is part of the institution's nationwide support to DepEd's thrust of developing holistic Filipino graduates.
"The completion of the new Academic Center in Lucena seals another positive outlook both for our future students and for the whole STI community," shares Mr. Jacob. "STI has delivered its part in delivering quality education to the city of Lucena, and I am optimistic that we can keep up with this movement to lay more foundations of prime hubs of academic excellence in the country."
STI's commitment in its pursuit towards real life education is the institution's drive to augment its networks and give the youth better prospects for a bigger future.
The rise of STI Academic Center Lucena follows the successful operations of STI Academic Centers in Global City, Naga, Fairview, Alabang, Novaliches, Malolos, Ortigas-Cainta, Caloocan, Calamba, and Cubao.