STI's Brightest Shine in TNT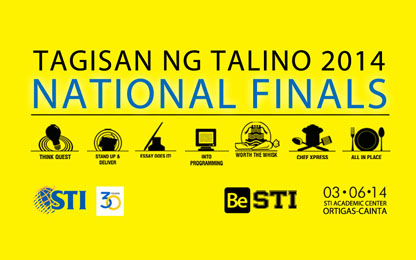 STIers will radiate the stage with their brilliance as they contend for the top shelf in their respective fields on March 6, 2014 at STI Academic Center Ortigas-Cainta for the national finals of the Tagisan ng Talino (TNT) 2014.
Click the image to view the list of finalists
For the final time in this season of TNT, 112 talented finalists from 43 schools in Luzon, Visayas and Mindanao made it to the national level to prove their expertise and earn their well-deserved titles as champions in the areas of culinary arts, cake decorating, table setting, programming, writing, public speaking, and keenness with facts.
Sophisticated table settings will set the mood for the exquisite dining experience in the All in Place competition. Gourmet courses will be prepared, and the most delectable dish will be served in Chef Xpress. Pastries that look too good to eat will compete for the cream of the crop in Worth the Whisk. The scene will be stolen by well-versed students with powerful, oratory pieces in Stand Up and Deliver, while the most moving and meaningful compositions will be authored by enlightening writers in Essay Does It!. Young computer-savvies will make their mark in this age of technology through programming in the INTO Programming Junior and Senior Divisions, and the battle for the crown as most proficient in general knowledge will commence in Think Quest.
"TNT is an ideal venue to demonstrate the best minds and finest talents STI produces for the world. I would like to emphasize the "world," since our vision is to produce graduates who have the right competencies, skills, and more importantly positive attitude to compete and succeed globally," shares Dr. Teodoro Lloydon Bautista, STI's Vice President for Academics.
TNT is an annual interschool competition that showcases the outstanding talents of STI students. This nationwide event is divided into three levels: the school, cluster, and the national level. TNT provides a venue where students realize the importance of camaraderie, teamwork, creativity, character growth, and an opportunity for them to demonstrate their potentials as among the promising ones in the industry.
This year's TNT is an academic tournament that follows the schools' social competition which convened during the celebration of STI's 30th anniversary on September last year. As part of this series of events that celebrates the students' skills and talents, a third instalment dubbed as Tagisan ng Sining, an art competition, will also be held throughout STI's network of schools and will conduct its national finals on April 11, 2014.