STIers Strive for Change in UNILAB Ideas Positive 2013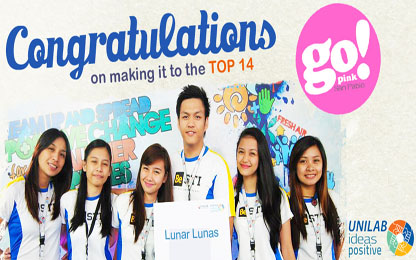 From 140 entries nationwide, Team Lunar Lunas from STI College - San Pablo made it to the Top 14 entries for the UNILAB Ideas Positive 2013, a national competition that aims to empower college students to make a difference in their community by turning their innovative and sustainable ideas on health and wellness issues into reality.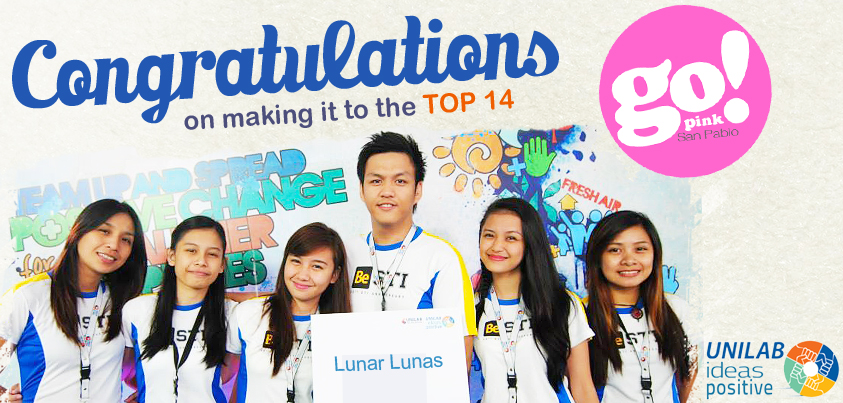 As part of qualifying into the Top 14, the team was awarded Php100,000 to fund their project proposal. Additionally, they were invited to a 3-day Social Marketing Bootcamp at the Bayanihan Center in Taguig on December 5-7, 2013 to aid them in their project implementation. Among the speakers were social marketers, entrepreneurs, and experts such as Jose Antonio Mapa, Jr. of Unilab, Jay Jaboneta of Yellow Boat of Hope Foundation, Professor Mel Bandalaria of UP Open University, Reese Fernandez-Ruiz of Rags to Riches, among others.
Team Lunar Lunas consists of BS Computer Science students Jofeler Gimena (4th year) and Crissa Dasmariñas (2nd year), BS Travel Management students Lois Mae Tolentino (1st year) and Reyzille Grace Ilagan (1st year), and BS Computer Engineering student Jazzmine Agravante (3rd year). The students are guided by their faculty mentor, Jean Tanalega.
Their project Go Pink! San Pablo champions the cause of breast cancer awareness and promotion of a healthy lifestyle in their community. From the period of January to April 2014, the team will hold monthly events starting with the Pink Fun Run on January 31, 2014, a Healthy Food Fair in February, a Fitness Program in March, and ending with a Pink Concert in April.
"Awareness is where we start. Then we save lives." - Team Lunar Lunas
Keep yourself posted and support them on their journey to making a positive change by following their official Facebook fan page. Watch out for their UNILAB Ideas Positive Diaries on the following dates: February 28, March 28, and April 25, 2014.
This is not the first time that STI students were chosen among many others to fulfill their social marketing proposals. Back in 2011, Team Kabalikat of STI College - Global City ranked 1st runner-up in the second UNILAB Ideas Positive with Hitong Buhay Hitong Buhay, a project that focuses on raising catfish or hito as a means to create positive impact to the community.
Truly, it goes to show that STIers are socially-responsible citizens who are proactive and creative in their endeavors to better our society.