STI, Philharmonic serenades to aid Yolanda survivors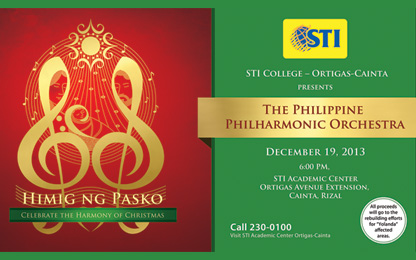 TWO of the biggest players in the education and music industries, STI Education Services Group, Inc. (STI) and the Philippine Philharmonic Orchestra (PPO) respectively, join the entire nation in helping to rebuild the lives of the affected families of typhoon Yolanda through a special night of hope, music, and inspiration.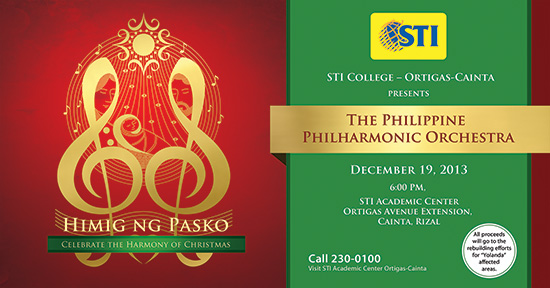 Dubbed as Himig ng Pasko: Celebrate the Harmony of Christmas, the concert for a cause is set on December 19, 2013 at the STI Academic Center Ortigas-Cainta under the baton of the young and dynamic Maestro Olivier Ochanine, the Music Director and Principal Conductor of PPO together with the 77-piece orchestra.
In an interview, Atty. Monico V. Jacob, President of STI is optimistic that we (Filipinos) will rise and move forward. He adds, "No storm can weather us and our coming together in this challenge will pull us through." He also mentioned that the aftermath of typhoon Yolanda left many of our brothers and sisters in the Visayas region with difficult lives and it is only high time that we do our part to inspire them and uplift their spirits.
In relation to early relief efforts, STI has already mobilized its students, employees, alumni, and partners and friends nationwide to generate in-kind and cash donations. As of this writing, a total of PhP1,180,195.25 cash donations was raised and it is still counting apart from the previously pooled in generous rounds of relief goods a few weeks ago.
PPO, a world-renowned symphony orchestra and is widely regarded as one of the top musical ensembles in the Asia-Pacific region, will be serenading the audience from all walks of life with symphonic excellence and arresting performance.
The Himig Pasko: Celebrate the Harmony of Christmas is a brainchild of STI College Ortigas-Cainta, and was planned as a free concert before the typhoon struck but the Management realigned and decided to sell tickets that will be contributed to Yolanda aid.
The estimated earnings of the concert will reach up to PhP500,000 in ticket sales not counting the additional donations that will be given on the day of the event.
All proceeds will go to the efforts of assisting and restoring the lives of the survivors.
For ticket reservations and inquiries, please call (02) 230-0100.