STI Gearing Up for the Next Big Thing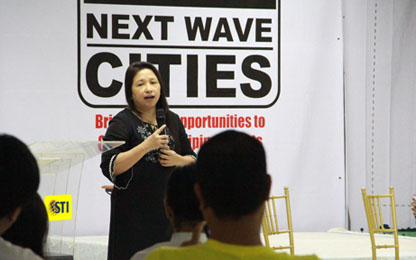 Together with the Information Technology – Business Process Association of the Philippines (IBPAP) and the National ICT Confederation of the Philippines (NICP), the Department of Science and Technology (DOST) held the Next Wave Cities event at STI Academic Center Ortigas-Cainta. 250 students from nine schools in the Rizal province including STI College – Ortigas-Cainta attended the forum where they were encouraged to pursue careers at the Information Technology-Business Process Management (IT-BPM) industry such as in Animation, Contact Center, Healthcare Information, Software Development, and Game Development without having to leave their homes for Manila.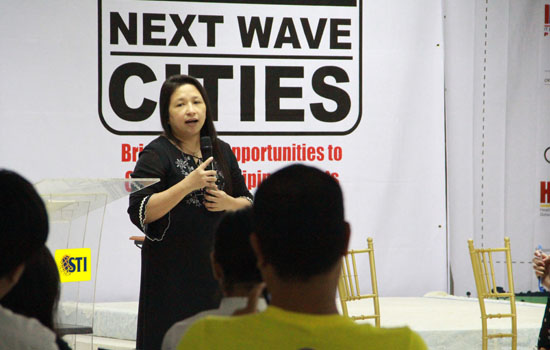 Digital Filipino founder, Janette Toral, talks about e-commerce at Next Wave Cities
New Waves Cities has been giving forums to students in different provinces since 2009. It aims to involve young decision makers with bright futures in the IT-BPM industry by giving them comprehensive orientations on the background of each sector in the industry, what they need to learn and can learn, and what they can benefit from their careers. It also encourages the new members of the industry to build their own IT-BPM business and thrive through it.
The Rizal Province was chosen mainly for the high numbers of graduates with promising potentials in the IT-BPM industry, among other criteria considered such as Rizal's good infrastructure, cost of doing business, and the business environment and risk management. According to the Program Manager of the Next Wave Cities, Ms. Emmy Lou V. Delfin, BPM is a thriving industry in our country.
Ms. Delfin added "We (Filipinos) are kept afloat because of this industry," supporting why the economy of the Philippines is doing okay despite the economic crisis experienced in many parts of the world.
777 full-time employees are currently working in the IT-BPM industry, a number that is expected to raise to an escalating 1.3 Million by the year 2016.
E-commerce advocate and STI alumna Ms. Janette Toral, who is also the founder of Digital Filipino, encourages STI students to become e-commerce entrepreneurs. "They should observe how marketing is being done by various companies… they can take inspirations from that and build solutions that can benefit the country." Furthermore, she stated that now is the good time to start a business for e-commerce, and urges the graduating STI students to take advantage of it.
Among other schools in Rizal that participated are the Manuel I. Santos Memorial National High School (M.I.S.M.N.H.S) and Benjamin B. Esguerra Memorial National
High School (B.B.E.M.N.H.S). Next Wave Cities also conducted a small event under the name "Kapihan" to give the faculty of the participating schools and representatives of the industry a venue to discuss what can be done to further improve their respective curricula for IT students.