STI, GCASH REMIT make college education dreams come true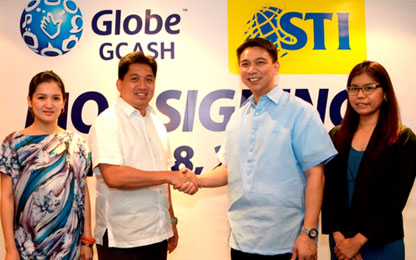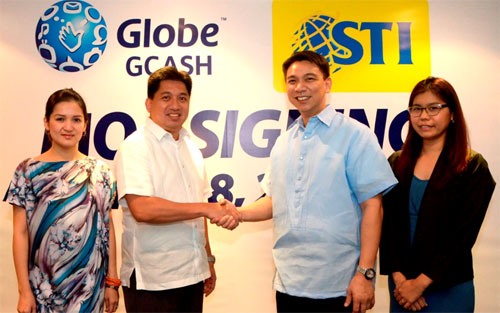 Committed to education. GXI President Paolo Baltao (2nd from left) shakes hands with STI VP for Communications Elbert De Guzman (3rd from left) to seal the partnership between GCASH REMIT and STI in providing scholarships to deserving OFW nominees. With them are GXI Marketing Head Franchette Chingcuanco-Cardona (leftmost) and STI Brand Manager Karen Tabije (rightmost).
The two giants in the education and telecommunications industries recently sealed a partnership that pays homage to the OFWs in the different parts of the world. STI and GCASH REMIT joined forces to make college education dreams come true by sending five (5) OFW nominees to college with the Magpadala, Magka-diploma GCASH REMIT Promo.
"This is our simple way of honoring our overseas Filipinos using GCASH REMIT who have worked hard for their families from a distance in order to send their kids, relatives or other family members to college and provide better lives for their loved ones. We hope that with the scholarships, we will be able to make a difference in their lives," shared Paolo Baltao, President of G-Xchange, Inc., a wholly-owned subsidiary of Globe and operator of GCASH.
On the other hand, STI's VP for Communications Elbert de Guzman emphasized that STI has been in the forefront of providing opportunities to deserving students. "Knowing that we can inspire and transform lives through this advocacy, we did not have any second thoughts of forging a partnership with G-Xchange. For thirty years, STI has always been true to its commitment of making quality education more accessible to deserving Filipino youth," he said.
OFWs sending money from abroad to the Philippines via GCASH REMIT will have a chance to nominate their child, relative or other family member to receive a full scholarship grant for any 4-year course at any STI campus nationwide.
To nominate a loved one, an OFW family member must send money to the Philippines via GCASH REMIT, which has outlets in 33 countries including Hong Kong, Singapore, Malaysia, Taiwan, United States, Canada, Saudi Arabia, United Arab Emirates, Bahrain, Kuwait, Qatar, United Kingdom, New Zealand, Ireland, Australia, Guam, and Saipan. Every remittance sent entitles the OFW to nominate one deserving student for the scholarship grant.
To know more about this, visit http://gcash.globe.com.ph/gcashdiploma.