STIer Rides on Full Throttle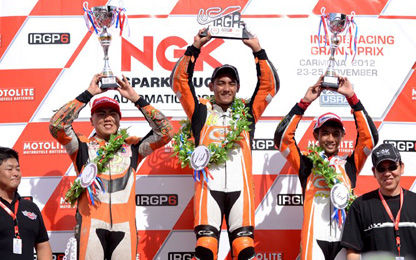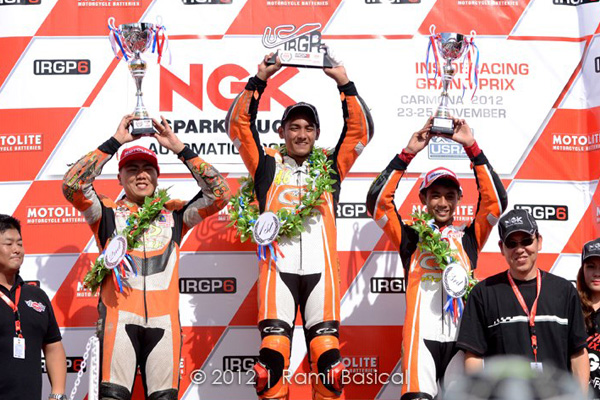 James Christopher D. Barcial (center) dominated the 160cc
category of the 6th Inside Racing Grand Prix.
Almost 60 novice and expert motorcycle riders from the Philippines and Malaysia raced their way to the finish line at the Carmona Racing Circuit in Carmona, Cavite on November 25, 2012 for the 6th Inside Racing Grand Prix (IRGP), a venue for top motorcycle riders to pit against each other and prove their supremacy on the race track. The riders competed for seven (7) categories, namely 130cc Juniors Automatic, 150cc Masters, 115cc Juniors Underbone, 160cc Automatic, 180cc Underbone Grand Prix, 180 Automatic Grand Prix, and the 150cc MotoIR Grand Prix.
Determined to outrace the other riders for the coveted title, 1st year Bachelor of Science in Information Technology student James Christopher D. Barcial from STI College – Balagtas emerged champion in the 160cc category of the IRGP 6, making him one of the youngest champion riders in the country today.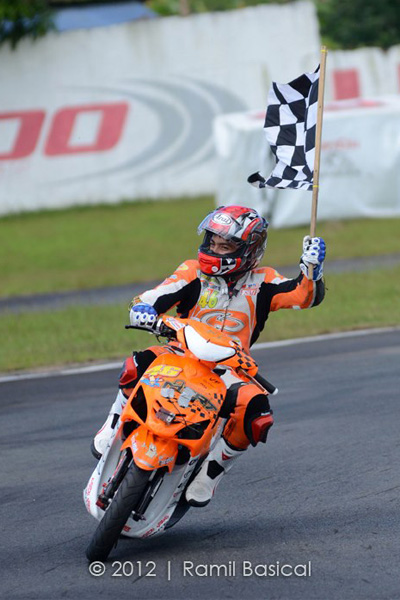 James, a true-blooded motorcycle racer, continues to triumph his own life's race.
At his young age, James has already made his mark in the country's motorcycle racing circuit and has also been featured in a number of television shows, newspaper articles, and sports websites in the past.
Founded in 2007, the IRGP race is an annual motorsports event organized by Inside Racing, a racing magazine, and supported by the country's largest motorbike manufacturers and distributors. IRGP aims to uplift motorcycle racing by bringing together amateur and professional motorcycle enthusiasts, and to promote the motorcycle as a form of personal transportation in the country.
*Photos courtesy of Mr. Ramil Basical, an authorized photographer of the IRGP6.