STIers Unite to Reach Out to Sendong Victims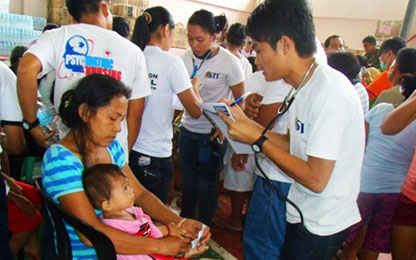 Categorized as the world's deadliest storm for 2011, typhoon Sendong left massive impact in the country, with a high toll of properties and lives lost most especially in the hard hit areas of Cagayan de Oro and Iligan City. With hundreds of people still unaccounted for and with families much in need of supplies for their basic needs, the STI Community has once again showed teamwork as they worked hand in hand to immediately send relief efforts to the affected localities.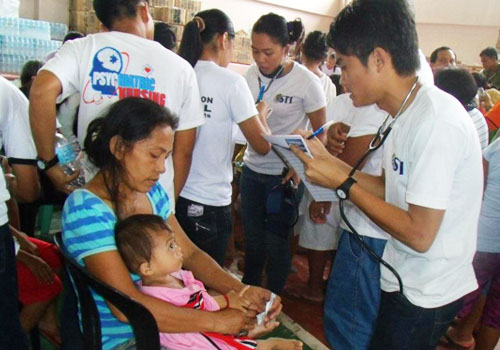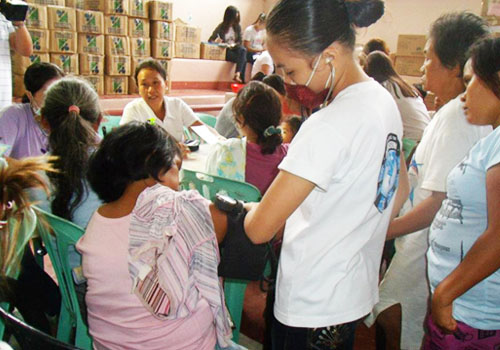 On December 17, the day after the storm hit the country, more than 150 students and faculty members from STI College — Cagayan de Oro immediately took heed to the call of their fellow Cagayanons. Even though they themselves were affected by the typhoon, they selflessly pooled their resources and started volunteering in the relief efforts being conducted by the Red Cross and ABS-CBN's Sagip Kapamilya Foundation in Cagayan de Oro.
In Manila, cash and goods contributions poured in from STI employees, faculty members, alumni, and students all over the country, with relief items such as blankets, eating and cooking utensils, mineral water, rice, assorted canned goods, cup noodles, toiletries, biscuits, and energy drinks, making up majority of the donations. In STI Headquarters alone, cash donations from employees quickly rose to almost 200,000 just a day after the announcement of request for voluntary assistance.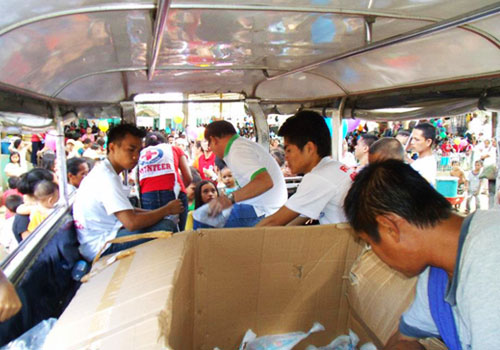 All of these including the 8,737 pieces of new clothing donated by STI Headquarters were shipped to Cagayan de Oro on December 19 and were received and instantaneously packed and distributed by STI College — Cagayan de Oro representatives headed by Noel SC Bobis, Deputy School Administrator, and Juven "Buboy" Luza, STI Channel Manager.
"With deep humility and immeasurable gratitude, we thank the STI community for the abundant support we received during this moment of crisis. The goods and cash donations helped hundreds of our brothers and sisters in Mindanao especially our fellow STIers who were affected by Sendong," shares Buboy.
The relief operations went on for nine days and helped hundreds of people especially the affected families of the students, faculty members, staff, and alumni of STI College — Cagayan de Oro. Thankfully, due to the huge number of donations gathered, the STI relief operations team was also able to help more than 200 teachers of the regional office of the Department of Education and the beneficiaries of the ABS-CBN Sagip Kapamilya Foundation in Cagayan de Oro.
On Christmas day, nursing students of the same campus also helped thousands of families by volunteering to the medical mission that was set-up by the local government and the Philippine Medical Association.
"I would like to thank and commend the STI Community for your spontaneous help to the victims of typhoon Sendong. Indeed this is the spirit of Christmas, that we give of ourselves and we give generously," says Monico V. Jacob, STI's President and CEO, upon learning of the total number of contributions gathered and the selfless participation in the relief operations of the STI Community.
Overwhelmed with what has happened but strengthened and inspired by the support that they are receiving, John Marco Bautista, a student volunteer and also STI College — Cagayan de Oro's Council of Student Government President, shares, "I was happy to have worked with other STIers in our school during the packing and distribution of the goods. I am also glad to have had the opportunity to work with other volunteers from the government and our local community. The relief operation gave me hope and made me optimistic that our city can recover from any tragedy."