STI recognizes 2010 Student of the Year awardees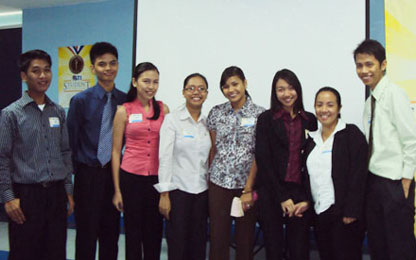 Another set of winners proudly marched the stage last May 18 and 19 during the STI Network graduation ceremonies as they were proclaimed STI's 2010 Student of the Year (SOY).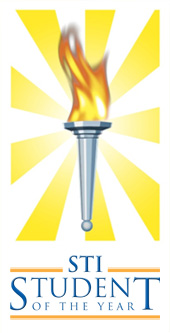 Maria Pamela N. De Vera of STI Tagaytay, Divine Tingzon of STI College – Fairview, Hernan Alar of STI College – Global City, and Ian Malinao of STI College – Ormoc bagged the coveted awards out of a qualified number of nominees from different STI campuses. This year's winners bested other outstanding students from different STI campuses nationwide through a series of stringent qualifying rounds.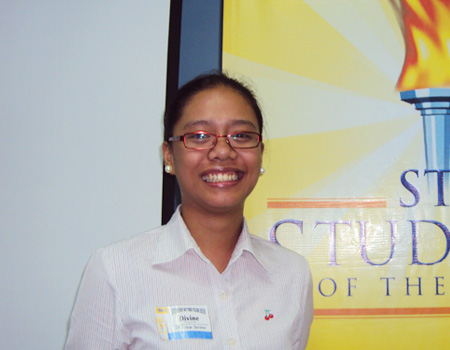 Divine S. Tingzon
National and Northern Luzon Area Level Winner (Baccalaureate)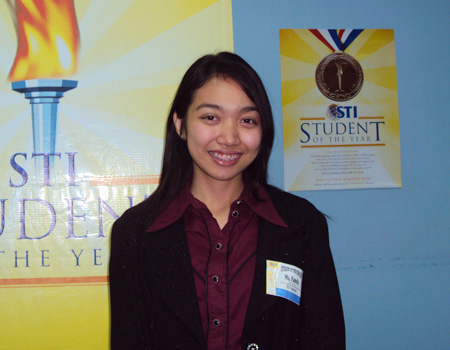 Maria Pamela N. De Vera
National and Southern Luzon Area Level Winner (Pre-Baccalaureate)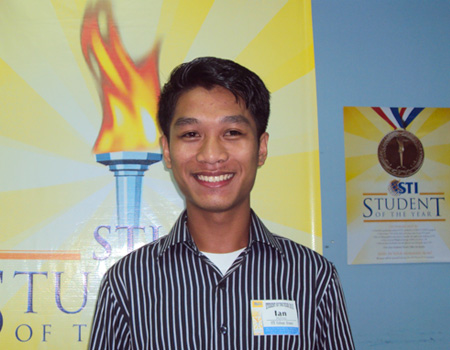 Ian B. Malinao
Area Level Winner - Visayas (Baccalaureate)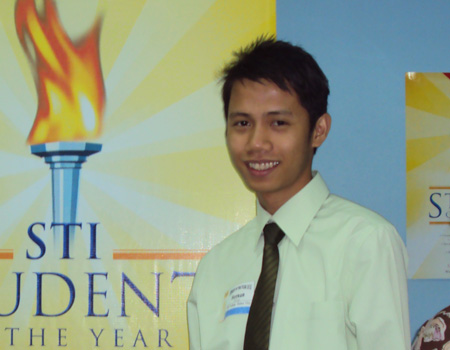 Hernan S. Alar
Area Level Winner - Southern Luzon (Baccalaureate)

Divine, who graduated Magna Cum Laude, briefly narrates the hardships she went through just to finish college. "Despite graduating in elementary and high school with honors, I never expected that I could pursue my college education. My family was totally financially handicapped. My father had to do odd jobs to support my ailing mother. Fortunately, the situation never discouraged me. If not for these difficulties, I never would have been the strong person that I have become."

Same as Divine, Pamela also wasn't raised in an affluent environment. "I studied and worked to earn extra income. But because of these, my potentials unfolded, grander things also began to sprout in my consciousness. I stayed focused and determined, and the conceptions of people who believed in my capacities and competencies made me stop being ordinary. They inspired me to be useful and pursue excellence," she shares.

Hernan further expounded on what Pamela said as he explains that learning cannot be fully defined in terms of academics. "Just like Pam and Divine, I have exposed myself to different opportunities outside the four corners of the classroom. STI has offered numerous activities that continuously cultivated my talents. Being part of several organizations greatly improved my leadership skills. During free schedules, I involved myself in different activities beneficial to our community."

Equally deserving of the SOY award is Ian, another Magna Cum Laude who also exemplified the well-rounded student STI aims to produce. "Just plainly being nominated is already an achievement in itself. STI immersed us in various activities such as the Gawad Kalinga project which taught us the value of social contribution regardless of age. By volunteering to build houses for the less privileged, we built more than just an edifice. We've contributed in unifying a community. And being given the SOY award only strengthened my resolve to be a catalyst of change that I ought to be."

SOY is STI's nationwide annual search for outstanding students who have excelled in their program of study, exemplified effective leadership qualities, and have gained exceptional achievements in co-curricular and extra-curricular activities within and outside the STI academic community.
| | |
| --- | --- |
| CRITERIA FOR SELECTION | |
| General Weighted Average | |
| Citation for exceptional achievement in the campus and community earned within the nominee's residency at STI | |
| Awards in local and international academic competitions earned within the nominee's residency at STI | |
| Employability Skills Assessment | |
| Panel Interview | |
The nominees were screened based on their academic and extra-curricular performances, including the awards they earned in school competitions. To qualify, a nominee must be a bona fide graduating STI student enrolled in a Baccalaureate (four or five-year course) or Pre-Baccalaureate (two or three year course) program, has earned at least seventy-five percent of the total curriculum units in any STI campus, has no failing grade in any course or module, has no minor or major offense during his or her entire stay at STI, and has earned a General Weighted Average (GWA) of at least 1.50.

All the four winners were announced at the Convenarium Crossroad 77 in Quezon City, where they were formally recognized.
National Awardees:

Category

School

Student

Baccalaureate

STI College – Fairview

Divine R. Tingzon




Bachelor of Science in Information Technology

Pre-Baccalaureate

STI Tagaytay

Maria Pamela N. De Vera




Diploma in Information Technology
Area Level Awardees:

Category / Area

School

Student

Baccalaureate – Northern Luzon

STI College – Fairview

Divine R. Tingzon




Bachelor of Science in Information Technology

Baccalaureate – Southern Luzon

STI College – Global City

Hernan S. Alar




Bachelor of Science in Computer Science

Baccalaureate – Visayas

STI College – Ormoc

Ian B. Malinao




Bachelor of Science in Computer Science

Pre-Baccalaureate – Southern Luzon

STI Tagaytay

Maria Pamela N. De Vera




Diploma in Information Technology
View more pictures