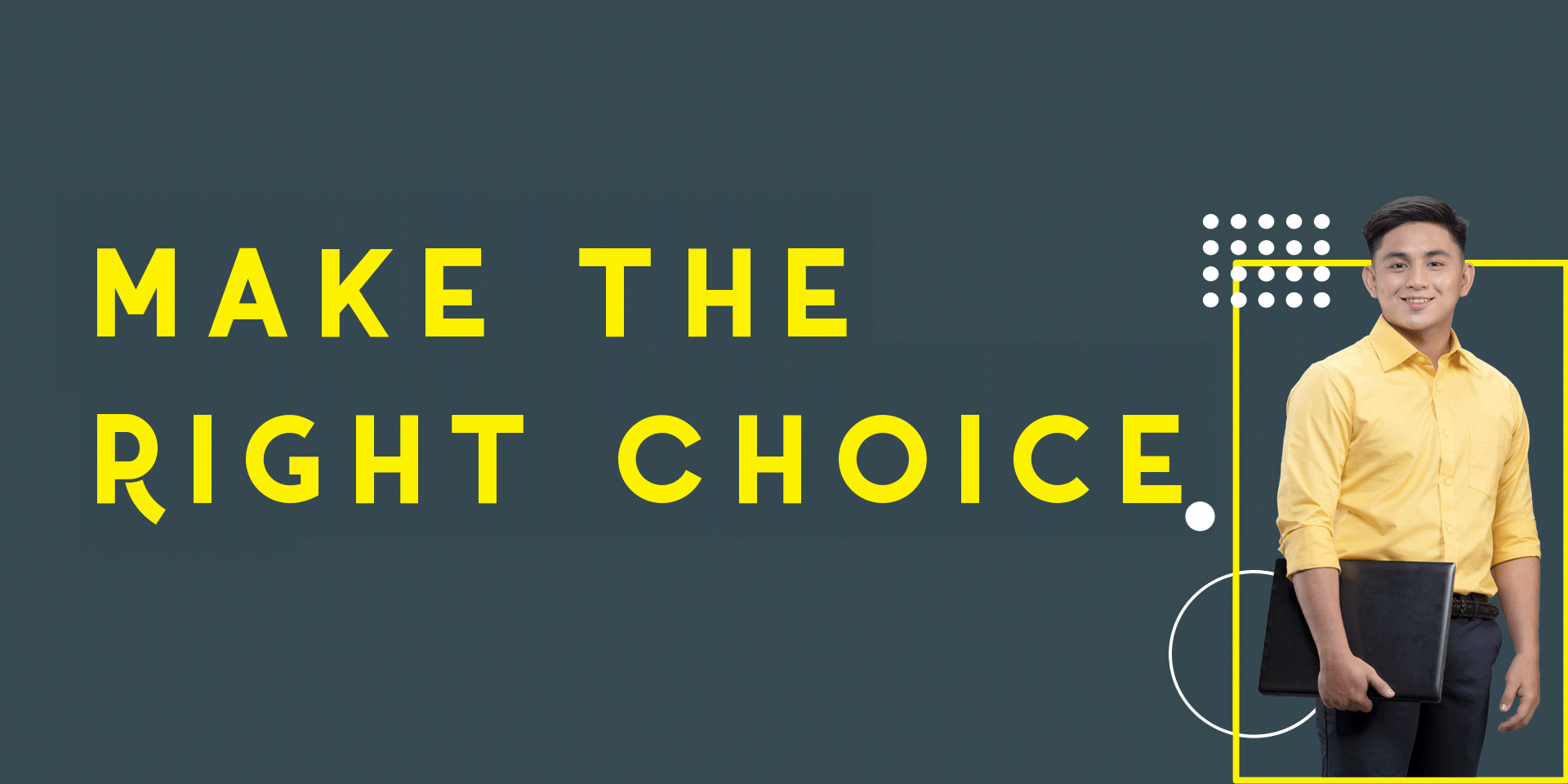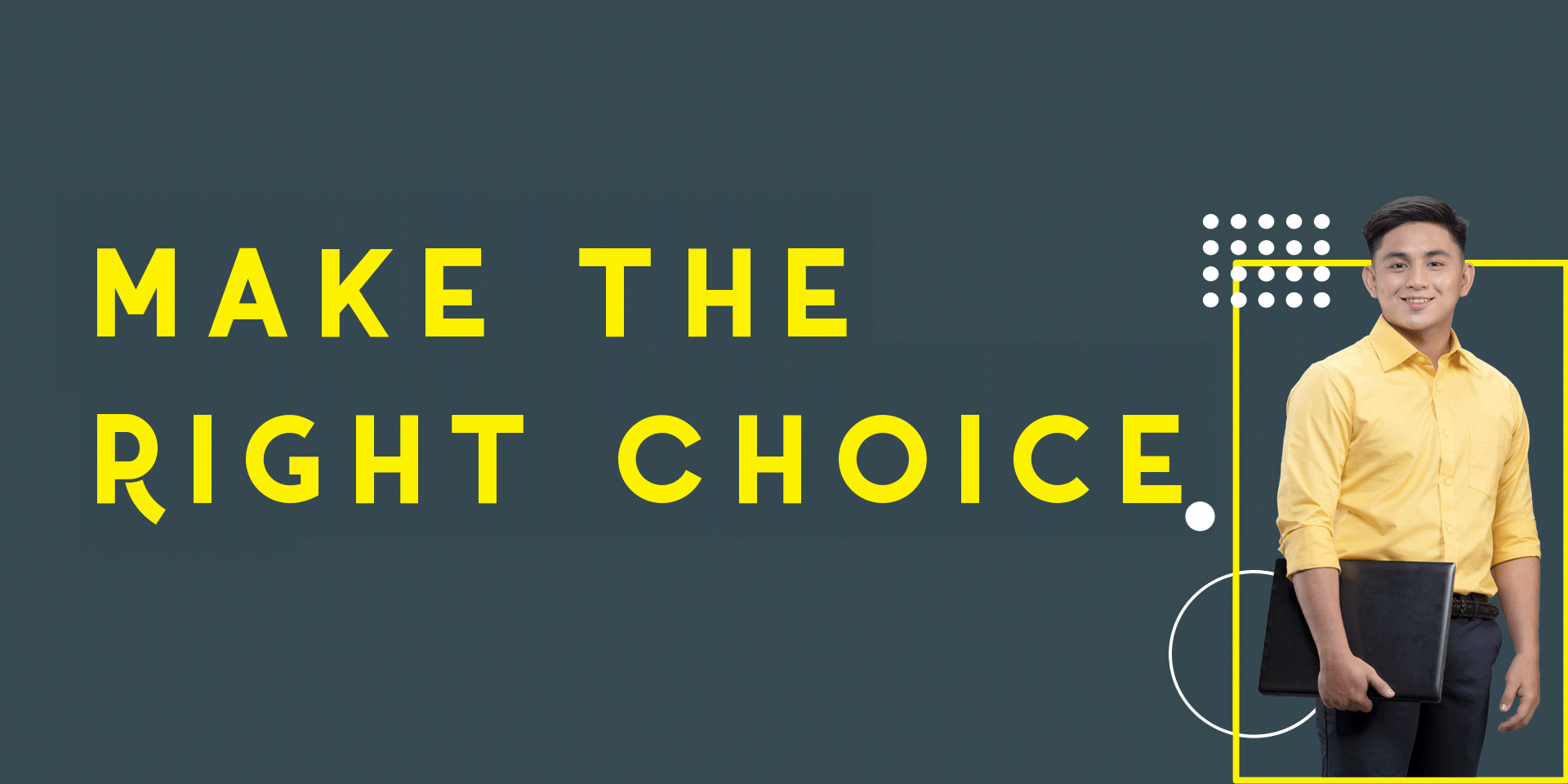 Make the Right Choice
With STI's diverse list of programs, making the right choice is now easier! Whether you are a junior high school student going to senior high school or an incoming college freshman looking for the right course that best fits your personality, STI will help you become life-ready and future-ready. Remember, success begins with a choice — your choice. So, make it matter!
Information & Communications Technology
Do you see yourself in front of a computer tinkering with various software programs? STI carefully developed the Information and Communications Technology programs to equip graduates with specialized skills in software design, systems development, multimedia system, and more.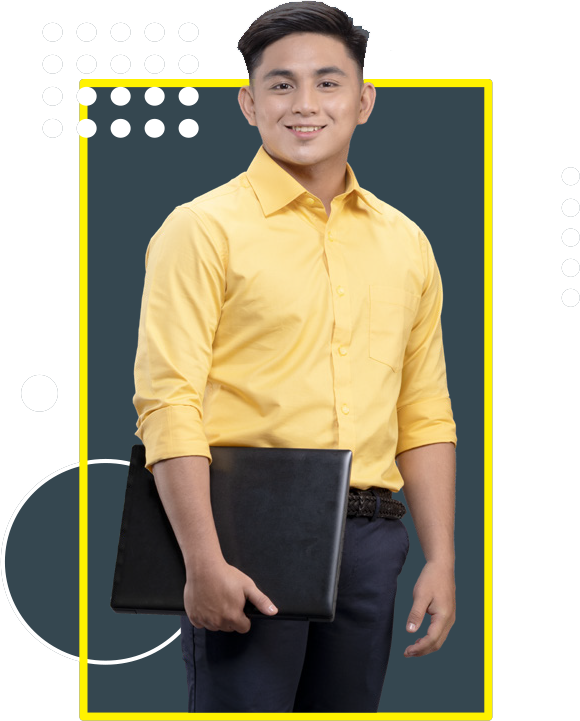 BS Computer Science

BS Information Systems

BS Information Technology

2-yr. Information Technology

2-yr. Associate in Computer Technology
Career Opportunities
Web and Applications Developer

Database Administrator

Systems Administrator

Network/Software Engineer

Information Security Administrator

Business Applications Developer

Computer Programmer

Systems/Data Analyst

Systems Engineer/Developer

Systems Software Developer
Arts & Sciences
Waiting to see yourself in front of the television or see limitless visual designs come to life? Or have you always been interested in understanding the human behavior or with criminal justice? Through STI's Arts & Sciences programs, you will be provided with a firm grounding in humanities and social sciences, be instilled with the values of citizenry, leadership, and public service.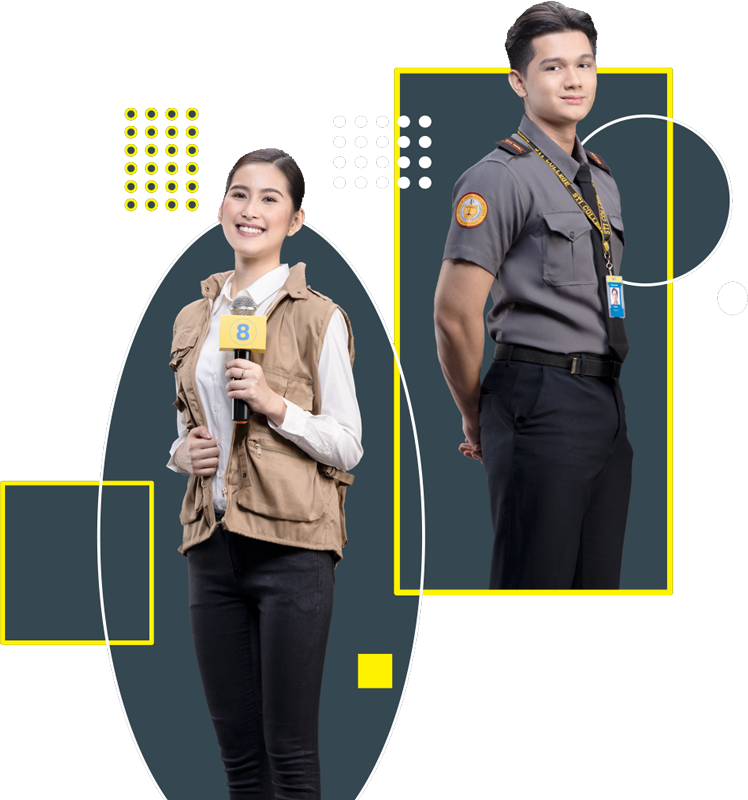 BA Communication

Bachelor of Multimedia Arts

Bachelor of Arts in Psychology

BS Criminology
Career Opportunities
Broadcast Journalist

Documentary/Filmmaker

Advertising Account Executive/Manager

Creative/Art Director

Digital Graphic Artist

Photographer/Videographer

Web Designer

Psychologist

Psychometrician

Guidance/School Counselor

Human Resources Specialist

Law Enforcement Agent

Private Investigator

Criminal Investigator

Criminology Instructor
Tourism Management
Do you see yourself traveling around the Philippines or even the world? Let STI's Tourism Management programs mold you into a globally competitive industry practitioner with relevant skills, knowledge, and expertise in service, operations, and management in different sectors of the tourism industry.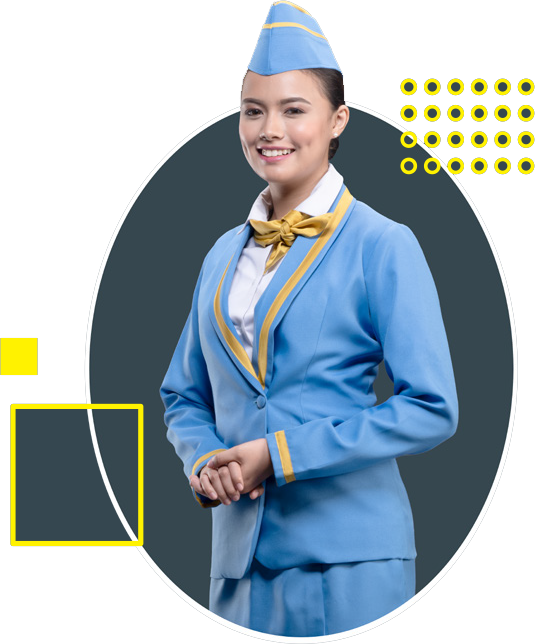 BS Tourism Management

2-yr. Tourism & Events Management
Career Opportunities
Airline Customer Service Supervisor/Manager

Sales and Marketing Supervisor/Manager

Travel Agency Operations Supervisor/Manager

Flight Attendant/Cabin Crew

Travel and Tour Coordinator

Tourist Information Officer

Travel Adviser/Consultant

Travel Writer

Tour Guide
Engineering
Are you someone who is fascinated by the rapidly changing world of technology? Through STI's Engineering programs, you will be trained to become an analytical and practical engineer with broad knowledge and skills in electronics, data communications, microprocessor systems, and robotics.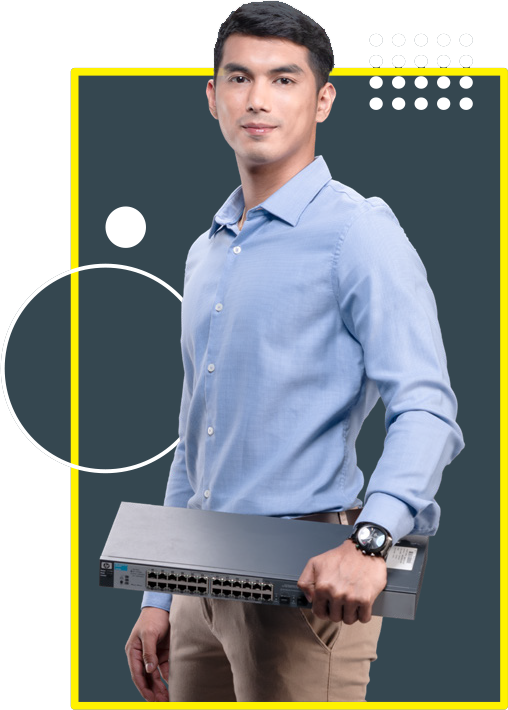 Career Opportunities
Quality Assurance Engineer

Technical Support Engineer

Network Systems Administrator

Data Communications Engineer

Technopreneur

Project Engineer

Systems Engineer

Systems Analyst

Test Engineer
Business Management
Do you dream of owning and managing your own business someday? STI's Business and Management programs will strengthen your management and entrepreneurial skills to prepare you for the global business environment.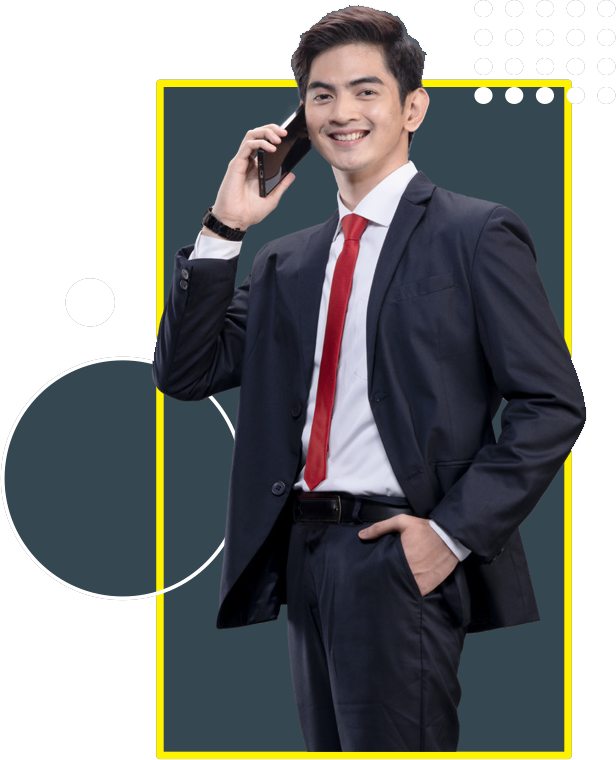 BS Business Administration

BS Accountancy

BS Accounting Information System

BS Management Accounting

BS Retail Technology & Consumer Science

2-yr. Associate in Retail Technology
Career Opportunities
Business Analytics Professional

Data Analyst/Scientist

Consumer Analyst/Scientist

Digital Marketing E-commerce Specialist

Cost Analyst/Accountant

Investment Analyst

Financial Analyst

Big Data Analyst

Entrepreneur
Hospitality Management
Do you have the passion for cooking and want to take on the culinary world? Be a world-class hospitality professional with STI's Hospitality Management programs as you hone your culinary and food service skills in fully equipped commercial kitchen laboratories and experience real life training in industry standard simulation laboratories.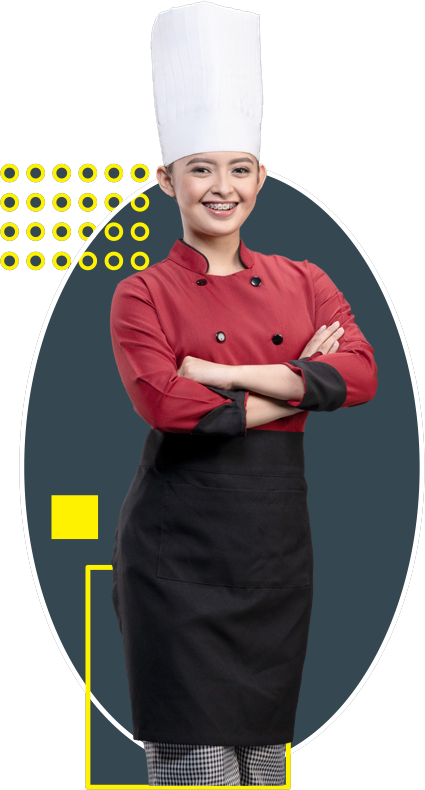 BS Hospitality Management

BS Culinary Management

3-yr. Hotel & Restaurant Administration

2-yr. Hospitality & Restaurant Services

2-yr. Professional Culinary Arts
Career Opportunities
Executive Chef

Sous Chef

Pastry Chef

Line/Station Chef

Banquet Manager/Supervisor

Restaurant/Outlet/Catering Manager/Supervisor

Restaurant/Club Manager/Supervisor

Front Office Manager/Supervisor

Sales and Marketing Manager/Supervisor

Kitchen Operations Supervisor
High School
Do you want to have a solid foundation in basic education and be more prepared for higher education? Experience an enriched high school life with limitless choices through STI's Junior and Senior High School programs where you will be equipped with the technical knowledge and skills to get you ready for college and your future career path.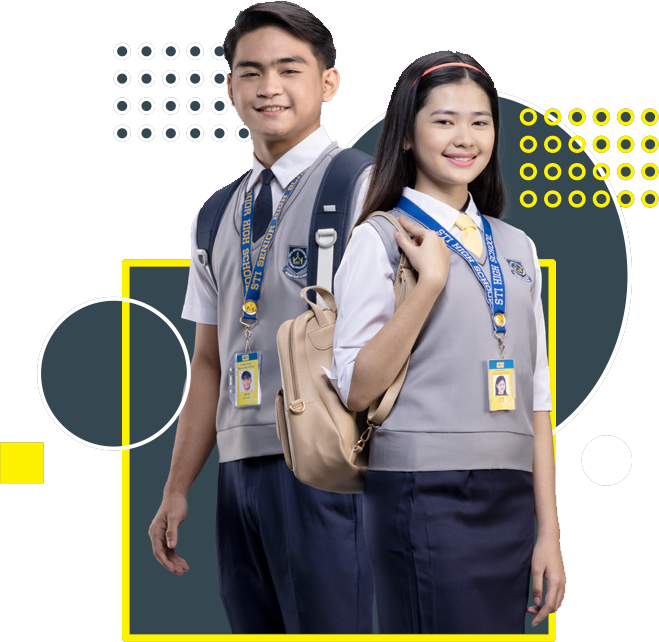 Junior High School (Grades 7 to 10)
Senior High School (Grades 11 to 12)
Academic Track
Science, Technology, Engineering, & Mathematics (STEM)

Humanities & Social Sciences (HUMSS)

Accountancy, Business, & Management (ABM)

General Academic (GA)
Technical-Vocational-Livelihood Track
IT in Mobile App & Web Development

Computer & Communications Technology

Consumer Electronics

Culinary Arts

Technical-Vocational-Livelihood Track

Restaurant & Café Operations

Tourism Operations

Digital Arts
ADMISSION REQUIREMENTS
Incoming Grade 7
Original Form 138 / SF9-ES




(Learner's Progress Report Card)

Original Form 137 / SF10-ES




(Learner's Permanent Academic Record)

PSA-issued Birth Certificate
Incoming Grade 11
Original Form 138 / SF9-JHS




(Learner's Progress Report Card)

Original Form 137 / SF10-JHS




(Learner's Permanent Academic Record)

PSA-issued Birth Certificate
SHS Transferees
Certificate of Transfer (Honorable Dismissal)




Original Form 138/SF9-SHS

Original Form 137/ SF10-SHS (Copy for STI)

PSA-issued Birth Certificate
College Freshmen
Original Form 138 / SF9-SHS




(Learner's Progress Report Card)

Original Form 137 / SF10-SHS




(Learner's Permanent Academic Record)

PSA-issued Birth Certificate
College Transferees
Certificate of Transfer (Honorable Dismissal)

Official Transcript of Records (Copy for STI)

PSA-issued Birth Certificate
Alternative Learning System (ALS) Passers
Certificate of Rating (COR) indicating senior high school or college eligibility

PSA-issued Birth Certificate

Any of the following clearances: Barangay, Police, or NBI
---