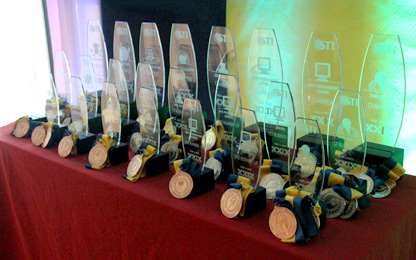 Tagisan Ng Talino 2013 Victors Proclaimed
STI's young prodigies from Luzon to Visayas and Mindanao convened on March 7, 2013 for the national finals of the Tagisan ng Talino (TNT) 2013. For the first time, the national finals were held outside Metro Manila as the students, together with their coaches, travelled to STI College Naga to battle it out in one of the biggest competitions designed to test the students? knowledge and expertise in various areas and disciplines.
The finalists competed in the following events: All in Place, Chef Xpress, Essay Does It!, INTO Programming, Stand Up and Deliver, Think Quest, and Worth the Whisk.
STI College – Recto trumped down their competitors in the All in Place competition as they showed off their artistic abilities and elegant flair in formal table setting. Meanwhile, STI College – Rosario came out on top of the other finalists in the Chef Xpress competition wherein the young chefs cooked their hearts out and served three wonderful dishes based on the secret ingredient- tamarind.

All In Place Champions Joan Gueri?a and Mariane Irasga (first photo, center) of STI College – Recto
and Chef Xpress Champions Jocelyn Saulog, Jayson Garrate, and Joebelle Gallardo (second photo)
of STI College ? Rosario
When it comes to creativity in the kitchen, nothing beats the ingenuity shown by the pastry chefs. Hence, this year, we also witnessed the introduction of a cake decoration competition called Worth the Whisk. Inspired by the Sinulog Festival celebrated annually in Cebu, STI College- Balagtas created a masterpiece that left the crowd in awe.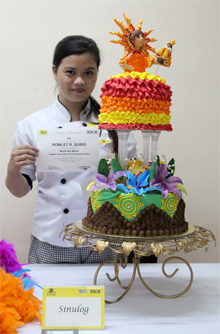 Worth the Whisk Champion Romlet Surio of STI College ? Balagtas
Composing a wonderful piece about the importance of school competitions and emphasizing on Charles Darwin's survival of the fittest principle, STI College- Las Pinas emerged victorious in the Essay Does It! competition. A student from STI College – Sta. Cruz, on the other hand, stunned the audience with his eloquence in public speaking as he tackled the topic of time traveling in the Stand Up and Deliver competition.

Essay Does It! Champion Von Carlo Leonardo of STI College ? Las Pi?as (first photo, right) and
Stand Up & Deliver Champion Judd Steven Garcia of STI College ? Sta. Cruz (second photo, center)
Showcasing their technical prowess, the tech-savvy students of STI Digos and STI College- Marikina prevailed over their competitors in the INTO Programming Junior and Senior Divisions, respectively. Meanwhile, STI College- Sta. Rosa certainly demonstrated that they are a fountain of information as they dominated the Think Quest competition.

INTO Programming Junior Division Champion Nelson Canete of STI Digos (first photo, center) and Senior Division Champion Mark Anthony Lacsamana of STI College ? Marikina (second photo, center)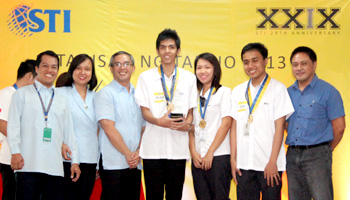 Think Quest Champions Rodolfo Marte III, Emma Riza Pabale, and Danuel Marte of
STI College ? Sta. Rosa
The Tagisan ng Talino is STI's celebration of the academic excellence of its students, a unique opportunity to recognize their intellectual and creative abilities in different fields,? says STI Vice President for Academics Mitch M. Andaya. Through these academic competitions, we aim to hone the various skills and talents of STI students to help them become globally competitive professionals in the future.
After undergoing almost a year of training and preparation, this year?s group of young contenders proved that they have what it takes to rise above the challenges, whether in computer programming, public speaking, table setting, culinary techniques or cake decorating. TNT continues motivate the students to do their best not only for the prestige and recognition, but also for the lessons that they can gain from the challenge of a healthy competition, the valuable experience of traveling to new places, and the opportunity to meet new friends.
For the complete list of national finalists and winners and to view more pictures from the TNT 2013 National Finals, visit http://anniversary.sti.edu.