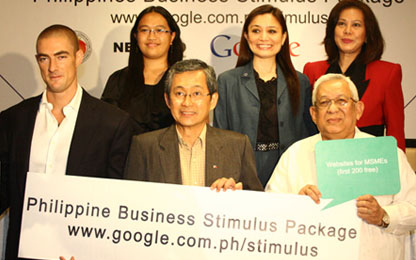 STI, Google Tie-up to Give MSMEs the IT Advantage
Filipino entrepreneurs are soon to avail themselves of the IT advantage.
In a landmark project billed as the Philippines MSME Business Stimulus Package, web search engine giant Google and the foremost IT school in the country STI join forces to give a helping hand to the country's micro, small, and medium sized enterprises (MSMEs). The partnership is in association with the Department of Trade and Industry - Center for International Trade Expositions and Missions (DTI-CITEM), Philippine Center for Entrepreneurship (PCE) through its banner program Go Negosyo, Commission on Information and Communications Technology (CICT), and the Philippine Marketing Association (PMA).
Front (L-R) Derek Callow (Google), Commissioner Mon Ibrahim (CICT), Mr. Monico Jacob (STI)
Back (L-R) Benette Alinduza (GoNegosyo), Mylene Abiva (PMA), Thelma Dumpit-Murillo (CITEM)
>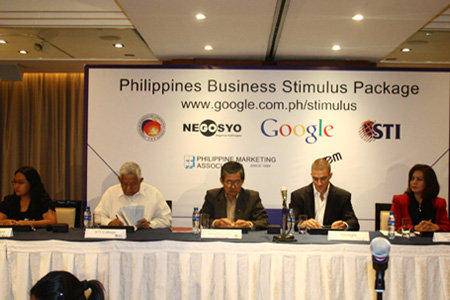 (L-R) Benette Alinduza (GoNegosyo), Mr. Monico Jacob (STI), Commissioner Mon Ibrahim (CICT), Derek Callow (Google), Thelma Dumpit-Murillo (CITEM)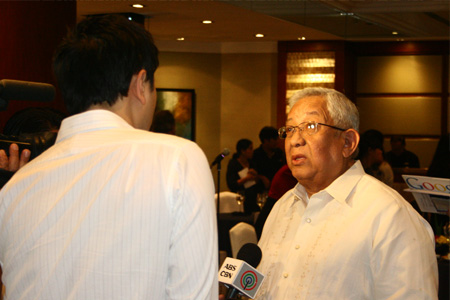 Mr. Monico V. Jacob further explains the benefits of the Business Stimulus Package to MSMEs
While Filipino entrepreneurs have the right ideas in terms of business strategies, Google observes that they have yet to go global as most of them lack the web capabilities to launch their businesses onto the next level. Google has successfully done similar projects in the Southeast Asian region with equally capable local partners in Thailand and, more recently, Singapore.
The stimulus package is meant to push Filipino MSMEs over the last humps of the economic downturn, and any Philippine company that has a product to sell and a valid business permit can apply for this exciting package. The first 200 MSMEs who register and do not yet have a website will get it for free, while subsequent participants need only pay a minimal one-time fee of Php3,000.00 for the website development work.
Derek Callow, Head of Marketing, Google Southeast Asia said, "MSMEs understand that the Internet provides a great opportunity for them to expand locally and into new markets across the world, but they don't know how to get started or are unsure of the benefits of online advertising. With the business Stimulus Package, we make it easy for local MSMEs to create a website and use it as an effective sales channel with a free trial of Google Adwords, an affordable, measurable online advertising platform."
The project shall provide competitive training for STI students who will be tasked to design and develop websites for MSMEs. The students' involvement in the project will certainly be a boost to their portfolios upon graduation given Google's stature as a global player in the web industry.
According to Philippines Country Manager Aileen Apolo, Google sought STI because of its track record of logistical efficiency and expansive network of channels operating nationwide.